NHBR About Town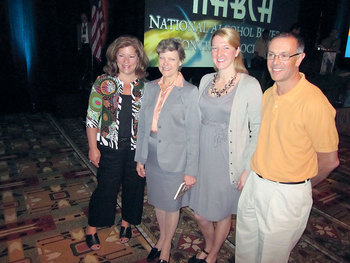 McLean Communications took part in the 74th annual National Alcohol Beverage Control Association conference in Phoenix, Arizona, with keynote speaker and ABC News political commentator Cokie Roberts, second from left. Pictured with Roberts are Sharron McCarthy, McLean president and publisher, left; Jenna Pelech, wine and spirits sales manager, second from right; and Steve Pare, vice president and director of sales. McLean Communications publishes magazines for the New Hampshire, Maine and Vermont liquor commissions.
More photos from recent events around the Granite State.
Submit items for About Town to editor@nhbr.com. Please include a color photo and a brief description.