NH rep seeks to repeal state timber tax
But attempt to repeal constitutionally mandated levy would create 'a huge problem'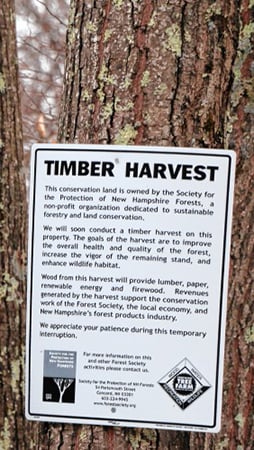 The NH Timberland Owners Association doesn't have any great love of the state timber tax, but they don't like a bill that would repeal it.
House Bill 1470 would repeal the "normal yield tax on timber" because it is "discriminatory against tree farmers," said the bill's sponsor, Rep. Dick Marple, R-Hooksett.
"A tree farmer has to wait 40 or 50 years to receive any benefit," he said. "Does a corn farmer pay a timber tax? A farmer is a farmer whatever the time frame."
While The Timberland Owners Association "appreciates the effort," said Executive Director Jasen Stock, "his bill is a problem, a huge problem"
That problem, said Stock, is the timber tax is "wired" into the New Hampshire constitution so the bill would not eliminate the tax, only the way it is administered.
In the old days, Stock said, towns used to tax timberland the way they did any property, by its value. Not only was that very difficult, because the value fluctuates year by year, Stock said, but it encouraged timberland owners to cut their trees right away, so there wasn't timber to tax – not a very sustainable method of foresting, even back in the 1940s. So the state constitution was amended that permitted timberland owners to pay the tax when they cut the timber.
Marple, however, said he is having none of that "nonsense"
"Find me where it says that in the constitution," he said.
Even if it is, he added, the state requirement to pay the timber tax is unconstitutional under the federal constitution.
In the state constitution, the timber tax is spelled out in Article 5, which gives the state powers to impose fines and access taxes: "For the purpose of encouraging conservation of the forest resources of the state, the general court may provide for special assessments, rates and taxes on growing wood and timber.'
Of course, that's a "may" rather than a "shall," so an argument could be made that the constitution doesn't mandate a timber tax. But Marple's other beef is that the timber tax money goes to municipalities, not the state, and municipalities are "corporate parasites."
How will Marple's bill fare? You'll have to wait until next year, when lawmakers return to Concord to take up about a thousand new bills.