NH ranked best state for economic opportunity by U.S. News & World Report
But a deeper dive into figures indicates troublesome trends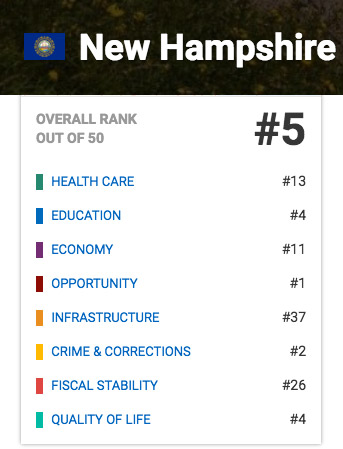 U.S. News & World Report has ranked New Hampshire No. 1 in the nation for economic opportunity and No. 5 overall in its second annual 2018 Best States study.
The report praises New Hampshire's ability to follow Massachusetts' lead as a center for the technology industry.
"Today, the old mills and warehouses lining the Merrimack in Manchester have gone high-tech," reads the report. "'Smart manufacturing' and high-tech industries account for the largest sector of the state's economy today, much of this concentrated along the seacoast and Merrimack and Upper Valleys."
A higher-than-national-average household median income and No. 3 ranking in college readiness and educational attainment illustrate a rosy view of New Hampshire's workforce, but figures in the report underline New Hampshire's more serious economic problems, not elaborated on by U.S. News & World Report.
For instance, the fact New Hampshire ranks 44th in higher education and ranks 49th in tuition and fees as well as debt upon graduation. Also consider that while New Hampshire ranks 7th in household income, 2nd in food insecurity and 1st in regard to its low poverty rate, the state ranks 33rd in employment gap by race, 44th in terms of cost of living and 21st when it comes to housing affordability.
Between 2008 and 2015, U.S. News & World Report writes an estimated 247,000 people moved into New Hampshire from other states. Not a bad figure, until, in the next line, it notes an estimated 246,000 people moved out of New Hampshire to another state, "making its electorate among the nation's most mobile."
If there's more opportunity in New Hampshire, the state has some issues to address before people — including young Granite Staters — believe it.