NH lawmakers get another shot at transgender anti-discrimination bill
BIA among supporters of measure to add gender identity protections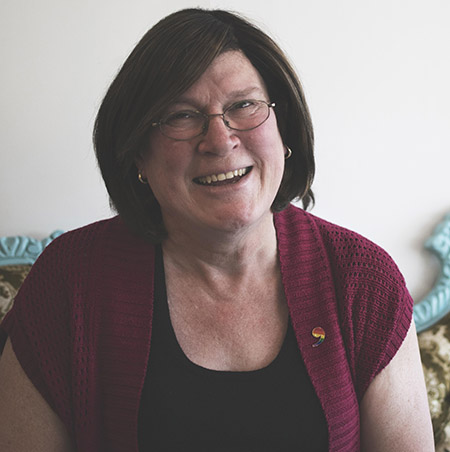 Back when she was Dennis Gerard Cannon, Gerri Denise Cannon could have used a state law banning discrimination based on gender identity.
That was more than 13 years ago, when she was transitioning and working as a senior marketer for Hewlett-Packard in Nashua.
"The customers only saw my male side," she said, but "some of the employees saw my female side at night."
One complained about her "inappropriate" attire, arguing that on a business trip she was on the clock 24-7. The company said they just needed a decision. She asked for two months to make the transition, but after she came out as a woman, she learned she as part of a layoff, only to find that she had actually been replaced. But she didn't complain because of a generous severance package.
Cannon had three decades of experience, but all as a male. She couldn't get back into the field as a female. So after doing odd jobs as a carpenter, driving and living out of a truck, she was driven to disability with depression.
But last November, Cannon, openly transgender, ended up winning election for school board in Somersworth, and on Wednesday is scheduled appear at a press conference in support of House Bill 1319, which would add gender identity protection to the state human rights law – the last state in New England that hasn't yet done so. New Hampshire law currently forbids discrimination on the basis of race, sex, national origin, disability and sexual orientation in employment, housing and public accommodations.
This time, Cannon won't be standing alone.
Also at the press conference will not only be other transgender people, and the bill's sponsor, but David Juvet, senior vice president of public policy for the Business and Industry Association of New Hampshire, whose board unanimously backed the law, as well as the NH Women's Foundation.
"This is a member-driven issue," said Juvet.
Previous attempts
There were three reasons the business organization is backing the bill, he said.
First, many of the BIA's member companies employ transgender people, and this is a way of supporting them.
Second, there is a labor shortage in the state, "so to our thinking anything we can do to send a message to the state that it is open and accepting is a step forward," said Juvet.
Finally, he said, "it's simply the right thing to do. It's opposed to discrimination, and if you are opposed to the bill, it implies that you are OK with discrimination. These people are human."
Joanne Francis, one of the owners of the Portsmouth Brewery, echoed all of those sentiments.
"We brew all types of beer, and we welcome all types of people into our sanctuary, our public house and gathering place," she said.
But not everyone supports the bill.
In 2009, a gender identity bill passed by one vote in the House and failed in the Senate. Last year, it was tabled by a margin of eight votes.
The issue was bathrooms – the same issue that caused North Carolina to pass a law to prevent a transgender person from going to the bathroom they identify with. That bill prompted a nationwide boycott of North Carolina, which caused the state to lose billions of dollars.
Juvet doesn't see the same thing happening here. It's one thing to pass a law encouraging discrimination, as opposed to not passing one banning it," he said.
"I look at it in positive terms, " he said. "How it will help the state, as opposed to how it could hurt it."
The bill's sponsor, Rep. Butler, D-Harts Location, is also thinking positively. Butler, who owns a North Country inn, sponsored the last two anti-discrimination efforts, and "I think it has a very good chance this time around."
He points to the backing of Freedom New Hampshire, a coalition that is sponsoring Wednesday's press conference. It has put out some materials aimed squarely at the bathroom argument, arguing that it is transgender people who are afraid to go to public restrooms. It points to a national survey that shows more than half avoid them as much as possible for fear of harassment. That survey also indicated that 15 percent of respondents reported losing a job because of gender identity, and one in five were denied a promotion or faced other mistreatment on the job. Nearly a quarter faced housing discrimination.
The House Judiciary Committee has scheduled a public hearing on HB 1319 for 1 p.m., Wednesday, Jan. 31.