NH iPhone Repair opens third location in Portsmouth
Startup expands as customers, companies respond to personalized service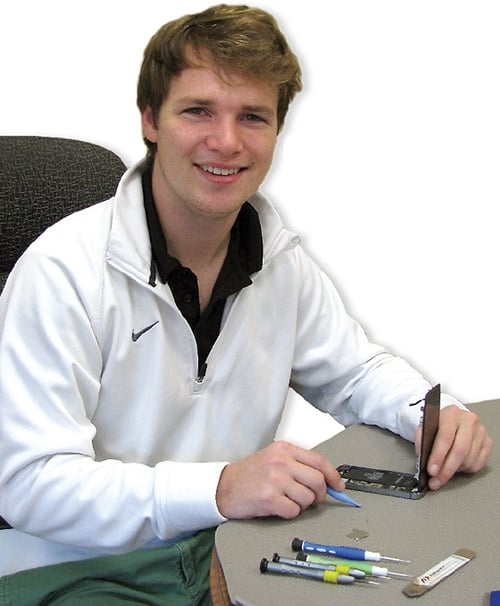 Chad Johansen saw a need to overhaul the manner in which cellphone repairs where conducted when he cracked the screen on his cellphone during his freshman year of college.
Leaving his cellphone with a random stranger for two hours did not sit right with him. That's what led Johansen to create a cellphone repair business that allowed customers to sit there and chat with him while he fixed their phones – providing a personalized, even pleasant, experience in stark contrast to the detached alternative.
Launched in the Enterprise Center at Plymouth State University, where Johansen was studying general management and small business entrepreneurship, NH iPhone Repair opened a shop in Bedford in 2015 and is holding a grand opening on April 1 for its Portsmouth location, at 33 Deer St., next to the Sheraton Portsmouth Harborside Hotel.
"I've had my eye on the Seacoast since I started," Johansen told NH Business Review. "I knew it was a great spot and we just started a contract with a big insurance company. They insure all types of devices so were doing repairs for their customers for broken screens."
The insurance company caught wind of NH iPhone Repair's reputation of quality repairs and great service and reached out to Johansen about the partnership, which he says has been going on now for three months.
Starting out as a one-man band, Johansen's team has grown to four employees now, with his brother – a freshman at Plymouth State University – taking over the location at the Enterprise Center. With the opening of the Portsmouth store, Johansen is looking to hire a couple more employees, though he expects to hire an additional three or four employees by the end of the year.
Johansen expects the foot traffic in Portsmouth to drive additional business. He said most repairs take under 15 minutes, but he thinks some customers may be happy to take a couple hours exploring the shops or eating at a restaurant while their cellphone is repaired.
"That's why I love Portsmouth," said Johansen. "We looked all around the Seacoast and Portsmouth is a destination area. Customers could get their phone fixed and explore the city. There are great restaurants, great bars, great shopping."
Despite its name, NH iPhone Repair also fixes Android devices such as Samsung, LG, Motorola, as well as all tablet brands. As Johansen is quick to point out, big brands, such as Apple, encourage consumers to buy a new phone when often the seemingly damaged phone can be fixed at a much lower cost.
"We can service almost anything," said Johansen, who names off cracked screens, battery replacements, water damage and charging problems.
Another area of growth for NH iPhone Repair are corporate contracts with local companies that have employer-provided devices or are seeking to add an additional benefit for their workers.
"We have a couple contracts where [the company's] sales team uses iPhones or tablets in their daily work schedule and we come out and do repairs at their location," said Johansen, who said he also has a contract with a law firm up near Concord. "We love doing it because it works for us and it's very convenient for the employees because they don't have to take time out of their day. We do it right on the spot, whether it's at their office, at the court house, at the coffee shop or where they're meeting a client."
Making cellphone repairs convenient and a pleasant experience has always been Johansen's goal.
"We've been in business for five years and we've held our values we started on: quality parts and great service with a lifetime guarantee. There are plenty of options out there for where to get your phone fixed, but we're the only one that will remember your face and your name," said Johansen. "You can get your phone fixed at the mall, but the next day it won't be the same employees there."