NH House panel puts the brakes on paid family leave effort
Labor committee votes to put measure off until 2018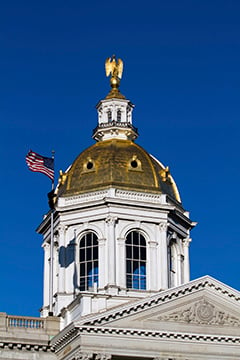 Supporters of setting up a paid family and medial leave insurance program in New Hampshire will probably have to wait another year.
The House Labor, Industrial and Rehabilitative Services Committee voted Tuesday to retain the proposal, meaning that it won't reach the House floor until next January. All but one Democrat agreed to the delay, accepting at face value Republicans' pledge to work on something that could pass.
Gov. Chris Sununu had supported paid leave during the campaign, noted the committee's chair, Rep. Stephen Schmidt, R-Wolfeboro, "and once we get to hear about his policy, it would have a better chance, quite frankly, if everybody has a chance to address some of these issues."
Rep. Douglas Ley, D-Jaffrey, accepted the offer, as long as the maneuver doesn't turn out to be an attempt to "to simply bury" the measure.
House Bill 628 would have set up a program similar to unemployment insurance, a fund that would pay workers who need to care for a sick relative or child, or to recover from an illness themselves, 60 percent of their salary for a maximum of 12 weeks.
All workers would pay a half percent of their salary into the fund, unless they opt out of both the payment and the benefits.
The opt-out provision was added as an amendment to satisfy those who objected to mandates, but such a voluntary program has never been tried before, causing Republicans – and some supporters – to question whether the fund would be viable.
Rep. Sean Morrison, R-Epping, said that he had heard worries that employers might be held responsible to pay out benefits if the fund were depleted, and to clarify that would "allay a lot of fears."
Ley replied that there was no language in the bill that held employers accountable. "I won't use the word red herring, but it is not a concern," said Ley. "The supporters bent backwards to avoid placing a burden on businesses," Ley said.
One concession was that the bill would not extend the federal unpaid Family and Medical Leave Act to businesses with fewer than 50 employees.
Employees of smaller companies could still collect the paid benefit, but there would be no guarantee that a job would still be waiting for them when they were ready to return to work.
House members might get another shot at paid leave this year, if the Senate passes over a similar bill, but that too would have trouble passing the House without the committee's support.