NH firms seek to make robots easier to use
Waypoint CEO: Automation can help ease skills gap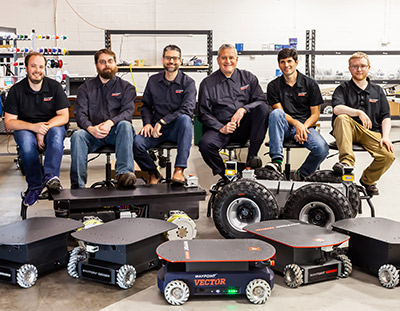 Automating a production line has traditionally not been an easy process.
"It used to be if you wanted to set up a mobile robot, you had to add all kinds of things to the environment," explained Jason Walker, CEO and co-founder of Waypoint Robotics in Merrimack. "You had to add stickers on the walls in strategic locations or add additional sensors to the robot so it knew where it was, or paint lines on the floor."
Waypoint, a spinoff from Stanley Elevator Company, aims to make the process easier with its Vector, an industrial-strength, omnidirectional, fully autonomous mobile robot.
The Vector delivers products and materials to set delivery points, such as the shipping department.
"A lot of companies have been paying their most valuable employees to push a cart," said Walker, adding that manufacturers "have got to automate and become more efficient. The reality is, with the pressures of the global economy and tight labor market, automation is the only way to survive for small and midsized manufacturers."
That is what inspired Walker to create "a robot that's as easy to use as an elevator."
In fact, the Vector's control features big buttons reminiscent of an elevator's. To program it, users simply drive the robot to the loading dock or component storage room and assign a button to the destination. After the Vector has been programmed, it will run on an automated schedule or receive instructions as needed.
"The reality is, with the pressures of the economy and tight labor market, automation is the only way to survive for small and midsized manufacturers."
"My mission in life is to make a system that is so easy and intuitive to set up, so commonsense to use, that I can walk into any factory and I can go up to the shipping and receiving clerk that has been there 15 years and instead of trying to put in some complicated system nobody can understand except the people who built it, I want to give them a tool they can put to work in the way they want to use it, and I want to turn them into the person who manages the robots," said Walker. "That's a fundamental change in the way anybody has approached robotics."
Learning curve
Walker thinks Waypoint's approach to robotics could resolve a common manufacturing issue: the skills gap among workers.
"'Skills gap' is usually a euphemism for 're-education'," said Walker. "We believe, based on our experience and direct conversations with our customers as well as all of us having careers of observation in the robotics industry, that the problem with the robots has always been the robots, and what we're doing, with this ease of use, is fixing these problems."
Ease of use is a common concern for companies considering incorporating automation into their plants, and that is not made any easier by the fact that robots speak different coding languages.
IPSUMM, a manufacturing-focused product development company with a facility at Pease International Tradeport, launched a solution to this problem in 2015.
Called IRIS, it's an interface that works "with any robot platform so you can teach the robot the same way," said President John Kodzis.
The IRIS System, a flexible, six-axis robot work cell, can be incorporated as part of a conveyor feed system or work beside employees. The work cells can be plugged in and out, and the control pad features buttons to move the robot up and down.
Kodzis agrees that robots have traditionally been unnecessarily complicated for those without an engineering background.
"Why should it take a degreed engineer to be able to tell the robot, 'I want to pick this up?'" he said. "At home, you wouldn't accept this. You'd be so frustrated to have to do anything … the consumer would flip out."
IPSUMM has been testing the technology in Indonesia, where the intuitiveness of the robots has proven out, he said.
Both IPSUMM and Waypoint consider their market to be small- and medium-sized manufacturers (though IPSUMM works with some large corporations).
Kodzis said smaller manufacturers are more hesitant to adopt automation.
Jason Walker, CEO and co-founder of Waypoint Robotics, thinks the Vector can transform how manufacturers utilize automation and embolden employees to work with robots.
"It's definitely a mentality shift. It's a whole culture change. The mentality of a manual process — feeling you have to do things because it's tribal knowledge — is hard to shake," he said. Manufacturers have to be open to change, considering what processes are logical and reasonable to automate.
"When you see manufacturing around the world, it's done very differently," said Kodzis, who has spent a lot of time in Asia observing workers working side by side with robots.
Automation adoption
While in general, manufacturing is becoming more automated, much of the market's growth will take place in the pharmaceutical, biotechnology and the food industries, said Kodzis, which is why New Hampshire's robotics and automation companies tend to be located in the southern tier of the state, close to their Massachusetts customers.
"Efficiency is definitely a driving factor, but when you talk about efficiency, it also has to be a good return on investment," said Kodzis. Newer companies will tend to try bits of automation, whereas more established brands may have a harder time because it's an incremental step, he said.
Waypoint has sold 20 Vector robots since the second quarter of 2017, as well as a lot of ecosystem accessory products, said Walker.
Considering the Vector didn't exist four years ago, Walker is optimistic about its adoption. He said it's less of a financial risk for manufacturers since it doesn't require tearing down and rebuilding their operations.
Setting up in NH
Being a subsidiary of Stanley Elevator in Merrimack, Waypoint is a unique startup since it has access to seed funding.
While Waypoint may not need the financial assistance most startups seek, Walker was interested in participating in Accelerate NH, Alpha Loft's 14-week startup program, for other reasons.
"The great thing about Accelerate NH is the connectivity it gives you to the tech community in New Hampshire," said Walker. "Having worked at robotics companies in Boston, I'm pretty well connected with the support system and the people who run the support system for Massachusetts-based startups. Even though I felt connected to the community in Boston, I wasn't connected to New Hampshire and I wanted to be because there's a lot of great tech in New Hampshire but it isn't broadcast in the way it is in a larger market."
Walker is also interested in accessing the pool of Granite Staters who commute to Boston and wants to attract them to work for "a cool company."
"I think there are a lot of cool companies that have been created in New Hampshire and I want to be known in the tech community as a great place to work so we can grow."