NH firms play key roles in medical device production
A collaborative network provides services ranging from design to manufacturing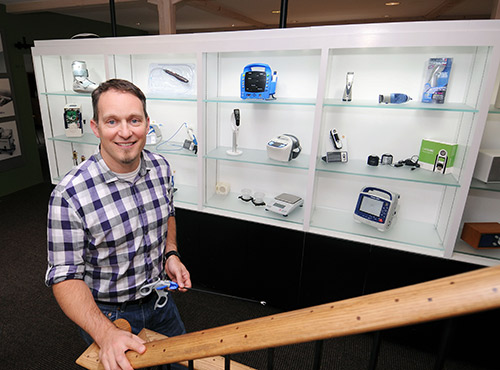 Several startups operating in Cambridge and Medford, Mass., contact Jump Start Manufacturing in Nashua for their services when developing or preparing a medical device for market entry.
"Many of our customers will call because they have an urgent problem – something is stopping them from completing the next step in a product launch," says Thomas Moran, owner and founder of Jump Start. "We have assisted companies that have had challenges completing clinical trials of medical devices due to manufacturing process issues."
One company requested Jump Start's expertise to resolve an issue in the manufacturing process for process development of a UV curing application. UV curing – which uses high-intensity ultraviolet light to essentially dry inks, coatings or adhesives – is believed to increase production speed and be a superior bonding method.
"The biggest challenge to overcome with this particular application was the material," says Moran. "Typically UV bond joints are clear and to allow the light to penetrate the part and cure the adhesive, in this case the parts were opaque, creating a more difficult problem to solve."
Using 3D printing, Jump Start produced several iterations of a fixture used in the manufacturing process, evaluating it and making required modifications until the variables stabilized and it was able to be duplicated in aluminum and stainless steel.
Jump Start ended up giving the customer two possible solutions, one involving use of the current light source with the addition of a secondary curing conveyor, the other increasing the wavelength of the UV cure system.
"Both solutions were successful in solving the customer's process issues," says Moran.
With customers ranging from graduating startups to Fortune 100 companies, Jump Start will follow a tool or fixture through process development, validation, launch and production. The manufacturing engineering firm provides cost models and manufacturing plans, project management assistance as well as process validation protocols that are required by the FDA.
"We're between the inventor and the contract manufacturing company, and what we do is we take care of everything that goes between those two entities," says Moran.
Far above: Jump Start Manufacturing produced 3D printed models to assist in resolving an issue in the manufacturing process of a UV curing application – which uses high-intensity ultraviolent light to essential dry inks, coatings or adhesives. The picture below is the final result.
(Courtesy photos)
Jump Start sees a lot of potential in the startup and incubator boom in the greater Boston area, where medical devices are sometimes born from doctoral theses or through established networks tied to research universities.
"In 2014, we made a conscious decision to go out and seek incubators, startups and people that could use contract manufacturing services," says Moran. "If the company doesn't have an internal manufacturing engineer or adequate resources, maybe they need an extra set of hands. We like that, because our contract will grow as they grow."
Medical manufacturing network
According to Jeff Rose, commissioner of the NH Department of Resources and Economic Development, "New Hampshire certainly benefits from its close proximity to Boston and Cambridge, which is certainly one of the top life science clusters in the country. Oftentimes companies like the idea of having close proximity but recognize the advantages of being in New Hampshire, and still just being an hour away."
Moran says New Hampshire has a vast network of relationships not easily accessible to outsiders.
"In this area, there's so many hidden companies: like L&L Fabricators, Marcat Machining, Pro Axis Machining, DDG Fabrication (all of Nashua) – nobody knows about them, and they do beautiful work at low rates and they can work from sketches with short deliveries," says Moran. "You have to work with somebody who has that desire to solve the problem – if it takes 10 times, if it takes 20 – their reward is its success. There's a big difference between that and getting a part with an invoice."
Farm worked on the Medtronic (Covidien) Kendall Vascular Compression Device, which delivers compression to the leg, foot or both simultaneously. The device was designed to be easily transported and used within the home. (Photo by Jodie Andruskevich)
Several small manufacturers in the area produce prototypes for his firm, says Joe St. Onge, program manager and principal engineer at Sunrise Labs in Auburn. Among them are Franklin-based Spinnaker Contract Manufacturing, a common Sunrise collaborator. "Sometimes we put the components on a board ourselves, but most of the time we don't, and there are a lot of New Hampshire-based companies that do that work for us, and they're invaluable in putting that together rapidly and sending prototypes back to us."
"There are exciting pockets of activity throughout the state," says Rose, citing New England Wire Technologies (in Lisbon), Design Standards Corp. (Charlestown), Cirtronics (Milford), Elbit Systems (Merrimack) and Smith Medical (Keene). "There's really dozens and dozens of these companies."
Rose says "there are opportunities to grow and formalize the strength of [the life sciences] sector within the state of New Hampshire."
He said an initiative will be launched by the end of the year aimed at developing "statewide or systematical programs to address the sector's needs, whether that's working with community colleges or four-year institutions, or other initiatives to make sure the state is providing the resources and talents for the industry to flourish."
Collaborations
Sunrise Labs often collaborates with Farm, a medical device product development firm in Hollis.
"In our past collaborations, Sunrise has focused on software and electrical engineering. Farm tends to focus on user research, human factors engineering, industrial design and mechanical engineering," says Robert Charles, design and engineering manager at Farm. "It's a good partnership, because our
Charles points to Selenia Dimensions, a next generation mammography system featuring Tomosynthesis 3D imaging technology, developed with Hologic. (Photo by Jodie Andruskevich)
expertises don't overlap a lot. There is a good synergy and we have collaborated on a number of different projects."
Both firms worked on Salem-based Gamma Medica's Molecular Breast Imaging System, which won a Medical Design Excellence Award in 2014 and was covered on NBC Nightly News in mid-September.
Another area where such services are required is in meeting FDA requirements.
"The FDA is putting a lot of pressure on design firms and manufacturers to design devices that are easy to use and will minimize any errors that could occur," says Charles. "Not every medical device is the same, but the idea behind usability is to do the research and do the investigation and say, yes, the design is intuitive."
High health care costs are also driving a demand for putting treatment into the patient's or caregiver's hands, and "many of these users have much less experience providing medical treatment," says Charles. "That has resulted in different types of errors and requires us to look at devices in a new light, taking new user groups into account. It's definitely becoming a big area of focus, especially for patients with chronic conditions like diabetes or heart disease."