NH firms learn to cope with new steel tariffs
Granite State businesses begin to see price hikes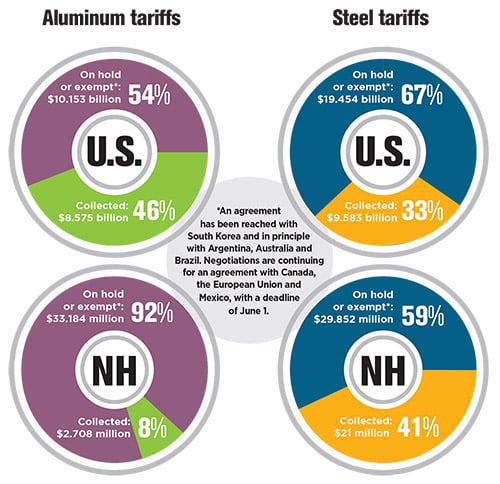 New Hampshire companies imported some $87 million in steel and aluminum affected by steep tariffs imposed by the Trump administration, but there is very little evidence that they care, at least for now.
Nationwide, about 100 companies have asked the administration to not impose tariffs on 1,600 products. None are from the Granite State.
Unlike the broader set of duties threatened against China, the 25 percent surcharge on steel and 10 percent on aluminum actually went into effect on March 23. And while tariffs against producers in some major steel-supplying countries are on hold, uncertainty may already have driven up prices.
"The negative consequences of these tariffs can fall particularly hard on small businesses, who create two out of every three new jobs in the United States," wrote U.S. Sen. Jeanne Shaheen, D-NH, to the U.S. Small Business Administration to protest the tariffs. "When prices on their products go up, small businesses are less likely than their large competitors to be able to cut costs elsewhere. Unlike large corporations, small businesses do not have the resources to navigate opaque and confusing exemptions processes for new tariffs."
New Hampshire impact
It's not that the tariffs haven't been noticed, particularly among steel fabricators and distributors.
"We are getting increases in our prices or refusal to give firm prices. That is causing some instability in our raw material supply," said John Seeler, owner of ATS Precision, a New Hampton contract manufacturer that uses steel imports to make industrial microwave and aerospace proponents.
Prices have gone up 30 percent, he said. For now, ATS is swallowing the increase with fixed contracts. Eventually "we might have to pass that on to the customers," he said. The hike shouldn't affect the company's 20 employees because it has weathered other price fluctuations, he added.
"One of my concerns is some companies might be able to get around this by importing completed products. That would be a total debacle," he said.
Several business owners wondered if suppliers were taking advantage of the situation.
According to Eddie Holman, general manager of Summit Metal Fabricators, domestic steel producers "are raising prices because they can. Summit, a Plaistow machining shop that employs about 200 people, buys half of its steel and aluminum domestically, and the rest comes from importers. Holman has seen prices rise about 12 percent following the tariff in recent months.
Holloman, who voted for Trump, thinks the president is "doing the right thing" by imposing tariffs "because maybe now we will have an equal playing field."
In fact, his main beef with the president is that he didn't extend the tariffs to protect fabricators like himself as well.
"I don't think they thought this through," he said.
Chris Buchanan, president of Alliant metals, a Hampstead distributor that imports 90 percent of its steel, has seen prices go up 25 percent, sometimes more — "even the domestics."
But the hikes won't affect his 22 employees.
"It's going to be passed on to the consumer. It's not going to affect me."
Also a Trump supporter, Buchanan said he cares more that "business is starting to pick up. The last eight years were horrible," and he, too, supports the tariffs "because, in the long run, it will be good, though there are going to be growing pains in the beginning."
Other companies are starting to feel shortages.
"Just now, it is starting to hit," said Sharon Poulicakos, Manchester service center manager at Applied Industrial Technologies, a distributor for various steel companies. "One supplier is now saying we'll be out of stock for 12 weeks. I'm not sure what we are going to do."
Individual exemptions
The full extent of the tariffs is not yet known. Customs officials were collecting the duties at the port of entry from direct importers as soon as they went into effect. But it may take a while for those higher charges to be passed on to distributors and the end user, both of whom might be protected by long term contracts.
In addition, entire nations are asking to be exempted, and for now tariffs have been put on hold for the entire European Union, Canada and Mexico as of June 1 as well as Argentina, Australia and Brazil, which are trying to negotiate their own deals, like the one South Korea has already signed.
These nations account for a third of the annual $36.5 billion of steel imported into the United States and the $51 million imported into New Hampshire.
But when it comes to aluminum, New Hampshire is hardly impacted at all. That's because the nations on hold produce 93 percent of the $36 million worth of aluminum imported into the state, while nationally they produce less than half of the $12.7 billion imported.
Then there are the individual exemptions.
On March 19, the Department of Commerce announced how companies could avoid the tariffs by showing that no one is producing the product in the United States "of a satisfactory quality or in a sufficient and reasonably available amount."
Companies have to do this for each product they wish to import. U.S. steel producers have a chance to object, and then the government has about 90 days to reach a decision.
Requests have come in at a rate of sometimes several hundred a day. Each exclusion request has to be filled out on an Excel form demanding the product's 10-digit HTSUS (Harmonized Tariff Schedule of the United States) code, the specific dimensions, the quantity in kilograms and "a full description of the property, including chemical composition, dimensions, strength, toughness, ductility, magnetic permeability, surface finish, coatings and other relevant information."
Then the company has to estimate the percentage of the product that is not available in the U.S., the docks the product will come in on, the days required to take delivery, to manufacture and to ship from the foreign port to the local port as well as many other details. It should take four hours to fill out a single request, the agency estimates.
And when it comes to reasons a request should be granted, "the criteria is extremely ambiguous," said Matthew Bock, an attorney at Middleton & Shrull, a Woburn, Mass.-based law firm that specializes in trade law. "It seems like a pretty narrow window. You have to really prove it's a unique steel product to get an exemption."
The tariffs themselves could be challenged, of course, but Bock doesn't think there is much of a legal basis, and besides, there is such a backup and delay at the World Trade Organization that it could be years before a decision is reached.
A few firms that have applied for exclusion do have some ties to New Hampshire, but they are tenuous at best, including Plains All American Pipeline, a Houston firm that constructs and maintains pipelines for the oil and gas industry, owns a rail terminal for liquefied natural gas in Claremont. Also, EWP Renewable Corp., a subsidiary of Marubeni-Itochu Tubulars America Inc., another Houston company seeking a tariff exclusion, owns the wood-burning power plant in Springfield.
Foreign trade zone
There is another way companies could escape some of these tariffs. That's by using a foreign trade zone. Companies within the zone can manufacture the steel and ship the finished product out, without having to pay tariffs. Or they could import the product and pay a lesser tariff, though whether that latter provision would apply to these new tariffs, which are based on national security, is still up in the air.
Unlike most states' zones, New Hampshire has only one foreign trade zone on the Seacoast, but it does have a subzone surrounding Manchester-Boston Regional Airport. So far, very few companies in New Hampshire have taken advantage of the FTZ (see "Behind the curve on imports," Sept. 15-28 NH Business Review).
Also, New Hampshire is one of a handful of states that hasn't set up an "alternative site framework," which expands a foreign trade zone to adjacent counties. In a small state like New Hampshire, an ASF would include most of the state's businesses.
On Jan. 31, the state applied for an ASF, and "we anticipate approval around the middle of summer," said Glenn Page, a principal at Foreign Trade Zone Solutions LLC in Greenland, the firm that the state hired to submit the application.
Should the China tariffs take effect, and other countries retaliate, the United States could enter into a full-scale trade war, and no one knows how that will impact the Granite State.
But one thing is certain in this first shot across the bow: While steel tariffs may not hurt New Hampshire businesses very much at first, they certainly aren't helping. Nobody produces steel in the Granite State.
As David Trumbull, a partner at Foreign Trade Zone Solutions in Greenland, said of the tariffs, "these may be great for the people in Ohio but not New Hampshire."
Bob Sanders can be reached at bsanders@nhbr.com.