NH firms have strong presence at BIOMEDevice
Over 20 suppliers, product design firms and contract manufacturers attended the medical device conference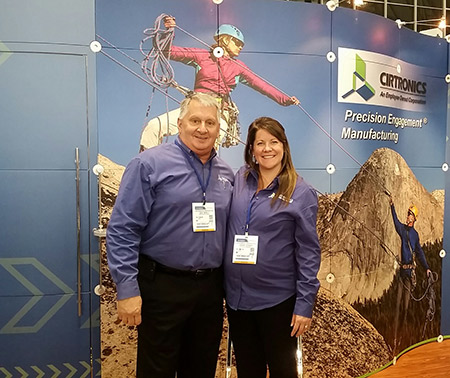 Over 20 New Hampshire companies serving as suppliers, product design firms and contract manufacturers were on display or roaming around the exhibit space at BIOMEDevice – the largest medical device conference in New England, held in Boston last week.
The presence within the Boston Convention & Exhibition Center illustrated the strong market relationship between New Hampshire firms and their clientele in the greater Boston area.
"It's easy to track down clients – a lot of our clients are in the greater Boston area," said Tristan Sedgewick, marketing manager at Farm, a product design firm based in Hollis. "A big draw too is the Massachusetts medical conference [MassMEDIC] is co-located, so we're all down here."
"We're a regular," said Rick Crane, vice president of the innovation services group at J-Pac Medical in Somersworth. "We have a majority of business in our own backyard, so to speak. So this gives us a local focus. A lot of the other shows are national or international so you lose the local identity. Here it's like meeting with your neighbors, so in that respect, these are the people we really need to be dealing with if you want to be important in the market."
"This is the first trade booth we've ever done," said Tim Walsh, president and founder of Appli-Tec, an adhesives manufacturer in Salem. Walsh was testing the waters to see if his company should attend more trade shows.
"We've gotten four customers from the BIOMED show," said Lindsey Spanos, account manager at Cirtronics, a contract manufacturer based in Milford, who says much of the company's clients are in Boston, Billerica, Marlborough and parts of Western Massachusetts. "Which usually they say, the money you invest in a trade show, if you get one customer you've made your return. This is the one show we bring our larger booth to," she said.
"The medical device industry is really exploding in the Boston area. We have been successful in getting traction there, and have some long-term relationships we are grateful for, and are focused on adding to them," said Becky Hopkins, business developer in the relationship management group at Helix Design in Manchester. "We believe that the new technology will drive interest in our services, but our success relies on the relationships we build."
Emerging trends
In addition to meeting face-to-face, attendees also found the conference to be a good source to learn about emerging trends in the industry.
"We're seeing people asking us for a broader range of services than we have in the past," said Crane. "For instance, we can provide a package to our customer, like a thermoformed tray, or we can provide supply chain management and package their product for them. The trend is driving big time to us packaging other folks' devices and in some cases building the device for them. So their focusing on design, they're focusing on selling, but they don't want to be in manufacturing."
J-Pac is currently working on reagent filled blisters, a diagnostic test disposable for a point of care test, that is very early in development, but Crane expects could be an area the company has a leg up on.
Another common trend discussed was the movement toward smaller devices and more precision in the manufacturing techniques.
"Some of the trends are the size of catheters or devices are getting smaller and smaller so the minimally invasive procedures hurt the patient less," said Timothy Steele, CEO and founder of Microspec, an extrusion manufacturer. "We're seeing more trends toward more implantable grades of polymers to go into the body for drug delivery or whatever. Another trend would be multi-functional catheters doing more things than just delivering a drug but maybe using a camera inside the catheter as well as a laser to destroy or extract kidney stones."
"The tolerancing is getting much tighter," said Frank Stone, president and CEO of Omni Components in Hudson. "The instruments and the implants are getting much more sophisticated — just leaner, more fit for us for the person that's going to receive the implant. It has to be a clean product. Tolerancing 10 years ago may have been 10 times wider, but now the tolerancing and the precision is getting so fine, it's a challenge but our team loves the challenge."