NH edging out of its pension fund hole
State's funding ratio increases, but remains sixth worst in U.S.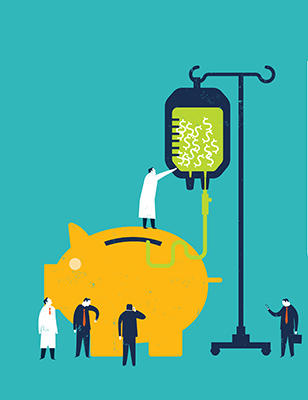 The good news: New Hampshire seems to be getting a handle on its underfunded pension fund. The bad news: The state still had the sixth most underfunded fund in the nation in the 2014 fiscal year.
The move to sixth place is actually an improvement. The pension trust fund, which has about 49,000 active members and 30,000 pension recipients, ranked as the fifth most underfunded public pension plan in fiscal years 2011 and 2012, according to data collected by Bloomberg.
But New Hampshire's funding ratio increased slightly from 56.2 percent to 56.7 percent in fiscal year 2013, inching to sixth place. And in fiscal year 2014, New Hampshire's ratio increased over four percentage points to a 60.7 percent funding ratio, said Marty Karlon, spokesman for the New Hampshire Retirement System
"Last year was a very good year investment-wise and that helped," he said. The retirement system received a 17.6 percent return on investments in fiscal year 2014, increasing assets to $7.35 billion. In 2013, it saw a 14.5 percent return.
"Our investment return was driven by strong performance from domestic equities," said NHRS Executive Director George Lagos in a press release. "While we are obviously pleased with these returns, we continue to emphasize that our primary focus is to meet or exceed the retirement system's assumed rate of return of 7.75 percent over the long term."
Legislative changes
What started New Hampshire's pension problems in the first place?
"Basically there are a couple policy issues that go back 20 to 25 years that set us on that path," said Karlon.
To help ease costs during the 1989 housing bubble, the Legislature changed the calculation to produce a lower contribution rate – a "temporary idea," said Karlon, one that stayed on the books for 15 years. The retirement system was skimmed into another "special" account to pay medical and other benefits, but, if an employer was having a down year, there were no extra funds heading into the pension trust fund, said Karlon. Instead, funds went only into the special account.
"It was an accepted actuarial method, but it wasn't a commonly used one," he says.
Then the dot-com bubble burst and there was the big crash in '08.
"The combination of them all, coming to a head, brought us to where we're at," says Karlon. "But the Legislature caught on to '01, '02 market issues and changed the way the rates were calculated, stopped transferring money into the special account and appealed it … and there were a lot of benefit changes to future retirees to save money in the long term."
Over the past five to eight years, those changes include a 2011 increase in payroll deductions from members' paychecks. And employers have been paying more in recent years because of unfunded liability, due to the market crash, he says.
In 2008, the Legislature created a closed window on paying back the unfunded pension, with a goal of fully funding the pension to where it should be in 2039.
"Usually if you have a pension debt, the best practice is to have a closed period to where you have it to be," says Karlon.
Numbers on the recently ended fiscal year 2015 will be released in October, according to Karlon.
"We should see New Hampshire improve. It will be a slow, steady improvement," he says. "The way the pay down is set up, the expectation is the ratio would increase every year, and at the end of the tail of the curve it would increase more steeply."
While New Hampshire, for the time being, has one of the most poorly funded pension plans, Karlon points to New Jersey, which hasn't attempted to dig out of its pension deficit since 2001, and whose state Supreme Court ruled that Gov. Chris Christie could skip $2.4 billion in pension fund payments in fiscal years 2014 and 2015 to avert a statewide fiscal crisis.
"We're paying the full amount so we're beginning to fill in the hole. We stopped digging in '05 and now we're filling it in," says Karlon. "It's not a good place to be, but there's a reason we got there and hopefully we're trending in the right direction now."