NH Army National Guard Regional Training Institute and Barracks
Confronting challenges, Eckman Construction exceeds expectations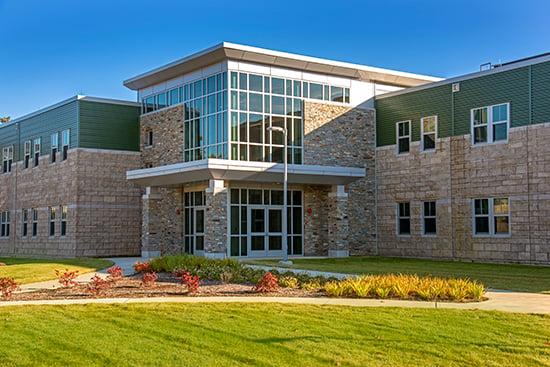 Every construction project presents certain challenges. Yet when Bedford-based Eckman Construction took on the New Hampshire Army National Guard Regional Training Institute and Barracks facility in Pembroke, the 43-year-old company faced a unique set of obstacles.
Plans for the much-needed facility — a $28 million, two-building campus including the training center and the barracks — had been in the works for some time. At 56,000 square feet, the Regional Training Institute would include a 180-seat auditorium, training space, dining room and commercial kitchen, classroom space and secure weapons vault. The barracks, at 47,000 square feet, would include 64 double-occupancy rooms, 8 single-occupancy rooms, and community and laundry spaces.
Construction began in October of 2011, but work was halted in 2012 when the State of New Hampshire terminated its contract with the original contractor.
When Eckman Construction took over as construction manager, conditions were less than ideal. The building's foundations and structural steel were only partially completed. Eckman was hired to correct defective work and complete the remaining balance of the project, as designed by Portsmouth-based architect and engineering firm Oak Point Associates.
"What's unique about this project is that when it was put out to bid again, the State decided to add a qualifications component to the selection," Eckman Construction Vice President Preston Hunter said. "Eckman was selected based on our capabilities and our guaranteed maximum price to complete the project."
The site had been untouched for more than a year. Piles of structural steel had been left to rust, weeds had overgrown the site and portions of underground plumbing were put in place, but had been abandoned.
"It was in various states of disrepair, and obviously one of the challenges we faced was to figure out what was good, what could be used and what needed to be removed and replaced," Hunter said. "The onus was on us to do a thorough inventory of all the materials on-site — both stored and installed."
When tested, it was found that the concrete in the foundations did not meet specified strength requirements.
"One of the first things we had to do was to cut out and remove the faulty portions of the foundations before we could resume construction of the buildings themselves," Hunter said. "That was particularly challenging in areas where the previous contractor erected structural steel on top of that foundation."
Eckman hired structural engineers to design temporary support structures, allowing for the removal and replacement of foundations from under the erected steel frame.
Then the next hurdle was revealed: The winter of 2015. Waiting until temperatures outside would warm up was not an option. The schedule dictated that progress needed to be made, even during a winter that had periods of record cold and precipitation.
"We are a New Hampshire general contractor — we build in the winter all the time," Hunter said. "That winter, I recall, was a pretty fierce winter. We were not enclosed, which complicated the matter, and we were at a stage where we were trying to place the concrete slabs in freezing temperatures."
To meet this challenge, the Eckman team employed a number of different strategies, including heating the spaces, using insulated blankets to ensure the concrete cured completely, wrapping portions of the steel frame in poly, and adding beneficial chemicals at the concrete batch plant.
"This one had some difficult challenges you don't typically see," Hunter said. "Namely, this was the first project we've ever taken over from another contractor. We had to take ownership for the work that was done by a previous contractor. There's a fair amount of risk associated with that."
The Eckman team was keenly aware that the Regional Training Institute and Barracks facility was a very important project for the State and for the New Hampshire Army National Guard. Additionally, the project was required to meet high performance standards set by the U.S. Green Building Council. Shortly after the completion of construction, both buildings were awarded LEED Silver Certifications in recognition of the facility's many sustainable elements.
"Funds were appropriated years earlier, and the facility was badly needed and had been delayed," Hunter said. "It made our ability to perform and exceed expectations very important," Hunter said. "We were under a lot of scrutiny."
Chief Warrant Officer Larry Rea played an important role throughout, Hunter said.
"This was a facility he and his team were going to be using and he wanted to make sure it was perfect — and rightly so," he said. "The sense of pride at the end of the project was really just admiring the craftsmanship and quality that went into this facility. The beautiful design by Oak Point Associates deserves acknowledgement."
A number of locally sourced materials were used throughout — including the striking granite in the front lobby.
"We know this facility was designed to protect and serve the members of the National Guard, who put their lives on the line for us," Hunter said. "They volunteered to protect us, and if anything, the satisfaction was that we knew we were handing them an incredibly high quality facility, which they deserve."