NH aerospace firms eye international markets
First statewide conference draws big and interested crowd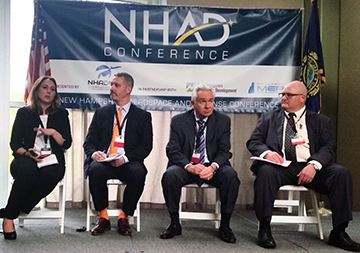 Exceeding the expectations of officials of the NH Aerospace & Defense Export Consortium, the first NH Aerospace and Defense Conference drew an impressive crowd, turning the event into a successful connecting point for some of the nearly 300 Granite State firms in the sector, including representatives from government contractors BAE Systems and Raytheon.
The conference, held June 10 at the McAuliffe-Shepard Discovery Center, had originally planned for 125 attendees, but almost double the number – 228 – showed up, said Zenagui Brahim, NHADEC chair and president of the NH Manufacturing Extension Partnership.
Keynote speaker Paul Kling, deputy vice president of operations and supplier partnerships at BAE Systems, made it clear that he was seeking more relationships with more firms in the Granite State.
BAE, which has 4,500 employees in New Hampshire, spends $60 million in the state, he said. "I'm here to tell you it's not enough, it was once more," Kling told the crowd. "We need help. We need your help, to be successful in our endeavors."
BAE currently makes 200,000 "things" in New Hampshire, often parts of products, and the company expects to increase its production by at least 50 percent over the next four years, said Kling, who noted it was a conservative estimate.
"We're not going to do that all by ourselves. We need the extension of manufacturing right here in New Hampshire to make us successful," he said.
Kling talked about past efforts with Department of Resources and Economic Development Commissioner Jeffrey Rose and Brahim, who is executive director of the Manufacturing Extension Partnership, to get more young people into manufacturing careers. The issue was brought up again by audience members, concerned about the state of STEM education in the school systems.
"I can tell you right now that a career in manufacturing here in New Hampshire is a terrific career," said Kling.
Since the U.S. is tightening its defense spending, the focus of the conference was on selling internationally.
With Russia, China and Iran drastically increasing their defense spending and assertive global footprint – as pointed out by panelist Chris Jones, principal at global management and strategy consulting firm Strategy& – it sets the context for international buyers.
Countries in the Middle East and North Africa are increasing their defense spending as a result of the lack of stability in the region. Saudi Arabia is spending between 9 and 10 percent of its GDP on defense. And Latin American nations are increasing spending to thwart terrorists in the region. But NATO countries are "struggling" to spend 2 percent of their GDP, said Jones.
Aerospace and defense businesses should examine their offering, see if it can be scaled to a broad environment, and – when looking for markets to sell to – examine the military maturity of the market versus how it is participating, said Jones.