NH aerospace consortium inks deal with U.K. counterpart
Granite State organization, Farnborough consortium sign memo of understanding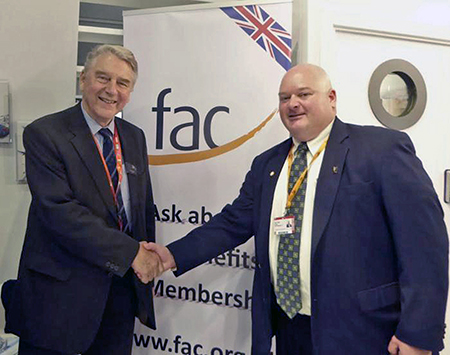 The NH Aerospace and Defense Export Consortium is expanding its international relationships and potential for trade activity with the addition of a signed memo of understanding with the British Farnborough Aerospace Consortium.
Under the agreement, NHADEC and the Farnborough Aerospace Consortium – the largest in the U.K. – will cooperate and coordinate actions among their members to provide what they call a greater industry ecosystem.
"At this very significant time in our international business situation, we are delighted to have the opportunity to strengthen links and opportunities between the aerospace industries in the southeast of England and in New Hampshire in the USA," said David Barnes, CEO of the Farnborough consortium in a press release. "The signs are that there will be much to be done together, to the advantage of both of our aerospace communities."
"For us, it's important because anyone in the aerospace sector knows Farnborough. Because they have an annual international air show, they know it's a hotbed of companies in that industry," said NHADEC spokesperson Dawn Wivell. "We're doing our best, together with the state, to market the capabilities in New Hampshire in the aerospace sector. It's one of our most important and fastest growing industries."
Wivell said Don Tyler, president of Corfin Industries in Salem, and a founding member of NHADEC, was key in forming the relationship with Farnborough.
"He carried this forward and made it happen, so it was a great example of how a good ecosystem can work, where a particular company, and he's a very busy man, does something great to help the state, help the industry [and] help colleagues in the industry," said Wivell.
The Farnborough consortium has more than 120 members. NHADEC, formed in 2013, has more than 300 members.
"International business in particular is well-seeded in good relationships," said Wivell. "It's all about opening that door, creating those relationships [and] creating special inroads to selling products overseas."
NHADEC will be working on events to make both its members and Farnborough's aware of how they could utilize each other not only to buy products or services but also share solutions, said Wivell. A new website for the NHADEC is in the works to more readily share databases for special members, she added.
"If anyone has a problem or needs a particular solution to a manufacturing issue, or needs a product or service for an innovation they're working on, they'll think of NHADEC as one of those organizations to go," said Wivell.
This is NHADEC's second cooperative agreement signed its founding. In the first six months of its existence, it signed an agreement with AeroMontreal. NHADEC will be reaching out to many more consortiums around the world, said Wivell.
"The bottom line is to help our members and the best way to help our members is to expand their market," she said.