New tech advisory council seeks to jump-start N.H. startups
At first meeting, participants brainstorm ideas how to improve state's message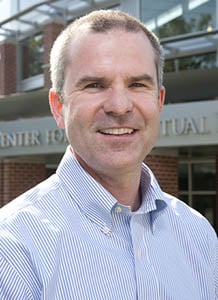 Once in the top third of states when it comes to business startups, New Hampshire's rank has dropped since the recession to the bottom half. The governor's newly formed Live Free and Start Advisory Council aims to remedy that.
During its first meeting on Tuesday, the council – consisting of a University of New Hampshire professor and 13 tech businessmen and women from across the state – discussed why the state has fallen out of favor with startups and brainstormed ideas for how to fix it.
Encouraging startups to move to or launch in New Hampshire will require a stronger marketing effort, a tech startup community, increased access to skilled workers and perhaps an overhaul of the state tax structure, in time, they say.
Professor John Orcutt at the UNH School of Law, says New Hampshire's complicated business tax structure and instability among political leadership are big reasons startups are shying away from the state.
He said New Hampshire should be luring the nearby booming startups north of Boston, but accountants in Massachusetts are confused by the "upside-down" New Hampshire tax system and are deterring their clients from moving to the Granite State.
"It's a unique tax structure that's prone to pitfalls," said Orcutt. "They've been burnt … and they're telling businesses."
Big swings in New Hampshire's political leadership over the past six years also have made startups weary that laws could change at a moment's notice, said Orcutt.
Orcutt put together the "Improving New Hampshire's Startup Environment" report with Ross Gittell, chancellor of the Community College System of New Hampshire and an economist.
Joining the start of the session at Alpha Loft in Manchester, Gov. Maggie Hassan shared the expectations of businesses she had spoken with from around the state.
One frustration voiced was the slow process for registering a business. The governor said there are state efforts to become more technology friendly, and she recently signed an executive order to have all business forms online by next year.
And the Life Free and Start domain has been reserved, should the group decide to make it a business tool for young tech startups to find resources, she said.
Participants did voice concerns over keeping or attracting talent to the state – employees who in turn could start their own companies down the line. They said they felt the recession had affected the state's image by decreasing job prospects greatly, not leaving enough access to opportunities for individuals to move to New Hampshire primarily for career growth.
CEO Ryan Barton of Mainstay Technologies, located in Belmont, said people "tend to move here for quality of life versus career options," with more individuals in their 30s looking to settle down near family versus career-driven twentysomethings.
"I haven't found a lot of people – smart, career-minded – who stay in the state," said Barton. "Less people are moving here to see what's going on because there are less big players."
But Paul Mailhot, vice president of business operations at Dyn, said as the company grew he was finding more applicants from California and New Jersey who discussed relocating. Most had families, and while some were hesitant to move initially, they were happy once they arrived, said Mailhot.
Members of the group also pointed to increasing transportation services from Boston to southern New Hampshire, allowing for interns and individuals living in Massachusetts to travel for work. But a cultural shift away from long commutes could stifle that initiative.
"People want to work where they live," said Shawn McGowan, chief operating officer at Newmarket International Inc. in Portsmouth.
McGowan said he was having a hard time recruiting employees from Boston for his Waltham, Mass., location, just seven miles away. "Waltham is too far from Boston," he was told.
While the group focused on fixing what are perceived as problems, it was acknowledged that an easier and earlier accomplishment would be to determine a better marketing strategy that highlights why the state is good for startups, including no sales tax, an R&D tax credit, a lower cost of living and the ability to own office space.
"It's hard for [startups] to see these advantages if we don't articulate them well," said Hassan.
The council's next meeting is set for 3 p.m. Wednesday, Aug. 13, at 2 Pillsbury St., Concord.