New Portsmouth bar returns Federal Cigar to its glory days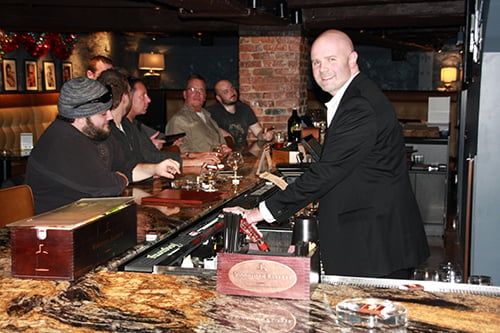 It may be 93 years old, but the Federal Cigar shop in Portsmouth has had a makeover – and boy, does it look snazzy.
The cigar shop, originally situated where Starbucks is now, spent several years in the alleyway on Ladd Street near the entrance to a parking garage. That is, it was there until last summer, when co-owner Rick Gadway moved the store to 36 Market St. and built a cigar bar downstairs.
"We were in a little 1,100-square-foot closet, frankly," says Gadway. "This location has been beyond my wildest dreams. There's nothing like Market Street."
The new 4,000-square-foot space is reminiscent of a speakeasy, with a 1700s-era brick-building interior common in Portsmouth. It features a full-service cocktail bar, plush leather seating and the largest collection of rare and exclusive cigars in New England, says Gadway.
First open in 1921, Federal Cigar was the center for politics and town business in the late 1930s. This new location is returning the cigar shop to its glory days.
Gadway, who entered the business in 2006 and bought the shop in 2008, says he's wanted a cigar bar since he worked to make them legal. Cigarette smoking was banned from New Hampshire restaurants in 2007, but, in 2009, the Cigar Association of New Hampshire succeeded in exempting cigar smoking in cigar bars.
"Cigars are not cigarettes," says Gadway. "Cigars should be treated more like wine."
There is one condition for a cigar bar in New Hampshire.
"We cannot serve food," says Gadway. "We can only serve a cigar and cocktail," which he says makes the bar a popular after-dinner spot.
The cigar bar, which opened in late August, has been doing exceptionally well, he says. About half of the clientele are regulars.
Cigar-friendly state
Gadway says cigar lovers cross all demographics.
"You'll come down here at 9 o'clock on a Friday night and there'll be college kids – 21, 22, 23 – sitting next to 65-year-old guys. It's a unifier; if you're a cigar smoker, you're in the club," he says.
The bar's top-selling cigar brands are Tatuaje, My Father and Arturo Fuente.
"There's a perception that cigar smokers are fat cats, and that couldn't be further from the truth," Gadway explains. "I'd say the average cigar that we sell is $6.50, $7."
The bar also offers electronic cigarettes, an affordable option for cigarette smokers trying to quit. The liquid tanks include vanilla and other flavors that are heated up with coils and emitted as vapor. But regular cigarettes cannot be smoked in the bar.
Gadway imports cigars from the three major cigar-producing countries: Nicaragua, Dominican Republic and Honduras, though he says the lower Connecticut River Valley produces the finest wrapper leaf in the world.
"It's actually the best time in history to be a cigar smoker. There are so much phenomenal, good-quality cigars on the market that the prices kind of come down a little bit on the really good stuff," says Gadway.
New Hampshire is one of three states in the country that are cigar-friendly, and being the only cigar-friendly state in New England boosts revenue not only for the Granite State cigar business, but also the tourism industry in general, he says. Federal Cigar has three other locations in Dover, Epping and Plaistow (the latter with a miniature bar setup before the Portsmouth full bar).
Gadway says what really makes Federal Cigar's bar stand out is its ventilation system.
"We're one of two bars on the East Coast with this ventilation system," says Gadway. "You'll leave here and you won't smell. The entire space is turned over in two minutes."
Sure enough, air ports near your feet and overhead suck out the smoke within seconds, a feature Gadway invested in to make the atmosphere pleasant and ease concerns of neighbors.
When asked how much the ventilation cost him, he laughs. All he'll tell you: "The ventilation system cost more than a really nice house." In the Brentwood/Exeter area, if you were wondering.
All of the bar's features add up to a classy, high-end bar.
The cigar bar offers about 60 lockers, which have all been grabbed by regulars and corporations. Gadway says a prominent national corporation based on the Seacoast has secured lockers for when their executives from Europe visit.
Not only will a bartender gladly help you pair a cigar with a cocktail, but Federal Cigar holds monthly manufacturer tasting events, lining up a liquor manufacturer with a specific cigar vendor.
Carlos Fuente, producer of the famed Arturo Fuente cigar line, recently visited the bar and was astonished by its look.
"I travel all over the world," said Fuente, "and Portsmouth should feel pride as they have one of the most beautiful cigar bars I have ever seen."
And, having hosted the state's only matchbook straw poll for over 30 years, Gadway has his eyes set on the New Hampshire presidential primary.
"I'm excited with the presidential election in two years," Gadway says with glee. "I know back in the closet over there everybody came through – from Rudolph Giuliani to Donald Trump – so I can't imagine what it's going to be like with having this now."