New music studio makes a sound decision in Nashua
Recording studio caters to aspiring musicians, area businesses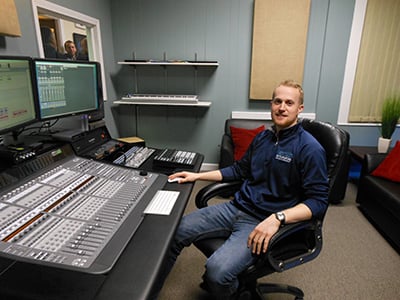 After deciding to embark on a lifelong dream to open a recording studio, GCS Studios owner Matt Feehan discovered the difficulty of securing a spot.
"I was looking in the classified ads on Craigslist for just commercial space, and as soon as they heard recording studio they'd hang up the phone because of sound. Everyone was kind of weary about that," says Feehan.
Luckily, he stumbled on the perfect place, in the charming Corriveau Insurance building in downtown Nashua.
"879 The Beat used to be in this space, so this was already preconfigured almost for a studio … the landlord has been super helpful and nothing but good to me," says Feehan, who signed the lease in July.
A Nashua native and Plymouth State business graduate, Feehan is well tuned to the music world. He comes from a musical family. His parents are in a band; his dad plays drums and his mom sings, as did his grandmother, she will quickly point out. His uncle produces music as a hobby. Feehan himself was in a band in high school.
"Matt's always been creative. He's always been a go-getter," says his aunt, Colleen Normandy.
Feehan has been a part-time DJ since he was 16, when he accompanied his father to his own gigs.
At this point, the main focus of GCS Studios is DJing at weddings, corporate events, 50th birthdays, sweet 16s, graduation parties and more. Feehan says he hopes to hire a few DJs so he's on the road less.
But what he'd like to focus more on recording and mixing music for musicians as well as helping local businesses with radio, Internet and TV ads.
Feehan previously mixed seven songs on rising hip-hop star Mike Stud's first album, which reached No. 2 on iTunes. Stud packed the House of Blues in Boston last month, while on his national tour, he says.
Feehan collaborated on the project with his roommate Ben Young, who created the artwork for Stud's album.
"That got our name out there, and we'd get inquiries from kids from North Carolina, New York, saying 'Hey, can you mix a track for me?' So they'd send their files electronically and I'd work my magic and make them sound good," Feehan explains.
He also worked with Collin McLoughlin, a singer who was a member of Team Adam (Adam Levine of Maroon 5) on Season 3 of "The Voice." Feehan rapped in the song while McLoughlin sang the chorus.
Love for Nashua
Feehan's currently working with a couple of people from New York, as well as helping produce music with his brother, who is a musician. He is interested in acoustic, hip-hop and rap, but says he's open to all different types of music. His focus is getting his GCS Studios' sound out there.
Feehan wants musicians and business owners to feel comfortable recording music, TV, radio or online ads.
The 500-square-foot facility is equipped with a lounge area, two sound booths and a control room. The studio uses Pro Tools HD, an industry standard in audio recording software.
"My microphones are kind of my bread and butter – whether it's recording vocals or guitar," says Feehan. For vocals, he uses an Avalon 747, "which is awesome, it makes your vocals sound so crispy, rich and warm."
The studio is also equipped with a Neumann TLM 49 and Neumann TLM 103.
"[I'm a] big Neumann guy. They just sound so good," says Feehan.
He also has Avid products for mixing and software plugins for mastering and mixing.
"I'm just very open to working with everybody and anybody that loves music just as much as I do and wants to better their sound," says Feehan. "I hear businesses' ads on the radio, and I think, 'I can do a way better job' – just doing the music for it or doing the voiceover for it, I can make it that much better."
He and Young collaborated on a YouTube ad for Dynamic Strength and Conditioning, a fitness center in Nashua. Feehan's focus is bettering businesses' sound quality, and he's very willing to work with a business to bring its concept or idea to fruition.
And if a business needs a tune, Feehan has a number of musician friends to call upon.
"You've got to instill that relationship and be personable with people in order to keep a business strong and a relationship strong," says Feehan.
GCS Studios' C24 sound board is equipped with automated faders to control and easily adjust levels in a mix.
​Feehan has been running ads on Facebook – at $10 a day – to place GCS Studios at the top of the newsfeed. He likes that the social media site sends it to users based on their interests as well as location.
He's also reaching out to nearby music schools, but thinks he'll be able to get the word around through his own networking circle as well.
He especially thinks Nashua's proximity to Boston will work to his advantage. Boston studios charge $75 to $80 an hour while GCS Studios charges $40 to track and mix.
After all, GCS stands for Gate City Sound, a nod to Nashua's nickname.
"I knew I wanted it to be here. I planted my roots here, honestly. I bought a house a couple miles down the road with Ben," says Feehan. "I coached last year as an assistant coach for the Rivier basketball team. I coached the Nashua High freshman two years ago. I've been involved in little things here and there throughout the city, whether it's sports or volunteering my DJ services for fundraisers and things like that. I don't think I'll ever leave. I love it here."