New MCC program centers on cyber security
Launched last fall, the program meets a growing need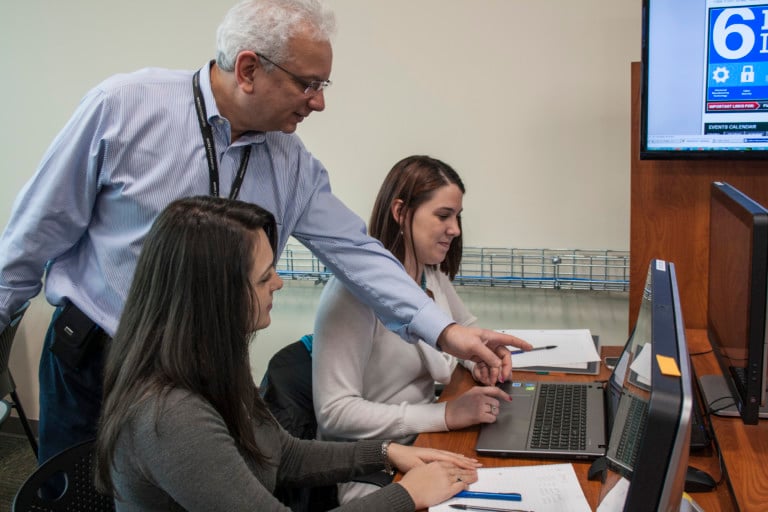 With high-profile computer network breaches occurring with troublesome regularity, Manchester Community College has launched a new field of study that aims to train students for a career in preventing and discovering cybercrimes.
The Cyber Security Investigations program, developed and headed by Peter LaMonica, made its debut last fall.
"I worked for a federal law enforcement agency for many years. I worked with their digital evidence out of Boston. When I left there and came here, they were looking for a new program, and the college president suggested cyber," LaMonica said.
Creating a whole new major takes a lot of work, but LaMonica made it look like a piece of cake with his past experience and up-to-date knowledge.
"No one had told me that getting a new program approved took two or three years. I really didn't know that was the case, and no one told me I couldn't, so I just did it in a year." LaMonica joked.
To develop the program, he said he took his current knowledge and worked backwards.
"I knew the things that I would have liked to have had and learned when I was being trained, so I modeled the program around that," LaMonica said.
It's obvious that the new cyber security program has met a need among students, 20 of whom have already declared it as their major.
"We're running two sessions," said LaMonica. "When it first started last fall, the plan was that we weren't going to offer those classes again until the next fall, but we had so much interest we had to run them all again."
Career opportunities
The curriculum covers computer science basics and then some. Ranging from software programming to cellphone jailbreaking, students are guided and get hands-on lessons in a lab with state-of-the-art equipment.
"We have cellphone equipment software — we use XRY, which is a program for Micro Systemation, so that the students can learn how to extract cellular data. We've got servers as well, so the students can actually work with them. This is something that I didn't even have when working for a federal agency," LaMonica said.
The courses are not just based on phones. Enrolled students will also be learning how to remove drives, write, block and retrieve and recover data that has been hidden, deleted or encoded on computers.
One of the tools that the class uses is Forensic Explorer — a software program that identifies and exposes data and files that have been either deleted or hidden within a computer.
Despite the fact that such software can seem a little bit disturbing if placed in the wrong hands, it is remarkable in its precision. "Things never really get deleted from a computer, so when it comes to things like child pornography, software like this helps us find where and when it's happening so we can put a stop to it," said Nicole Phillips, an intern and student working with LaMonica.
MCC is working with other schools and companies, such as the University of New Hampshire at Manchester, Southern New Hampshire University and Manchester-based Dyn, to facilitate options for students to transfer and complete a bachelor's degree or expand their entrepreneurial and technological knowledge.
Though LaMonica encourages his students to continue their education, he said that having just an associate degree would help them enter the job market. Corporate security and law enforcement are changing because of cybercrime, and that is opening up new careers almost everywhere. Among them, he said, are IT troubleshooting, networking, network design for small businesses, security and data recovery .