New loyalty app gets its debut in Manchester
Dyn veteran develops Adored to fight 'check-in fatigue'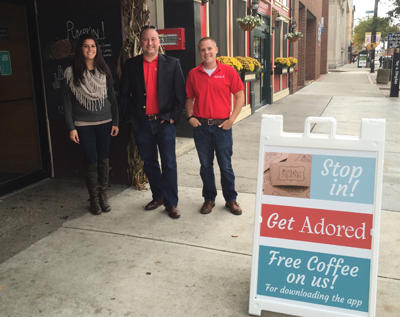 Paper loyalty cards are falling by the wayside as mobile apps like Foursquare take precedence, but a new mobile app launching Friday in Manchester promises convenience like consumers have never seen before.
While apps like Foursquare require consumers to check in each time they enter a business, the app – called Adored – automatically checks in consumers when they enter a shop or restaurant with the help of Apple's iBeacon, a low-powered Bluetooth technology.
"People are going through check-in fatigue, the novelty has worn off," explains founder Cory von Wallenstein, who six weeks ago left his position as chief technical officer at Dyn to focus on Adored. "The experience we're going with is set it and forget it."
New Adored users only need to complete three steps: download the app, provide permission to use their location and give permission to send push notifications to their phone. From there on, the app will automatically log return visits and notify the user when a reward is earned, sending a notification to their locked mobile screen.
All this week, ahead of the official launch, Adored is undergoing a "soft launch" at one of its participating businesses, Café la Reine, to spread the word and receive feedback from customers as well as ensure there are no kinks.
The Adored team has been informing customers in line about the app, which provides them with a free coffee for the day as well as one the following day, encouraging them to test it for themselves.
About 75 people had downloaded the app on their iPhone as of Tuesday morning. The app is available only on iPhone for the time being; though the 20 to 30 percent of consumers who are Android users can give the Adored team their number to receive a free coffee and text message when the app is available.
Apple's iBeacon, with low-powered Bluetooth technology, works the loyalty app Adored to automatically check users into a location, after the initial setup.
"It's really transforming not only loyalty, but how these businesses engage their customers," says von Wallenstein.
Café la Reine owner Alex Puglisi says she was approached during Adored's development when the team sought how to provide value to business owners. While the coffee shop already offers traditional loyalty cards, the ease of Adored appealed to her. Puglisi says she did not have to make any changes to her point of sales system. The installation just requires a small diamond-shaped beacon to be placed somewhere in the store.
On Friday, the app will be available at five other Manchester businesses: the Palace Theatre, Mint Bistro, The Shaskeen, Ignite Bar and Grille and Hooked Seafood Restaurant.
New app users at the Palace Theatre will receive a free cup in which they can get a cocktail for the show. The app will also provide cross-promotion, sending restaurant discounts to theatre attendees looking for dinner afterwards and eventually promoting discounts on open seats to restaurant goers who may be looking for an event for the evening.
Manchester businesses already refer customers to one other, and this is a digital method of doing that, says von Wallenstein.
He interviewed 30 different merchants in the Manchester and Boston areas as well as abroad to launch the app. He chose businesses that have highly reoccurring transactions and pairing attractions.
"Apple and Google give us the technology," says von Wallenstein. "The real challenge is bringing a great experience to consumers and businesses."
Manchester consumers will determine whether the app has the potential to expand to consumers around the world.