New liaison hired to link UNH with manufacturers
Initiative seeks to boost R&D among small- and medium-sized manufacturers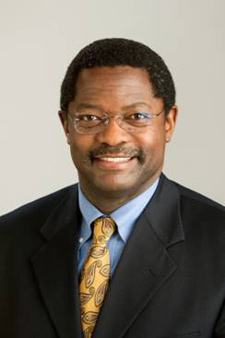 The University of New Hampshire is taking another step toward strengthening ties with the Granite state manufacturers and preparing its students for the workforce.
UNH is partnering with the New Hampshire Manufacturing and Extension Partnership, which has hired a liaison to serve between the university and state manufacturers. Application engineer Mark Berry started about a month ago, working in conjunction with the College of Engineering and Physical Sciences. He will promote research being conducted within the college while also identifying new research opportunities and engaging small- and medium-sized manufacturers in the state.
NH MEP created the role through funding from the National Institute of Standards and Technology.
New Hampshire is lacking a close relationship between universities and industry, says CEPS Dean Samuel Mukasa. Mukasa, who previously served as chair of the Department of Geological Sciences at the University of Michigan before coming to UNH in 2010, says 40 percent of UM's budget is funded by industry, while UNH is just around 2 percent.
Forming a closer bond with the state's manufacturers is a mutual benefit for students and the companies, says Mukasa. Manufacturers can utilize skilled students with access to advanced technology to better develop an existing product or get a product to commercialization.
In turn, it provides students – who will become the future process engineers, manufacturing engineers, industrial engineers, chemical engineers and electrical engineers – the experience of developing and designing new products and performing quality control.
"When you develop a research project between faculty and industry, the people who get their hands dirty are typically the students, and as they do so they learn the process for commercialization and [the] industry, [which] makes them successful as they go into the workforce," says Mukasa.
'Strong collaboration'
Previously, universities largely depended on federal funding for research products, says Mukasa, with almost half of all proposals receiving funding.
But in the era of federal cutbacks, funding has significantly dropped. Mukasa says now only about 10 percent of proposals receive funding. By working with manufacturers, Mukasa hopes to boost R&D, which he says drives the economy. UNH's long-term goal is to build an Advanced Manufacturing Center to perform research with manufacturers and train students via internships held at the center.
Through internships and other activities, Zenagui Brahim, president of the NH MEP, hopes upon graduation students will find jobs and stay within New Hampshire.
SMEs, small- and medium-sized enterprises, make up a majority of the companies in the state, including manufacturers. Dean Mukasa thinks enabling students to work with these companies will expose them to the reality of working with a smaller outfit versus the idealized dream of working for a big name.
"There is a tendency for the typical graduating student to want to gravitate toward big-name companies, the likes of Raytheon or IBM or Microsoft that everyone knows about," says Mukasa. "But quite interestingly, most of the new jobs in the high-tech industry are by startups."
And these startups have the potential to expand and become household names in 15 to 20 years, he explains.
"A student graduating from college is likely to have more impact as a company gets off the ground … than he or she will have at a mature company like Microsoft."
Considering manufacturing is still the leading sector in New Hampshire and an aging workforce will likely leave many positions open in 10 years or so, UNH is striking while the iron is hot.
"This is the beginning of a strong collaboration for years to come," says Brahim.