New legislative session targets business issues
There are plenty of bills to keep an eye on in 2018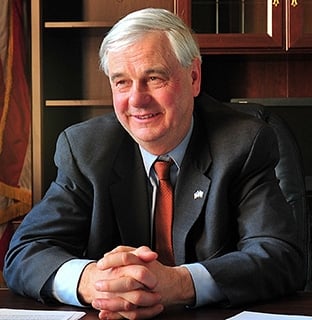 You would be able to provide just one unisex bathroom in your restaurant, but you would no longer be able to serve soda to the kids.
First-time homebuyers would no longer have to pay the real estate transfer tax, but homeowners had better not rent out a "disorderly" home via Airbnb.
You would be able to schedule that 17-year-old waitress to a late-night shift, but would have to pay her the minimum wage, not the tipped wage.
That's what would happen if just six of the 330 business-related bills New Hampshire lawmakers have introduced for the 2018 session become law.
While many of the bills will be scrutinized by lawmakers, lobbyists and the media, some could slip into law without much public notice. Consider this article your first notice.
Health care
Few doubt which issue will dominate the new session.
"Medicaid is going to be the big issue," said Senate Majority Leader Jeb Bradley, R-Wolfeboro.
New Hampshire uniquely expanded Medicaid coverage in 2014, putting uninsured people who fall into the gap between the Affordable Care Act eligibility (138 percent of poverty), and traditional Medicaid (100 percent of poverty) on the ACA insurance exchange, getting hospitals and insurers to pick up the tab for the state's 10 percent share.
But that program sunsets at the end of this year, when the state's share of the costs starts to grow. It will need some major changes anyway, thanks to the Trump administration's undermining of the ACA and the higher-than-expected costs of insuring a new population with pent-up medical demands.
Skyrocketing individual premiums threaten to drive many back into emergency room coverage — which business organizations that support expanded Medicaid fear — resulting in cost-shifting and higher group premiums.
On the right hand, House Bill 1813, a bill sponsored by Rep. Neal Kurk, R-Weare, would simply return eligibility for the program back to 100 percent of poverty. A companion bill, HB 1816, would also increase screening procedures for traditional Medicaid and require that HMOs meet certain medical loss ratio guidelines, giving the surplus to the general fund.
Asked whether this would result in the kind of cost-shifting that business groups fear, Kurk said that an amendment was in the works that he would not discuss at this time.
On the left hand, HB 1811, sponsored by Rep. Cindy Rosenwald, D-Nashua, would extend the Medicaid program and would open the door to using general funds to keep it going. It also adds a screening process for "medically complex" individuals.
In addition, there are two bills sponsored by Peter Schmidt, D-Dover. One would establish a New Hampshire health access corporation, a quasi-public option, and the other would set up a single-payer health care program.
A bill sponsored by Bradley would fall somewhere in the middle, shifting the entire current Medicaid population to the traditional program, which is currently being run by two managed care organizations. It would provide financial carrots and sticks to encourage recipients for making more cost effective choices. It also would include work requirements for able-bodied adults who are not caregivers and impose a $25,000 asset cap (not counting a home and one car). And the amount to be paid would not be able to exceed the amount dispensed by the federal government, which would have to grant a waiver (as it would in the first two bills).
"I think we can get an exception from Washington," said Bradley. "We've got an innovative managed care product that would lead to better outcomes and stresses more personal responsibility."
Lawmakers will also be considering a number of bills aimed at prescription drugs, which are the fastest-growing factor in rising health care cost.
Rep. Edward Butler, D-Harts Location, is sponsoring a few of them. HB 1741 would forbid a pharmacist from charging more than the co-pay or the claim amount (or the cost of the medicine if it was bought without a prescription). HB 1791 would allow a pharmacist to tell customers that they can save money by buying the same drug over the counter. Butler also has a couple of price transparency bills, one examining whether manufacturer's rebate programs really save money.
"We are looking at whether there is some way we can make an impact on this," he said.
Several other bills deal with the authority of pharmacy benefit mangers, which is a kind of power struggle with the NH Pharmacy Board over accreditation of pharmacists.
Sen. Andy Sanborn, R-Bedford, is sponsoring one of these as well as a bill that would allow physicians to accept walk-ins without an appointment.
There are also two bills prohibiting the practices of specialists — primarily anesthesiologists — from billing hospital patients who are not in their insurance network for the balance.
When a patient is in a hospital, "you couldn't have known [whether the specialist is covered under your plan] or done anything about it if you did," said Kurk, who is sponsoring one of the bills.
Taxes
The rates of the business profits tax and the business enterprise tax are going to continue to go down — to 7.5 percent and 0.5 percent, respectively, by the end of 2021 — without lawmakers doing anything, and it appears that they won't do much.
One bill (HB 1292) would halt the cuts if state revenue growth does not keep up with inflation plus 1 percent, while another bill (HB 1422) would speed the cuts up by six months.
Other business tax-related bills are more targeted. Bradley, for instance, is sponsoring a bill that would give a tax exemption to a "qualified regeneration manufacturer business," meaning Dean Kamen's Advanced Regenerative Medicine Institute, or ARMI, in the Manchester Millyard. He has another bill that would give tax breaks to "recovery-friendly workplaces," for those dealing with substance abuse.
As for other taxes, there are several bills, including one sponsored by Sanborn (Senate Bill 404), which would phase out the interest and dividends tax.
Two bills relate to housing, each for a different generation
Bradley said he is submitting SB 301, which would reduce the rate of the real estate transfer tax for first-time homebuyers from 75 cents per $100 in assessed value to 50 cents "to encourage younger people to settle here and buy a home."
Sanborn is sponsoring SB 405, which would allow towns to give a property tax exemption for longtime residents (30 years or more) who are senior citizen (65 or older) for the first $100,000 of assessed value.
"They paid taxes for years," said Sanborn. "They should be done."
There is no bill calling for an increase in the gasoline tax or registration fees, but that might change, now that Governor Sununu has nixed a toll increase, which transportation officials were counting on to help pay for infrastructure projects in the 10-year transportation plan.
But several bills have been filed relating to inspections and registration. Rep. Norman Major, R-Plaistow, chair of the House Ways and Means Committee, is bringing back his bill to hike registration fees for low-mileage vehicles, while Rep. John Graham, R-Bedford, is proposing a flat annual surcharge of $100 for a hybrid and $200 for an electric car.
Labor
The most ambitious labor-related bill is HB 1762, sponsored by Rep. Laurie Sanborn, R-Bedford, which would practically rewrite the state's labor statute.
It would repeal the labor commissioner's rulemaking authority when it comes to child labor and payment of wages, it would eliminate most work restrictions for those 16 and older and would loosen them for younger teenagers, it would allow tip-sharing initiated by the employer not just employees.
"It is meant to reduce the excessive paperwork burdens on employers and the associated hefty fines for minor infractions," said Sanborn, who dubbed the bill the "Red Tape Reduction Act of 2018."
"We call it the Make Kids Work Act, or the Wage Theft Facilitation Act," said Judy Steadman, senior legislative staffperson at the AFL-CIO in New Hampshire. "It's like they took all the top violations in the laws to protect workers and made them easier. It's too far out there, even for our pro-business Legislature."
Perhaps even more unrealistic is HB 1688, which would not allow the highest-paid employee of a company to earn more than 43 times the lowest-paid worker. (The ratio for companies based out of state would be 34 times the lowest-paid worker.)
"It's a statement bill," Steadman said. "But it is a good statement."
Other labor-related bills fall somewhere in-between.
There are bills that would loosen age restrictions for older teens and another bill that would increase the minimum wage for tipped workers. The NH Lodging and Restaurant Association likes the former and hates the latter. Labor advocates take the opposite position.
Of special note is a bill that would forbid employers from inquiring into a prospective employee's salary history, which Steadman said particularly hurts womn who have been historically paid less just because of their gender.
There are two bills dealing with vacation pay. HB 1393 would require employers to pay for employees' vacation and sick time when fired, and HB 1201 would allow workers with use-it-or-lose-it vacation policies to roll over excess vacation days into the first month of the year or get paid for them.
"They earned that time," said Michael Cahill, D-Newmarket, a sponsor of both bills. "If they can't use it, they should get paid for it."
HB 1330 would be a major change in New Hampshire, an at-will employment state. It would allow workers to collect up to three years of wages plus interest for a "wrongful discharge," defined as "not for good cause" or if the employer violated its own personnel policies.
A bill sponsored by Representative Butler that would add gender identity to the state's anti-discrimination law as it relates to employment as well as to housing. The bill narrowly lost in the House last year, but this year it has nine Republican co-sponsors.
"I think it has a very good chance," Butler said.
Hospitality, real estate
Butler's bills on short-term rentals have already captured the attention of the NH Restaurant and Lodging Association, and the NH Association of Realtors.
The hospitality industry had long complained that those who offer lodging via online services like Airbnb don't pay rooms and meals taxes, but Airbnb itself put that controversy to rest by collecting and paying the tax as part of its software platform. HB 1548 would make that a law, targeting other "remarketers."
Realtors have no issue with that, said Realtors' lobbyist Bob Quinn, but he is concerned over another bill sponsored by Butler, "regulating disorderly houses," and another that would allow municipalities to license short-term rentals.
"Disorderly" isn't defined in the bill, points out Quinn, and the association has long opposed licensing short-term rentals, arguing that is more of a homeowner's sideline as opposed to a full-time business.
Butler admits that the former bill — which he says is aimed at "party houses" in urban areas — "needs some clarification and work" and that the latter bill was to "open up a discussion."
Restaurants also could be affected by two more bills.
HB 1382 would repeal the requirement that restaurants provide separate bathrooms for each sex, and HB 1668 would limit the type of beverages offered with children meals to milk, water, flavored water and juice. In other words, no soda.
Parents should decide what their kids get to drink, said Henry Veilleux, a NHLRA lobbyist. As for the bathroom bill, "we will probably take a pass on that one."
The association will, however, oppose bills aimed at the rooms and meals tax, including HB 1609, which would allow towns to tack on their own similar tax, and HB 1710, which would cap the 3 percent commission operators get for collecting the tax at $100 a month.
Veilleux said that helps offset credit card fees, but Cahill, the bill's sponsor, argues that other states don't "give a restaurant owner a tip for handing over the tax" and neither should New Hampshire.
As for Realtors and the construction industry, a bill sponsored by Sen. Bob Giuda, R-Warren, would establish a board of house and development appeals has "certainly" sparked "a great deal of interest," said Quinn.
Currently, owners can only appeal a negative zoning or planning board decision to Superior Court. But Giuda's bill would allow them to take their case to a three-person panel. That decision could always be appealed in court, but Giuda thinks it would "streamline the process" and not add an additional layer of bureaucracy.
Energy
A bill that would allow the Public Utilities Commission to reopen the contract between the wood-burning Burgess BioPower plant and Eversource is sure to generate some controversy.
That contract — carved out of the deal for Eversource to divest itself of its generation assets — was limited to $100 million. Burgess might reach that limit by 2020, which might cause the plant to shut down, said Bradley, the bill's sponsor.
"There is a real impact there," said Bradley, "but there are also a lot of jobs in the North Country revolving around biomass, and we wanted the PUC to consider that."
Otherwise, energy-related bills are mostly minor, making things easier for group energy projects. Several are sponsored by Republicans, including Giuda.
"It looks like the state is going to make some positive changes that tweak some existing bills to open the market for more competition and more business opportunities," said Kate Epsen of the NH Sustainable Energy Association.
Scroll down for a list of the top business legislative agenda
| | | |
| --- | --- | --- |
| Bill Number | Proposed Bill | Sponsor |
| | REAL ESTATE/CONSTRUCTION | |
| HB1662 | Requiring radon air testing on all new residential construction | Rebecca McBeath |
| SB330 | Requiring the Dept. of Environmental Services to give certain persons time to cure violations before imposing a penalty | Gary Daniels |
| HB1682 | Relative to procedures for foreclosure | Kermit Williams |
| HB1610 | Requiring sellers of real property to disclose certain information concerning environmental hazards | James McConnell |
| SB301 | Temporarily reducing the real estate transfer tax for first-time home buyers | Jeb Bradley |
| HB1478 | Reducing the rate on the tax on transfer of real property | Brian Chirichiello |
| TBA | Establishing a board of housing development appeals | Bob Giuda |
| | ENERGY/ELECTRIC CARS | |
| SB31 | Relative to group host net energy metering | Bob Giuda |
| HB1202 | Relative to town revolving funds for group net metering | Clyde Carson |
| SB365 | Relative to default service energy diversity and rate relief | Daniel Innis |
| HB1358 | Relative to decisions by the site evaluation committee | Dave Testerman |
| TBA | Requiring the Public Utilities Commission to reconsider its order affecting the Burgess BioPower plant in Berlin | Jeb Bradley |
| HB1472 | Relative to the state building code provisions for energy conservation in new building construction | Mariellen MacKay |
| HB1563 | Relative to taxation of solar energy systems | Lee Oxenham |
| HB1763 | Establishing a road usage fee and making an appropriation therefor | Norman Major |
| HB1541 | Relative to registration and road toll fees for hybrid and electric vehicles | John Graham |
| | HEALTH | |
| HB1813 | Relative to the law regarding Medicaid expansion | Neal Kurk |
| HB1811 | Relative to the New Hampshire health protection program | Cindy Rosenwald |
| TBA | Reforming New Hampshire's Medicaid and Premium Assistance Program | Jeb Bradley |
| HB1793 | Establishing a New Hampshire single payer health care system | Peter Schmidt |
| HB1746 | Relative to the practices of pharmacy benefit managers | Erin Hennessey |
| HB1816 | Relative to Medicaid managed care | Neal Kurk |
| HB1741 | Relative to payments for covered prescription medications under the managed care law | Edward Butler |
| HB1643 | Relative to balance billing | David Luneau |
| HB1362 | Authorizing individuals and certain businesses to purchase health insurance from out-of-state companies | Glenn Cordelli |
| HB1809 | Relative to balance billing under the managed care law | Neal Kurk |
| HB1790 | Establishing a New Hampshire health access corporation | Peter Schmidt |
| HB1780 | Prohibits price gouging by certain prescription drug companies | Rebecca McBeath |
| SB354 | Relative to pharmacy claim fees and copayments | Donna Soucy |
| HB1784 | Relative to cost comparison for certain health care procedures | Neal Kurk |
| | LABOR | |
| HB1762 | Relative to documentation requirements for the Dept. of Labor | Laurie Sanborn |
| SB422 | Relative to advance notice of work schedules | Dan Feltes |
| TBA | Relative to the minimum hourly rate and employer-sponsored health benefits | Donna Soucy |
| SB352 | Relative to examinations of injured employees under workers' compensation law | Donna Soucy |
| HB1319 | Prohibiting discrimination based on gender identity | Edward Butler |
| HB1321 | Relative to the hours youth are permitted to work | Gregory Hill |
| SB318 | Amending the prohibitions on youth employment | Harold French |
| HB1330 | Relative to the wrongful discharge of an employee | Herbert Richardson |
| HB1417 | Relative to failure to make workers' compensation payments | Herbert Richardson |
| HB1508 | Relative to wage compensation under workers' compensation | Herbert Richardson |
| HB1246 | Relative to the minimum hourly rate for tipped employees | Jacalyn Cilley |
| HB1222 | Relative to inquiries concerning salary history by prospective employers | Janice Schmidt |
| HB1397 | Relative to the rights of temporary workers | Janice Schmidt |
| HB1500 | Relative to workplace violence, workplace injuries and death in the workplace | Mark MacKenzie |
| SB497 | Relative to breast-feeding | Martha Fuller Clark |
| HB1393 | Relative to compensation for vacation time and personal time earned | Michael Cahill |
| HB1688 | Relative to salary ratios for employers and employees | Skip Cleaver |
| HB1451 | Relative to employee work schedules and rest periods | Timothy Josephson |
| HB1624 | Relative to state procurement practices and criteria for acceptance of bids | Jacalyn Cilley |
| HB1462 | Relative to health and dental benefits under the workers' compensation law | Herbert Richardson |
| HB1758 | Establishing a credit against business taxes for paid maternity and paternity leave | Caleb Dyer |
| HB1201 | Relative to an employee's earned but unused vacation time | Andrew Renzullo |
| | TAXATION | |
| HB1292 | Relative to the effective dates of changes to the rates for the business profits tax and the business enterprise tax | Marc Abear |
| HB1422 | Relative to the applicability of certain business tax rate changes | Richard Ames |
| HB1470 | Repealing the timber tax | Richard Marple |
| HB1681 | Establishing an early childhood development tax credit against business taxes administered by the community development finance authority | Paul Henle |
| HB1686 | Relative to applications for and the use of education tax credits | Gregory Hill |
| SB404 | Phasing out the tax on interest and dividends | Andy Sanborn |
| HB1429 | Relative to exemptions from the tax on interest and dividends | Caleb Dyer |
| TBA | Establishes a recovery friendly workplace initiatives tax credit against business taxes administered by the Community Development Finance Authority | Jeb Bradley |
| SB509 | Allowing municipalities to require income and expense information of business properties for tax appraisals | Martha Fuller Clark |
| SB405 | Enabling municipalities to adopt a separate exemption against the statewide property tax for certain long-term residents | Andy Sanborn |
| HB1679 | Relative to the real estate transfer tax to be paid on certain acquisitions of business entities | Robert Renny Cushing |
| HB1554 | Increasing exemptions under the interest and dividends tax and decreasing the total amount of research and development credits against business taxes | Bill Ohm |
| TBA | Relative to a business tax exemption and a workforce development program for regenerative manufacturing businesses | Jeb Bradley |
| SB403 | Relative to the exemption for recreational vehicles from property taxation | John Reagan |
| | TECHNOLOGY | |
| HB1759 | Regulating the use of drones | Neal Kurk |
| HB1459 | Prohibiting autonomous vehicles on New Hampshire highways | Joseph Guthrie |
| HB1646 | Requiring reports of dropped cell phone calls by carriers | Mindi Messmer |
| HB1733 | Relative to digital electronic product repair | Virginia Irwin |
| HB1674 | Relative to computer science and digital skills required for an adequate education | Terry Wolf |
| HB1691 | Authorizing the utilization of a portion of the Volkswagen settlement as a funding source for zero emission vehicle infrastructure in New Hampshire | Lee Oxenham |
| | HOSPITALITY/TOURISM | |
| HB1558 | Relative to the payment of the meals and rooms tax by individuals renting cars through an online service | Sherman Packard |
| HB1317 | Exempting occupancies over 30 days from the rooms and meals tax | Bart Fromuth |
| HB1491 | Relative to the disposition of meals and rooms tax revenues to town and cities | J. Tracy Emerick |
| HB1619 | Adding the rehabilitation of tourist lodging to qualifying structures under the community revitalization tax relief incentive program | J. Tracy Emerick |
| HB1609 | Establishing a local option for an additional surcharge on occupancy under the meals and rooms tax | Michael Edgar |
| HB1710 | Relative to the provision allowing operators to retain a portion of meals and rooms taxes collected and the appropriation of meals and rooms tax revenues to school building aid | Michael Cahill |
| HB1548 | Relative to meals and rooms taxes applicable to room remarketers | Edward Butler |
| HB1382 | Repealing the requirement that restaurants provide separate bathrooms for each sex | Dan Hynes |
| HB1742 | Relative to food service licensure inspections | Kenneth Weyler |
| HB1668 | Relative to children's meals served by food service establishments | Rebecca McBeath |
| HB1634 | Regulating disorderly houses | Edward Butler |
| HB1635 | Allowing a license for short-term rentals | Edward Butler |