New Job Corps Center reaches out to business
October start seen for first 300 participants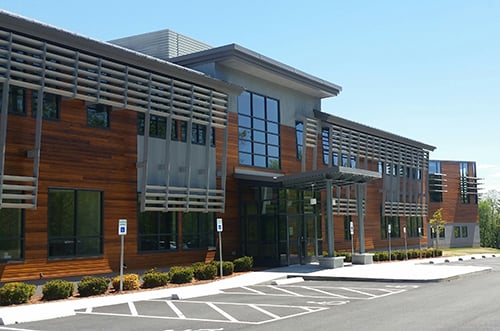 Perhaps you've seen Tamer Koheil, director of the newly formed Manchester-based New Hampshire Job Corps Center, making the rounds lately.
With construction completed on the training center in March and a contract awarded to Adams and Associates Inc. of Reno, Nev., Koheil and his team are reaching out to business leaders and school administrators to build a community that supports training low-income students, and, in some cases, getting their lives back on track.
This is the first Job Corps Center in New Hampshire, which – tied with Wyoming – is the last state to host the federally funded program, which is overseen by the Department of Labor.
With student outreach efforts beginning in July, by October the center will accept 300 students ages 16 to 24 years old who fall below the poverty line. (Those with a documented disability can have the age requirement waived.)
While at the center, students are tested for reading and math placement. If they fall below the 8th-grade level, they take academic courses to catch up. Those who dropped out of high school will earn one of two tiers of high school diplomas in addition to a trade.
Trade options include a "hard trade" (advanced manufacturing, electrical or automotive), hotel and lodging (including culinary arts), medical (certified nursing assistant, clinical medical assistant or medical office support) and security and protective services.
Koheil is speaking with community colleges to create a dual program that allows students to attend classes at community colleges in order to earn credits toward an associate degree.
He previously ran the Shriver Job Corps Center at Fort Devens in Massachusetts. He said he received students from Nashua and Manchester there who asked about when New Hampshire would build a job corps center.
Help wanted
The Manchester center is still bare-bones, with no furniture or even a telephone line.
The Department of Labor is working with FairPoint to extend the fiber-optic cable on Front Street to the center, a distance of about a mile and a half, work that will cost about $25,000, said Koheil.
Koheil has hired about 10 staffers from Manchester and surrounding areas, with the goal of 130 staffers when the school accepts students this October. He is looking to hire safety and security coordinators, business community leaders for outreach, a purchasing assistant, an IT manager, teachers and some subcontractors, such as doctors.
"I'm just getting to meet everyone and looking for all the help I can get," says Koheil.
The center is assigned to recruit from three counties: Hillsborough, Merrimack and Rockingham. New England Job Corps Outreach, Admissions and Placement, operated by CHP International, will recruit in the seven other counties.
Students who apply get drug-tested. If they fail the first time, they are given another 30 to 45 days to clean up, with help from on-site counselors. If they fail the test the second time, they're kicked out.
'Golden opportunity'
The program costs between $28,000 and $32,000 per student per year, with 268 students housed on campus for one year, with two 18-to-20 day breaks. About 32 students will be commuters.
"Job Corps is the golden opportunity that is the best kept secret because you know what? It's zero burden to the family and the student," says Koheil.
Koheil is up front about running a tight ship. "In my presentation to the tour, I say, 'There is no mom or dad here that will fix your bed. I expect – it's an Army style – that I find the sheet is tucked in and everything looks great and everything is clean.'"
"Every period we have accountability [of the student]," he says. "I make sure that when I walk outside with my staff, if the student doesn't have a rake, if the student isn't working outside, he shouldn't be walking outside."
Over 260 students will be housed at the Job Corps Center.
This method works to keep the students in line, he says.
The Shriver Job Corps Center ranked fifth out of 125 centers nationwide during its first six months.
Koheil is looking to hire mission counselors to develop a Community Relations Council, which will provide updates on the center, trades and ask for help from employers, to get students internships or employment at the end of the program.
After the preparation period, students enter the career transition period, where they are placed in a job within their trade for a four-week internship.
The Department of Labor expects 90 percent of students to be placed in a job upon completion of the program, 75 percent within a career that matches their trade.
But outreach to businesses is critical to this success, and Koheil wants to ensure relations are tight with the community, despite Manchester Mayor Ted Gatsas' dismay that the city's bid to operate the center was not considered.
"We're going to try to work with [Mayor Gatsas] as much as we can," said Koheil, who has met with the mayor. "Because we are a community, and I don't want to end up being an island of my own because we're not going to be successful."
Koheil can be reached at Koheil.Tamer@jobcorps.org.
Liisa Rajala can be reached at lrajala@nhbr.com.