New initiative has a goal of increasing the number of women angel investors
Events, education take aim at 'cultural bias'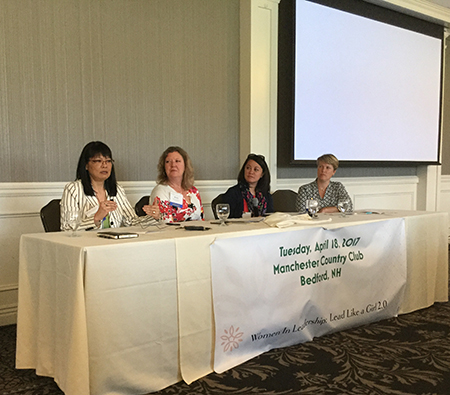 When the advisory committee Live Free and Start first held a seminar on angel investing, there was one clear takeaway: There weren't enough women in the room.
So Liz Gray, director of entrepreneurship for the NH Business Finance Authority, who leads the Live Free and Start initiative, formed an angel working group that held three events this year, in partnership with the NH Community Loan Fund and NH Charitable Foundation – in Portsmouth and Manchester – to inform women about angel investing.
"The women were really interested and empowered to have that conversation with us, and there was a desire to keep that conversation going," says Gray.
According to the UNH Center for Venture Research's 2015 Angel Market Analysis, 23.5 percent of the angel market nationwide – private investors who provide capital for a business startup, usually in exchange for ownership equity or other terms – are women. In New Hampshire, where there are about five angel groups, women make up only one or two of the total number of investors.
What Gray and her angel working group – which includes Alison Pyott, a partner with Veris Wealth Partners, Becky Stoughton, vice president of Fuentek and successful tech entrepreneur and business consultant Margaret Donnelly – found is that women are more risk-averse to investing because they doubt their finance knowledge.
"One of the primary problems getting women to the investment table is a cultural bias. Historically, finance has been a man's world and women have been perceived as less financially savvy, yet research does not support this," says Pyott. "When you do tests with women and men, women will say they don't know anything, but when they test they come in at pretty much the same rates as men. This confidence gap increases if their husband or significant other made the money or they have inherited wealth."
Fear of making a financial mistake often holds women back from making investments, though women are entirely comfortable with making donations for philanthropy, which offers no financial return, says Pyott.
Women's investment fund
One option for women who are interested in investing is to join an angel investor fund, says Stoughton. Angel investor funds operate similarly to a venture capital firm, where there is a fund manager who makes investments, but the angel does not have to make decisions on which entrepreneurial ventures to fund.
To encourage potential women angel investors, a fund has been created by Pamela Diamantis and Hollis McGuire to focus on increasing women's participation in investment and in funding access.
Increasing the number of women investors is also likely to increase the number of women ventures that will receive funding.
"It's harder for us to get money, it's harder for us to convince people that we're worthy of being funded, and it's also harder to find women to fund us," says Donnelly.
"In the U.S, this varies on what region you're looking at, what year you're looking at, who did the research, the amount of angel money going to women entrepreneurs is in the single digits, and part of that is because we have so few women helping to make decisions and we have that cultural bias," says Pyott.
What women may not realize is the power they hold in their purse. Forty-five percent of American millionaires are women and by 2030, approximately two-thirds of women will hold the nation's wealth, says Pyott.
Of course, the tricky part is identifying a good investment. Angels invest in entrepreneurial ventures that are in the early stage.
Stoughton says some angel groups will designate a person to examine the finances while another angel investor with connections to the venture's sector can provide their expertise on the profitability and likelihood of the venture succeeding.
Stoughton says most angel investors will invest in five to 10 different companies, with the expectation that the return will take 10 years or longer.
"No matter how astute you are in investing, some of them will not pay off," warns Stoughton. "Some will break even, maybe one or two will do very well."
There are also requirements before becoming an accredited angel investor. An individual must have a net worth of $1 million, not including his or her primary residence, or $200,000. For couples, that increases to a combined income of $300,000.