New hearing planned in Portsmouth on toll hike proposal
Increase would speed up several major construction projects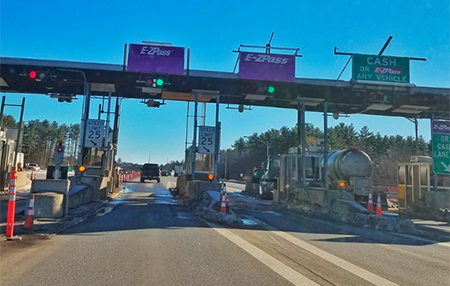 Apparently at the urging of Gov. Chris Sununu, an added public hearing will be held Dec. 4 on a controversial proposal to increase turnpike tolls for the first time in 10 years in order to speed up road and bridge reconstruction projects.
The proposal, made by the Governor's Advisory Commission on Intermodal Transportation (GACIT) will be considered by the Executive Council at its Dec. 6 meeting. The members of GACIT include the executive councilors and the commissioner of the NH Department of Transportation.
On Monday, Sununu said that, while he opposes increasing the tolls, he would not oppose bringing the proposal before councilors, but he did urge them to hold an additional public hearing on the proposal before voting on it.
"It is important to recognize that the 10-year highway plan as well as consideration of any toll increases has been legislatively tasked to the Executive Council," he said in a statement. "Only in extreme circumstances do I believe that interfering with that process would be warranted. While I oppose toll increases, I respect the council's chartered responsibilities and have asked the councilors to consider holding an additional public hearing focused on allowing citizens to weigh in on this specific proposal."
NHDOT said the increase would speed up by several years the construction and completion of several projects, including widening Interstate 93 from I-89 to I-393 in Bow and Concord; Exit 6 improvements and Everett Turnpike widening in Manchester; Everett Turnpike widening in Nashua and Bedford; and Exit 7 reconstruction in Manchester, NHDOT said.
The hearing will begin at 6 p.m., Monday, Dec. 4, at the Portsmouth Public Library, 175 Parrott Ave. in Portsmouth.
Under the proposal, vehicles with New Hampshire E-ZPass transponders would see a 35-cent increase in tolls at the Hampton, Hooksett and Bedford main tolls, and an 18-cent increase at the Dover, Rochester and Hampton side exit tolls and the Hooksett ramp tolls.
Cash-paying passenger drivers would pay 50 cents more per toll transaction in Hampton, Hooksett and Bedford, and 25 cents more at the Dover, Rochester and Hampton side tolls.
Officials say the toll increase would generate an estimated $36 million in additional toll revenue per year – a 27 percent increase.
Approximately 54 percent ($19.6 million per year) would be paid by out-of-state users of the turnpikes, according to the agency.