New Hampshire slips to B- for manufacturing sector
But state shows potential to attract sophisticated manufacturers, says Ball State report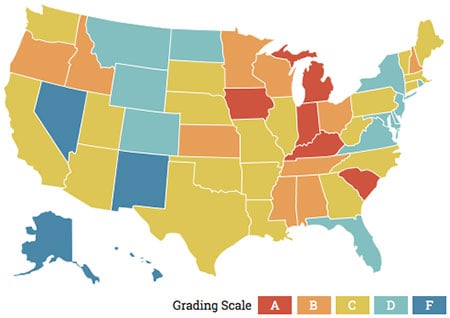 Despite receiving some low grades in Ball State University's 2017 Manufacturing and Logistics Report, New Hampshire's manufacturing growth is on target and shows potential for further growth, says Dr. Michael Hicks, director of the Center for Business and Economic Research at Ball State.
New Hampshire slipped from a B to B- in manufacturing industry health and maintained a C in productivity and innovation – not the most impressive grades – but according to Hicks, a C is simply average and that is OK.
"The growth of the manufacturing industry is relative in size to the how the rest of your economy has been expanding overall," Hicks says of New Hampshire.
And New Hampshire has a lot to work with to spur further growth.
Hicks pointed to New Hampshire's maintained A grade in human capital, ranking among the highest in workers with some form of a post-graduate degree in relation to the population. Hicks argued a highly-educated workforce is the most important characteristic in attracting employers, and something New Hampshire shouldn't be taken for granted, as only six out of 50 states received the high marking in that category.
"Almost all manufacturing workers being hired today are college capable," said Hicks, and the goods the U.S. manufactures now are sophisticated, requiring knowledgeable workers to produce advanced avionics, artificial joints and other high-end goods. "For advanced manufacturing, what the U.S. is doing really well in, New Hampshire would have a very important opportunity there."
This high-skilled manufacturing is also the area best suited for the state based on its geographical location. The state received an F in logistics for not being located along a major train or shipping route, such as logistics powerhouses California and Indiana. That's not necessarily a major worry said Hicks because most high-end products will be delivered via a truck or plane.
In fact, nationally, 2017 is looking to be the most productive manufacturing year, says Hicks, after the industry experienced a dip early in 2016, after a record 2015.
And New Hampshire has done well in exports, improving from a C to a B- in its global position, though maintaining a D for a lack of diversification in regards to the areas around the world where it does business.
The state has also improved from a C- to C tax climate, though decreased from a C- to D in benefits costs and dropped from C- to D+ in expected fiscal liability gap.
Overall, Hicks most specific criticism was in regards to the lack of private sector R&D spending he saw in the state, which he called "a problem."