New Hampshire, Northeast states mull building Quebec-to-D.C., EV charging network
Volkswagen settlement funds could make initiative a reality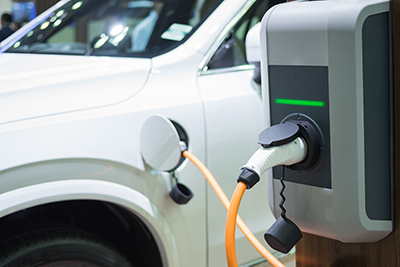 Leading up to the release of documents indicating how New Hampshire and other Northeast states propose to use their Volkswagen settlement funds, the Quebec government and pro-renewable energy groups have been advocating taking bold action.
At the forefront is the development of an electric vehicle (EV) charging station corridor that could stretch from as far as Quebec to Washington, D.C.
In New England alone, approximately $214 million was paid by Volkswagen to fund programs that reduce nitrogen oxide emissions, with up to $32 million available for investment in electric vehicle charging stations over the next 10 years, should states choose to do so.
The money from VW is part of its multibillion-dollar settlement that was reached after the automaker admitted in 2015 that it had rigged millions of diesel cars worldwide to cheat on emissions tests.
New Hampshire received $30.9 million in the deal. As determined by the Volkswagen Clean Act Civil Settlement, each state's funds are to be held in a trust that will pay for the programs. New Hampshire's funds are held by Wilmington Trust in Delaware but are directed by the NH Office of Strategic Initiatives.
According to the settlement, only 15 percent of the fund can be used each year — for up to 10 years — to build out the EV charging infrastructure.
Impact on tourism
That infrastructure is "certainly a region-wide priority," said Mark Lebel, staff attorney at the Acadia Center, a clean energy nonprofit with offices across the Northeast.
"Many of the plans are still in development, and they'll have to solicit public comment, but there's great interest in maximizing use of the 15 percent," said Kathy Kinsey, a senior policy adviser at NESCAUM, a nonprofit association of air quality agencies in the Northeast.
And it was one of the key initiatives discussed at the last meeting of New England governors and Eastern Canadian premiers.
"One of the things they've been working on is an EV corridor for the region," said Quebec's delegate to New England, Marie-Claude Francoeur.
Quebec may be just a quarter of Canada's population but it accounts for nearly 50 percent of all EV owners in the country.
Quebecers are especially important to New England states' tourism sector. They make more than 406,500 visits to New Hampshire each year, spending over $83.9 million.
Similar figures were used to convince Maine Gov. Paul LePage to allocate the full 15 percent to EV charging infrastructure to avoid losing Quebec tourists to Vermont or Massachusetts.
"He saw that as an economic development tool," said Francoeur.
New Hampshire's Office of Strategic Initiatives has not yet released its draft mitigation plan nor has indicated whether the state will allocate the full 15 percent annually to support an EV charging infrastructure, but Lebel thinks the Granite State will follow other New England states in maxing out its eligible funds for EV charging infrastructure.
"I think it's very bipartisan in the Northeast," said Lebel. "Texas is another story, where you have a lot of oil production, but we don't have any oil production or gas refineries, and the electric generators support electric vehicles so that helps Republicans be comfortable with their decision."
Balancing priorities
"To be competitive with Maine and Vermont in tourism and in economic development, I urge Governor Sununu to support 15 percent of the settlement monies to go to New Hampshire finally building out our electric vehicle infrastructure," Sen. Dan Feltes, D-Concord, told NH Business Review.
Sununu's office did not respond to a request for comment.
In the coming weeks, the Office of Strategic Initiatives will release its draft mitigation plan for public comment, including public sessions to discuss their proposed spending allotments.
"The more interesting discussion is what is the right balance of priorities for the other 85 percent," said Lebel. "Should we be incentivizing electric buses? Should we be doing port electrification? Each state has different transportation needs."
But Lebel voiced concern about the possibility of using proceeds for the Clean Diesel Program, something that could be considered in New Hampshire.
"We want to jump-start things and get to the next generation of electric vehicles — not get stuck in a diesel retrofit middle ground," said Lebel.
Another influx of funding that may provide that jump-start is an additional $2 billion from Volkswagen through its subsidiary nonprofit, Electrify America. Electrify America has selected Boston, which includes southern New Hampshire, as one of the metropolitan areas where it will invest in Level 2 EV charging infrastructure.
Richard Steinberg of Electrify America said the organization is looking at Portsmouth and Dover as potential locations for charger investments. But he added that the final decision has not yet been made.
Electrify America will spend $500 million in its first phase of spending, which begins June 2019. The organization is partnering with NESCAUM to identify investment opportunities for its second round of investments, which begin in July 2019.
Senate Bill 517
NESCAUM recently held meetings with its steering committee that includes representatives from New Hampshire to D.C., to provide recommendations for those EV investments in the Northeast.
"We've been working together as a coalition since 2013 to accelerate EV adoption in the Northeast corridor states," said Kinsey. "There's a memorandum of understanding signed back in 2013 between California and eight of the states in the country that have adopted the California Zero Emission Vehicle regulation."
New Hampshire is not one of those states.
Rebecca Ohler, head of the climate and energy program at the NH Department of Environmental Services, said New Hampshire acts as an observer in those meetings. She regularly sits in on calls to stay up to speed and make sure actions in New Hampshire are consistent with neighboring states, including signage for EV charging stations.
But doesn't not participating in the memorandum of understanding send a negative signal to Electrify America?
"I think it's certainly going to influence them; I don't think it's going to exclude New Hampshire per se," said Ohler. "They understand the Northeast is very small states, and we function as a region not as individual states, so their interest is in supporting a viable infrastructure network, and by necessity that will include activity in New Hampshire. Whether they decide it's one of the best places for them to spend their dollars or they see other places with more proactive policies, is yet to be seen."
Massachusetts offers rebates of up to $2,500 for the purchase or lease of new electric vehicles, including battery electric, plug-in hybrid electric and fuel cell electric vehicles. New York offers up to a $2,000 rebate. Rhode Island previously offered rebates but suspended its program last July due to unavailability of program funding.
Sen. David Watters, D-Dover, has proposed Senate Bill 517, which would establish an EV charging infrastructure commission to look at how to plan for adequate infrastructure. The bill is currently in the Senate Transportation committee.
Ohler thinks the bill is a good idea.
"We need a plan in place. We've got a big gap going up I-89, so we know somewhere up in the New London area would be a spot for fast-charging infrastructure. We need to be looking at our major corridors, especially that support our tourism," she said.
While Quebecers are only a quarter of Canada's population, they comprise nearly 50 percent of all Canadian EV owners.
She added that if the state "isn't prepared to support the vehicles that our neighboring states' residents are buying, instead of going to the White Mountains they may go to the Green Mountains of Vermont or Acadia in Maine. I know the government of Quebec is extremely interested in working collaboratively with the other states."
It's not just state governments, but the auto industry that has shifted its attention to electric, with cars such as the Chevrolet Bolt EV, the redesigned Nissan Leaf and the Tesla Model 3 coming onto the scene.
Having focused on vehicle emissions at DES for nearly 20 years, Ohler has noticed.
"Typically, things move slowly in the automotive world," said Ohler, but lately "they've launched electric vehicles in ways we've never seen before. This is the first time I've seen the entire automotive industry get behind one goal and it's aligned with our emissions goals. It's very rare you get something like this that allows you to make such a significant change in how an entire sector operates."
Building out a viable EV charging infrastructure in New Hampshire "is one of those once-in-a-lifetime opportunities," said Ohler. "And it's really critical we treat it as such, and take very seriously our planning for spending the monies and the obligation that it's done well."