New Hampshire loses out on billion-dollar S&P settlement
Consumer protection law ties AG's hands in joining suit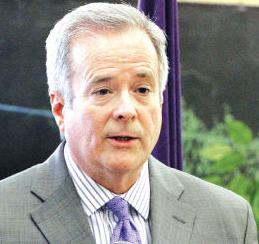 New Hampshire's own statute regarding unfair and deceptive trade practices has caused the state to miss out on a $20 million settlement from Standard & Poor's.
The giant credit rating agency recently settled a U.S. Justice Department lawsuit that claimed S&P's ratings from 2004 to 2007 inflated ratings of mortgage-backed securities during the housing boom, helping to fuel the financial crisis and costing investors billions of dollars.
There were no findings S&P violated the law, but it will pay $1.36 billion, with $687.5 million heading to DOJ and another $687.5 million distributed to 19 states and the District of Columbia, which each filed separately in 2013.
Maine made out with $21.5 million, the largest one-time settlement in the state's history, said its attorney general.
But New Hampshire got nothing, says Senior Assistant Attorney General James Boffetti.
"It's an unfortunate thing," says Boffetti, who's chief of the state Consumer Protection Bureau. "There was a lot of money at stake. We were on a lot of the calls, we were in a lot of the pleadings … but under our statute, this exemption clause kicked us out from those actions."
Boffetti says New Hampshire was involved early on, but, when it came time for the states to file individually, the state attorney general's office realized it was impossible for New Hampshire to proceed due to RSA 358-A.
The statute, Regulation of Business Practices for Consumer Protection, states the attorney general's office cannot pursue unfair or deceptive claims that involve trade or commerce, since this falls under "the jurisdiction of the bank commissioner, the director of securities regulation, the insurance commissioner, the public utilities commission, the financial institutions and insurance regulators of other states or federal banking or securities regulators who possess the authority to regulate unfair or deceptive trade practices."
This limitation on the attorney general's office has been discussed and debated before, says Boffetti, who says the clause has been around for some time.
"There's been case law, and it's gone back and forth. It's something we've talked at length with the Legislature about, and it's a policy decision," says Boffetti. "The theory is highly regulated industries should be able to deal with unfair and deceptive claims under their own authority and the attorney general's office should not be involved in bringing unfair acts against these agencies."
Entities that fall outside the New Hampshire Office of the Attorney General include banks, insurance companies, mortgage originators, mortgage services, securities firms and public utilities.
New Hampshire is not unique in having this exemption, but is in the minority, says Boffetti.
"We recently were able to do something with the New Hampshire Banking Department to basically create something under their statute to create an unfair and deceptive section that mirrors 358-A, and that was a very constructive solution for cases under the jurisdiction of the New Hampshire Banking Department," Boffetti explains. That change went into effect at the beginning of 2015.
Boffetti says New Hampshire did receive $10.5 million from the 2012 national mortgage settlement, since there was one set of pleadings filed against the big banks for all courts in Washington, D.C.,
But in the S&P case, "we're talking about federal regulators and securities regulators, because that exemption clause is so broad, it kicks us out of being able to act in those instances," says Boffetti.
A number of state attorneys general, led by Connecticut's, brought the suit under their respective consumer protection laws for unfair and deceptive acts or practices.
"We really were on board and were looking to see if there was a way we could do this. But we would have to have filed, and we couldn't file it with the exemption clause," which would have led to S&P using New Hampshire's exemption against the state, says Boffetti.
But the issue regarding the clause isn't black and white. Boffetti says the Legislature and industries in the state have given much thought to the clause to determine what role the attorney general's office has and the reach of the Consumer Protection Act.
"It's a complicated issue, and it has been debated and thought about, and in this case it works to the detriment of the state because we lost out on what could have been a significant settlement."