New Hampshire forum looks at changes in defense industry
Nontraditional tech partners seen as playing a growing role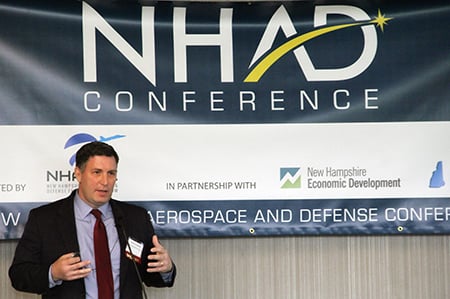 As the nature of global warfare changes, the U.S. Department of Defense and defense agencies in other countries are working to expand technological capabilities by partnering with nontraditional stakeholders, said defense market analyst Tate Nurkin at the NH Aerospace and Defense Export Consortium's annual conference last week in Bedford.
Providing an overview of the past 20 years during the May 17 event at the Manchester Country Club, Nurkin discussed the changing nature of warfare, from primarily anti-access/area denial, as seen during the first Gulf War, to terrorist insurgency/asymmetric conflict experienced in Iraq and Afghanistan during the 2000s, and now hybrid warfare as seen by the strategic placement of Russian separatists in Ukraine.
"It's not necessarily a shift, but an expansion," said Nurkin. "We are still worried about anti-access/area denial – we're still fighting wars in Afghanistan and still engaged in Syria and Iraq and elsewhere around the world. And we're still especially focused on hybrid warfare."
During that time period, foreign countries such as the United Arab Emirates, China and South Korea have made significant technological advances in regard to military capabilities. But different approaches, focuses, innovation systems and ways to apply capabilities mean militaries are not advancing technology uniformly.
"Almost a year ago today, former Deputy Secretary of Defense Robert Work, in one of his last speeches, said, 'This means that from a military perspective we don't know what other people have necessarily' and it means it's an environment on 'endemic surprise,'" said Nurkin. "Surprise is endemic on the battlefield, and I think it also is in the global defense industry, where there are more competitors with different business models who may be developing technologies, getting the technologies from somewhere else. You may not know they have that technology."
That will require companies to rethink boundaries, challenge assumptions yet still adhere to strict DoD contracting and global exporting rules, he said.
"This export market is open, but you do go in with some sophistication in terms of your strategies – be innovative, be disruptive and think about some of these things that could be discriminators for you, like offsets for example," said Nurkin, referring to contractual obligations that may result in technology transfers or local investment in a foreign country. "Where you start with offsets, think about what sort of offsets you might be able to be part of or maybe you want to develop at any time in the procurement process rather than going full pedal at the end."
Both the U.S. and Gulf countries are focused on technologies and capabilities that allow more efficient operations undersea or underground, where it's harder to see and operate, said Nurkin.
The U.S. military is recognizing innovation and military-relevant capabilities are not only happening in its supply chain but also in the commercial tech industry and academia, said Nurkin, pointing to the Defense Innovation Unit Experiment, which provides pilot contracts for commercial innovation to solve DoD problems
"This means the industry is actually changing parameters. We've gotten used to a defense industry that's had walls around these defense projects, these subtle layers of subcontractors that are part of the supply chains. But we're really seeing is a lot more involvement of commercial aerospace companies" like SpaceX, said Nurkin.
Meanwhile, China is pushing aggressive timelines for the development of artificial intelligence of military applications, he said.
Despite dropping off the list of top 10 global defense importers in 2016, Nurkin, a frequent commentator on China's military modernization, sees China continuing as a big spender. He also expects global defense spending will reach $1.7 trillion in 2018, exceeding the previous post-Cold War record of $1.63 trillion, set in 2010.