New Hampshire firms search for customers at U.K. defense show
State Trade Export Promotion grant pivotal in broadening companies' markets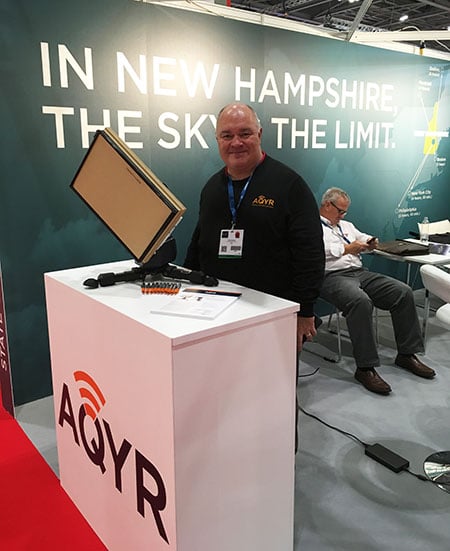 When it was announced that New Hampshire had received a 25 percent increase in federal funding for export resources and promotion, Justin Oslowski, director of the NH Export Assistance Center, was at the world's leading defense and security trade show in London.
That week of Sept. 11th, Oslowski and Nate Nelson, international trade officer at the state's Office of International Commerce, led a group of four New Hampshire companies — Corfin Industries of Salem, AQYR of Hollis, Brazonics of Hampton and Crusade Group of Manchester — to exhibit at Defense and Security Equipment International, or DSEI.
Attending the show would not have been possible if it were not for a State Trade Export Promotion, or STEP, grant New Hampshire received last year from the federal government.
"I think it has a great return on investment," said Oslowski of attending trade shows using STEP funds. "A lot of the companies were talking about potential partnerships, potential sales with clients at the show, and that's unique, to have a great lead or opportunity — that's an encouraging sign."
"We had several companies that targeted us and had us on the list of companies to contact," said Rory Eddings, director of sales and marketing at AQYR, who said he developed three to four leads with "great potential."
Eddings utilized his travel to Europe by also attending IBC — a media, entertainment and technology trade show — in Amsterdam and VSAT Global, a conference in London.
Rob Kelly (far right), CEO of security solutions firm Crusade Group of Manchester, speaks with show visitors as Justin Oslowski, director of the NH Export Assistance Center, listens.
AQYR manufactures very small aperture terminals (VSATs) and accessory products used by both commercial and military markets for communication purposes. Potential customers include companies working with federal security agencies, energy firms operating in remote areas or companies working in disaster recovery and emergency response.
"We would not have gone on our own," Eddings said when asked how the STEP funds helped. "That type of show is very expensive, and I don't think we would get the value, but because we were with the state, the costs were very, very reasonable and we did get some exposure because of the state, so I think that was helpful."
Through STEP, companies can apply for a matching grant of up to $6,000 to attend trade shows (on their own or traveling with a group from the state), perform international market research, develop international marketing materials or hire international marketing consultant services.
AQYR used STEP funds earlier this year to attend a trade show on its own in Singapore — Eddings said he spends about 200 days a year traveling to trade shows, conferences or to meet with clients.
"We're bidding on probably $10 million worth of projects," said Eddings. "It takes years for these relationships and these projects to come to a final decision."
Building relationships
When it comes to international business, the experience is centered on developing long-term relationships that will eventually lead to a sale.
"Once you have a relationship in place, that relationship continues regardless of currency fluctuations or increased competitiveness — you build trust, and that's what allows you to continue to sell to that individual," said Oslowski. "That's one of the reasons why state and federal employees travel to the show with our clients, is to build networking opportunities."
The NH Export Assistance Center is managed by the U.S. Commercial Service — the trade promotion arm of the U.S. Department of Commerce's International Trade Administration — which has trade professionals in over 100 U.S. cities and more than 75 countries to help companies get started in exporting or increase sales to new global markets.
When Oslowski is helping a company in that manner, he reaches out to colleagues in U.S. consulates around the world.
"We work with them to identify matchmaking opportunities while they're at the show," but the companies "have to do their homework," he said. That includes going through a list of exhibitors, identifying the key end users for their products and "literally walking the show floor, going up, introducing yourself."
Don Tyler, Corfin's president, had six meetings scheduled before he arrived at DSEI and added a few more over the weeklong show. Corfin's Robotic Hot Solder Dip technology prepares components for long-term use under extreme conditions.
Corfin Industries' President Don Tyler and European Sales Manager Mike Lee.
"There are a few different benefits to how these shows work. You don't usually sit at a booth and take orders," said Tyler. "I had three people there and two folks from the U.K. who support us, and we'd take turns walking the floor and identifying potential customers we might not be aware of," said Tyler.
As an exhibitor, Tyler said businesses can issue free attendance tags for potential customers, boosting their relationship by enabling them to walk around the trade show and also find other potential suppliers or customers.
NHADEC, the NH Aerospace and Defense Export Consortium, also was represented at the New Hampshire booth.
"NHADEC in itself has a great advantage because it's a lot of likeminded small New Hampshire companies that can pool resources," said Tyler, whose company is a member of the consortium. "None of us individually could justify having our own booth, but by sharing the booth space, and there was some assistance with a [STEP] grant, so that helped more."
"There are finished defense products coming out of New Hampshire, but the vast majority of our manufacturers are suppliers to a tier 1 company, who sells to the original equipment manufacturer," said Oslowski. "The end user may be the British Ministry of Defense, but it's component parts that go into that final system that matter to New Hampshire companies."
Brazonics, Inc.'s VP and General Manager Kenn Bevins and Plant Manager John Darmody.
Because of that, he said, the goal of attending the show "is not necessarily to talk to the final end user, it's to talk to the component suppliers who assemble and create that finished product."
Selling New Hampshire
With over 300 aerospace and defense companies, mostly in the Seacoast region and on the Massachusetts border, New Hampshire also presented itself at DSEI as a destination for foreign firms to select a distribution center or manufacturing facility for their products.
New Hampshire was one of four states at the show — the others being Virginia, Georgia and Utah.
"As a smaller state, we don't have the resources of larger states sometimes, but here we were, small, dynamic, flexible — positioning the state as tech-savvy and manufacturing-savvy. It was nice to position the state at an international trade show, as one of the leading states for opportunities for investment," said Oslowski.
Oslowski saw interest from attendees who were familiar with New Hampshire through attending school or vacationing in the state and were now looking for additional business opportunities.
"It was neat to see people come up to us and say, 'I had a great summer in New Hampshire,'" agreed Tyler. "We had a couple U.K. guys come up and say 'Live free or die!'"