New Hampshire disappoints in employee engagement survey
2012 survey placed Granite State 48th in nation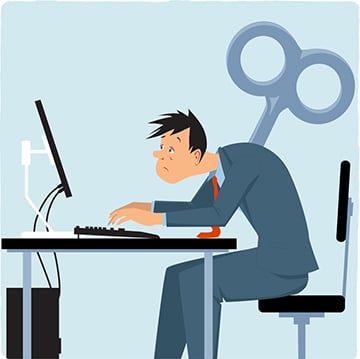 Take a look around at your workers. How engaged do they appear to be? Want to give them the benefit of the doubt? This may change your mind.
According to research from Gallup, less than one-third (31.5 percent) of U.S. workers were engaged in their jobs in 2014.
Gallup defines engaged employees as workers being involved in, enthusiastic about and committed to their work and workplace.
Pretty much how you expect or hope your employees to act.
The statistics are even more frightening when it comes to the Granite State.
The most recently available state-by-state statistics (including the District of Columbia), from January to December 2012, reveal New Hampshire ranks 48th in the nation for employee engagement, with just 27.5 percent of workers engaged.
The Granite State was only ahead of Delaware (27.4 percent), Vermont (26.9 percent) and Minnesota (25.7 percent).
What has happened to that hard-working Yankee mentality? Well, according to Gallup, it's elsewhere in the region. In 2012, Maine ranked the highest in New England with 31.5 percent of workers engaged, ranking 19th nationwide.
Who came out number one overall? Louisiana, with 37 percent of workers engaged.
Then again, you may be wondering, how effective are employee engagement surveys anyway?
"You could actually get a full picture from a good employee engagement survey," says Allan Benowitz, vice president of growth and development at The Employee Engagement Group in Woburn, Mass.
He notes the difference between employee engagement and employee satisfaction, which generally involves benefits, but says engagement surveys will ask questions about one's work environment and whether one trusts his or her management – "questions that are directly correlated with engagement drivers."
Gallup said it categorized workers based on their responses to key workplace elements it "has found to predict important organizational performance outcomes."
Benowitz cites trust in management and trust in leadership as major factors determining employee engagement.
"Most people leave an organization because of their manager, not because of a company. If the manager is disengaged, it's most likely [the employees they supervise are] four times more disengaged. So there is a correlation between a manager and his or her direct reports."
Benowitz has seen an increase in companies surveying their employees to measure their engagement.
"Because of the downturn during the recession, a lot of organizations stopped asking – whether it was [opting out of] an employee engagement survey because of downsizing or cutting back on benefits. Companies were reluctant to ask for feedback. Now as the economy starts to improve, we're seeing engagement levels going up naturally. Even in the past year, as unemployment rates go down and business climate improves, there's also an improvement in overall employee engagement levels. But a lot of companies are more comfortable to start asking and getting feedback. And employee engagement surveys are one way to do that."
Other alternatives are focus groups, one-on-one meetings and even town hall-like meetings where leadership talks about the state of the business and gets feedback from employees.
Fortunately, according to the most recent national data, Gallup says the national engagement level is increasing. Engagement shot up 1.9 percent from 2013 to 2014, which represents 2.5 million employees nationwide, says Gallup. And that's the highest engagement level since 2000.
Keep your fingers crossed that New Hampshire is benefiting from it.