New Hampshire dealers seem happy with VW compensation package
Average of up to $1.8 million expected for each dealership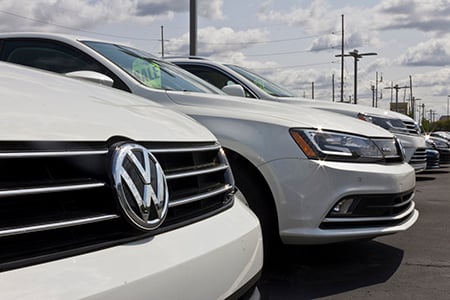 New Hampshire Volkswagen dealers appear pleased with the company's $1.2 billion compensation package for losses tied to company's emissions cheating scandal.
VW was producing diesel vehicles whose control systems were rigged with illegal software to hide significantly higher emissions than the company claimed they were producing.
The diesel line comprised about 25 percent of Volkswagen product offering and "was a big part of their lineup," said Dennis Gaudet, CEO of the Tilton-based AutoServ dealerships. He also serves as the National Automobile Dealers Association's director for New Hampshire and national rep for Volkswagen dealers nationwide.
A formula has been generated to determine how much each dealership will receive, but it has not been publicly announced, said Gaudet, although it will be between $1.5 million and $1.8 million on average.
"It will be relative to the dealer's units and operation, and what we call market responsibility coverage," he said.
"I'm already receiving calls from dealers who can do simplified math, and they're happy with the package and the fairness for what they've been through."
The compensation package covers the loss of the diesel product line, the negative financial impact on a franchise's reputation and for the time spent handling and processing a significant number of customer buybacks. It also covers dealer maintenance of the diesel vehicle line, including keeping them clean, driving them and ensuring batteries start and that there are no flat spots in the tires, said Gaudet.
Dealers have been instructed to stop selling the newer Volkswagen and Audi diesel lines, but they still sit in showrooms since Volkswagen has not ramped up its gas vehicle inventory fast enough to replace the diesel stock, said Gaudet.
"That's been a problem for over a year," said Nancy Buell, general sales manager at Seacoast Volkswagen in Greenland.
And many dealers have preferred not to further tarnish the brand by selling used diesels that have the defective emissions system.
"I'm glad my sole source of income is not dependent primarily on the Volkswagen line, and I have other franchises so I'm able to offset the lost revenue from Volkswagen," said Gaudet. "I quite frankly don't know how a standalone Volkswagen dealer who had a live diesel market is fairing, and I can only imagine not well."
Gaudet added: "dealers by their nature are resilient. I'm sure they're trying to increase their used car sales and finding other revenue sources until the crisis is resolved."
Customer compensation
According to Jordan Wissler, general sales manager at Volkswagen of Rochester, "any compensation would be great, but from a business perspective, we've made our adjustments internally to weather this particular storm and I think we've done it well."
It's not only the sale of diesel vehicles that Volkswagen dealers are losing, but more importantly years of continued maintenance on a vehicle, which has a larger financial impact.
Dealer restitution is separate from the customer compensation package, which Volkswagen announced in January. Approximately 460,000 Volkswagen and 15,000 Audi vehicles are eligible for buybacks and lease terminations or emissions modifications, if approved by regulators. Volkswagen has allocated slightly over $10 billion for that compensation package, assuming 100 percent participation.
Volkswagen also agreed with the attorneys general of 44 states, the District of Columbia and Puerto Rico to resolve existing and potential state consumer protection claims related to the diesel matter for approximately $603 million.
Wissler said he expected buybacks to start sometime next month. "Nothing's been approved yet, but if it is then the start would be sometime in November … Customers are happy with offers," he said.
Gaudet said he expects dealers will receive a good portion of the compensation before the end of the year. "Volkswagen has indicated they would like to wrap this up in the calendar year 2016."