New federal stats show 3% of N.H. workers paid minimum or less
BLS study: Over 72% of minimum-wage workers in state are women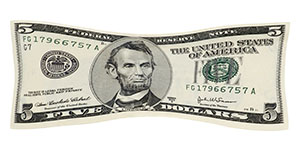 With another failed attempt to raise the minimum wage in New Hampshire a thing of the past, new data from the federal Bureau of Labor Statistics shows only a very small percentage of the state's workers would be in need of the boost.
According to the BLS, only 3 percent of the state's hourly-paid workers earn the federally mandated $7.25 or less. New Hampshire's percentage is the seventh lowest in the nation, with California the absolute lowest at 1.3 percent and Idaho the highest, at 7.1 percent. The national average is 4.3 percent and New England's is 3.3 percent.
And despite some neighboring states' higher state minimum wage, more of their workforce is earning less. In Maine, 3.3 percent of the workforce is earning $7.25 or lower, despite a state minimum wage set at $7.50. Likewise, in Vermont, 3.8 percent of people are earning the federal minimum wage or lower, though its state wage is $8.60.
The number of low-paid workers in New Hampshire also appears to be dropping. In 2013, 5,000 workers earned less than $7.25, falling from 8,000 in 2012.
Though there is great discrepancy among hourly-paid workers in the Granite State. The median average pay in 2013 was $14.56. The national median was $12.93.
The vast majority of underpaid workers are women – 72.7 percent of the workers in New Hampshire who are paid minimum wage or less are women. Nationwide, 62.4 percent of those paid minimum wage or less are women.
Nearly 3.5% of Massachusetts' hourly-paid workers earn $7.25 or less. Massachusetts is on track to drastically raise its minimum wage from $8 to $11 by 2017, with a dollar increase on the first of each year. The state Senate there passed the bill last week, nixing automatic yearly increases tied to inflation. The House is expected to approve the bill this week.
That 35 percent increase in the Massachusetts minimum could be seen as an advantage for New Hampshire employers, said Adrienne Rupp, vice president of the Business and Industry Association of New Hampshire. "It might translate into more customers if New Hampshire businesses can offer goods at a cheaper price."
But she doubts it will influence future New Hampshire legislation on the issue. "Massachusetts' wage base tends to run a bit higher than New Hampshire's anyway. And they have a state income tax and sales tax that we don't have, so that's an offset."