Nearly 300 bills being proposed in Concord could have an impact on business
The bills reflect the changing regulatory landscape in some key fields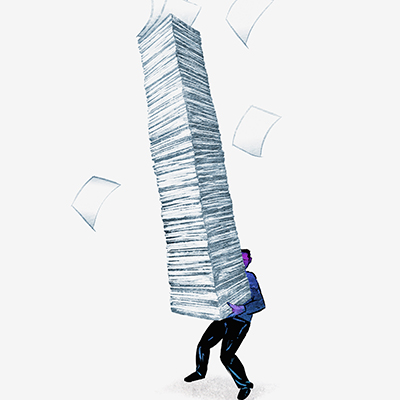 You might think 2014 would be an off year for legislation affecting business. After all, New Hampshire's budget is in relatively good shape, and it doesn't seem likely that lawmakers will dip into businesses' pockets to fill a revenue gap to prevent the state from going into default, or some similar dire crisis mode.
Yet nearly 300 of the 700 bills being proposed this year could have an impact on business. The bills reflect the changing regulatory landscape in some key fields, such as health care (implementation of the Affordable Care Act), energy (renewal of calls for restructuring Public Service of New Hampshire), and labor (the pent-up demand for an increase in the minimum wage). Not coincidentally, health care, labor and energy are the biggest expenses of most businesses in the state.
There is also the thorny problem of how to finance our deteriorating infrastructure as well as some big bills affecting the retail, hospitality and real estate industries, as well as education, but a discussion of those proposals will have to wait for a future article.
---
Health care
Major provisions of the federal Affordable Care Act were implemented with the new year, but there were also numerous delays, especially putting off the penalty on businesses that don't comply. This means the fight over Obamacare is far from over, and state regulation has just begun.
The Legislature has already met in special session on whether to expand Medicaid, although it eventually resolved nothing and put off a decision to this year. That debate will get the most attention this session.
There also might be some legislation revisiting the decision to ban the state from pursuing its own health insurance exchange, but thus far no one has come forth with a bill.
There will, however, be several bills aimed at the limited provider network offered by Anthem Blue Cross and Blue Shield in New Hampshire – the only insurer currently offering coverage under the ACA exchange.
While some hospitals have refused to participate because of reimbursement rates, Anthem excluded others – in such cities as Claremont, Rochester and Portsmouth – in order to boost its negotiating power and lower rates.
House Bill 1294, sponsored by Rep. Bill Nelson, R-Brookfield, would simply require that all willing providers be able to join the health exchanges.
And Sen. Sam Cataldo, R-Farmington, would change the process by requiring the Insurance Department to hold public hearings before approving products sold on the exchange. Currently, ordinary consumers cannot look at the network or rates (and provide input) until after the department has approved them.
Another lawmaker, Rep. John Cloutier, D-Claremont, is a bit more parochial. His resolution would request that Anthem's network include a hospital in every county, but it would only affect his county – Sullivan – since it was the only one excluded.
"Upper Valley Regional is a major employer in Claremont," argued Cloutier. "This is very unfair. It really hurts our county."
Meanwhile, Sen. David Pierce, D-Etna, has put in a legislative service request to require, not request, Anthem contract with a hospital in every county.
Rep. Emily Sandblade, R-Manchester, has introduced a bill that would require the navigators assigned to help individuals buying insurance on the exchange be licensed by the Insurance Department. Insurance agents have long complained that navigators – briefly trained by the federal government – offer unfair competition.
One of the biggest health care bills, however, isn't related to the ACA. Sen. Bob Odell, R-Lempster, has indicated he would introduce a bill that would change the Medicaid Enhancement Tax.
The tax was set up originally as a ploy to get federal funding for the state – hospitals didn't have to really pay the tax because their payments were reimbursed by the state after it got its share from the feds. At the time, these were known as Mediscam funds.
But during the last budget crunch, the reimbursement ended, and larger hospitals were required to pay in full. And that led to a court battle, a settlement and a simmering dispute.
While the details haven't been worked out, "the intention would be to level the playing field for the MET, either by reforming the existing tax or repealing it and replacing it with a system that fairly distributes the cost of providing uncompensated care to our state's poor and uninsured residents," said Odell.
Energy
New Hampshire is one of the few states that has allowed its major utility – in this case, PSNH – to hang on to its power generation assets. But for a variety of reasons, including an increase in costs to operate the utility's Bow coal plant, this has resulted in massive migration of customers from PSNH, led by large commercial users and followed by small businesses and residents to buy electricity from wholesale competitors, which have been relying for the most part on energy generated with natural gas.
That has left lawmakers and the Public Utilities Commission to consider whether the state should force the utility to divest those assets.
PSNH argues that it should hang on to them for economic security, given the volatile nature of natural gas supplies in New England, which is literally at the end of the gas pipeline.
But Rep. David Borden, D-New Castle, has introduced HB 1602, which would make lawmakers wait to see what the PUC does on the matter before taking any steps toward restructuring PSNH. Right now, the target date for the PUC staff to come up with a recommendation is March 1, and that may be enough "to determine whether legislation is necessary," said Borden.
Thus he calls his bill a placeholder.
But restructuring isn't the only issue affecting PSNH. There aren't as many bills as in years past involving Northern Pass, the massive transmission project that would bring in electricity from Hydro-Quebec, but the most intriguing one has yet to be introduced.
Sen. Jeb Bradley, R-Wolfeboro, has said he will sponsor a bill that would "encourage" energy generators to locate all new transmission lines on or under state rights-of-way.
"This would provide clear paths for new energy infrastructure while generating new lease or rental revenue for the state to be used to fund DOT maintenance projects," Bradley said.
Who will pay for transmission lines through New Hampshire to benefit users from other states is an issue that federal regulators are grappling with. But that doesn't mean the state can't try to weigh in.
Rep. Bob Backus, D-Manchester, has introduced HB 1540 at the request of the PUC, which says the state shouldn't have to fund those lines.
"It can always be preempted," he said, "but it does state our position."
Rep. Jack Flanagan, R-Brookline, has introduced the latest attempt to rewrite the state's renewable energy standard law. HB 1443 would lump all renewables together, depriving solar of its special place in the sun – putting the state in line with other states, he said, and "not pick winners and losers," he said.
The bill would return to ratepayers half the penalties paid by utilities for not meeting the standards, as opposed to going to renewable energy projects awarded by the PUC.
"Ultimately, this bill will keep renewable electricity in the state, but also reduce energy costs," he said.
Senator Odell has sponsored a bill reallocating the fees paid by those regulated by the PUC. Currently all utilities pay the same tax – 0.0039 cents on every dollar of revenue – but this fails to take into account that some industries and some companies within each industry take up a lot more of the PUC's resources than others. So, Odell said, industry stakeholders "got together and worked out an assessment schedule" that will more accurately reflect those costs.
We'll see if those go through as easily as Odell predicted.
Labor
The minimum wage will get all the attention this year, particularly because it is being discussed nationally. When Republicans controlled the House, they abolished a state minimum altogether.
HB 1403, a bill sponsored by Sally Kelly, D-Chichester, would not only bring it back, but would boost it beyond the federal $7.25 an hour to $8.25 per hour in fiscal year 2015, and raise it to $9 per hour the following year. Then the state's minimum wage would be tied to the consumer price index thereafter. Republican leaders, who control the Senate, have opposed it, but they hold that legislative body by only one vote.
The Department of Employment Security is backing a bill that would boost the income of those collecting unemployment benefits, particularly those at the low end of the scale. The bill, sponsored by Rep. Jeff Goley, D-Manchester, could increase the benefits by as much as 11 percent, though not until 2015. Goley noted that because of the health of the state's unemployment trust fund, employers will be receiving unemployment compensation tax rate decreases in the last quarter of 2014 and the first quarter of 2015.
"They are getting $46 million in savings, so this will give $4.8 million to unemployed workers – money that would come back into the economy when it is spent on the essential goods that those folks need," Goley said.
Sen. Andy Sanborn, R-Bedford, however, has come out against the bill, arguing that most workers aren't getting an 11 percent increase.
Goley is also sponsoring the perennial bill that requires that New Hampshire pay prevailing wages on state-funded public works projects, similar to federal requirements on federal projects. "What we are talking about is the average wage already being paid, so this will not artificially inflate wages," he argued.
There are also several bills relating to workers' compensation. Sen. Lou D'Allesandro's bill – SB204 – reads like a list of body parts: back, brain, gall bladder, heart and kidney. That's because these parts – unlike an arm and a leg – are not enumerated in current law, and are difficult to get compensation for, said the Manchester Democrat.
A police officer shot in the line of duty inspired this bill, when he couldn't get compensated for his damaged bladder, D'Allesandro said
"The insurance companies aren't going to like it, but I hope labor groups will back it," D'Allesandro said.
It isn't just about more money – equality and privacy are both high on labor's legislative agenda.
In terms of equality, Sen. Sylvia Larsen, D-Concord, would create a state equal pay act (SB 207) across genders that could result in penalties of $10,000 or up to a six-month prison term for those who violate the new law. Rep. Ed Butler, D-Hart's Location, would require employers to provide "reasonable accommodations" – which would include paid or unpaid leave time – for female employees who breast-feed.
As for privacy, another bill from Sen. David Pierce (SB 302) would prevent a company from firing an employee for criticizing the boss.
Also, HB 1407 would prohibit employers from requiring employees to disclose their social media passwords. HB 1368 outlaws inquiring into an applicant's criminal history, and two bills – SB 295 and HB 1405 – would ban companies from using an applicant's credit history to make employment decisions.
The credit history bill passed the House last session, but then got lost in a committee of conference when it was tacked on to another bill.
"I was shocked to find that 60 percent of all jobs now require credit checks on applicants," said Renny Cushing, D-Hampton, sponsor of HB 1405. "There is no need for someone seeking employment to be forced to reveal personal financial information that is not related to the job."
But no one will be shocked if business groups either oppose or at least question many of these labor-backed bills.