National Drive Electric Week promotes benefits of EVs
Six events will take place across New Hampshire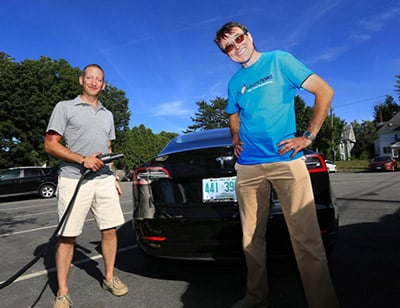 Six celebrations will take place in New Hampshire next week in honor of the eighth annual National Drive Electric Week. The celebrations are in coordination with 252 events nationwide to draw attention to the economic and environmental benefits of electric vehicles.
Event organizers include Drive Electric NH, a coalition of public and private stakeholders; the Electric Auto Association; Granite State Clean Cities Coalition, a collaborative of over 140 public and private interests from all regions in New Hampshire; the New Hampshire Automobile Dealers Association; New Hampshire Sierra Club and Plug-In America.
The series of events will kick off with a celebration in Concord on Saturday, Sept. 8 at City Plaza, in front of the State House and next to the Concord Farmer's Market. Electric cars such as the BMW i3, Chevy Volt, Chevy Bolt, Honda Clarity, Nissan Leaf, Tesla Roadster and more will be on display, as well as other related electric technology, from 8:30 a.m. until 1 p.m. There will also be informational materials on hand regarding electric cars and their environmental benefits, vehicle charging information and other electric technology. Attendees may get the chance to drive a vehicle.
Portsmouth's event, which takes place at the City Hall Parking Lot (1 Junkins Ave.) on Sunday, Sept. 9 from noon to 4 p.m., will also provide attendees with the opportunity to drive a Tesla or the City of Portsmouth's Chevy Bolt. There will also be a ribbon cutting ceremony at the charging station that was recently installed at the City Hall lower parking lot.
Electrifying Portsmouth
The Portsmouth City Council is on the cusp of passing an ordinance that would provide the legal framework to continue the expansion of electric vehicle stations.
In addition to City Hall, there are charging stations in the Hanover Garage and construction is underway at the Foundry Place Garage for charging stations that are expected to be available sometime later this fall.
"For me this is just the starting point. Get something on the books that can easily get changed when we get more charging stations up and running," says City Councilor Josh Denton, who wrote the ordinance and envisions a business/municipal partnership similar to sponsoring bike racks. "When the annual parking omnibus came around, that was the right spot to work on the EV ordinance. Moving forward with EV, I'm going to continue to have agenda items where we ask the city manager about how the city can partner with businesses on EV charging stations, items like that."
Denton also thinks the city should invest in fast chargers to be placed in Market Square, where some visitors spend only 30 minutes to an hour.
"Right now we have Level 2 chargers, my goal is [to get] Level 3 chargers," said Denton, who owns a Honda Fit. "I know we're going to be remodeling Market Square in the next few years, so I'm going to probably push to include the wiring, and then I'll put in a fast charger. There are a lot of visitors in Portsmouth, if they see this, they can drive their vehicles here."
Portsmouth City Council Members sent a letter to Gov. Sununu last December requesting the full 15 percent of funds available for EV charging infrastructure to be allocated, however the state has yet to release it's final plan.
"If we do not grow a more evenly-distributed network of fast-charging hubs, Portsmouth and other New Hampshire communities will miss out on tourists that will choose other better-supported routes and destinations," read the letter, which notes Quebec's aggressive promotion of zero-emission vehicles and supporting a build-out of province-wide fast-charging network.
"I believe it is the cusp of this new infrastructure," says Denton, who thinks municipal governments may be able to get more done, while state governments and the federal government are at a standstill. "It's easier to do when there's only nine of us and there's no 'D' or 'R' next to our name. The [Trump] administration may be rolling back on vehicle standards, but everyone is moving ahead and localities are leading the charge."
Other National Drive Electric Week events in New Hampshire will be held in New London on Sunday, Sept. 9 at the New London Historical Society (179 Little Sunapee Road); in Plymouth on Thursday, Sept.13 at the Common Man Inn (231 Main Street); in Keene on Saturday, Sept. 15 at Keene Ice Arena (380 Marlboro Street) and in Exeter on Sunday, Sept.16 at the Exeter Town Hall Parking Lot (and bandstand). Visit https://driveelectricweek.org/ for details.