Nashua's 'new front door' set to open
Broad St. Parkway expected to bring new life to Nashua Millyard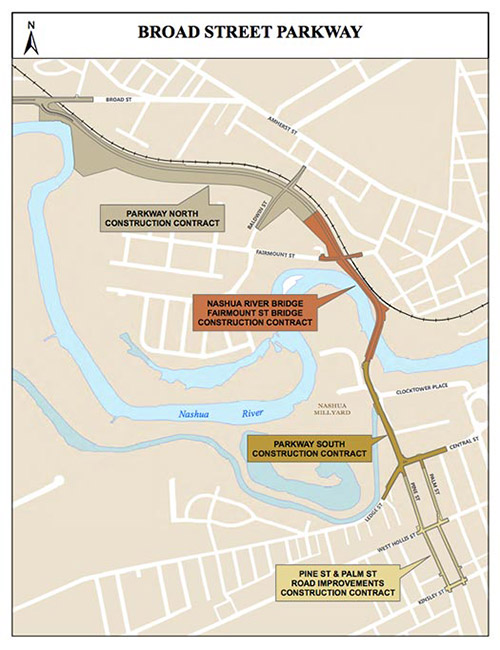 There's a part of Nashua you've never seen before – in fact, very few have. That is, until Saturday, Dec. 12, when pedestrians will get a sneak peek at the Broad Street Parkway before it officially opens a week later.
The public will have a few hours to explore two outlooks on the newly built Nashua River Bridge, which an expected 20,000 vehicles will cross daily, via the 1.8-mile parkway.
"The view of the river – it's one of our best features," says Mayor Donnalee Lozeau, who has seen the parkway finally come to fruition after decades of being in the works.
"The parkway has been talked about since before I was born, and so there are multiple purposes to the parkway," says Lozeau.
The most central of those purposes is alleviating the east-west flow of traffic that started causing air quality problems at Library Hill in the 1980s. The construction of the then proposed four-lane parkway was meant to occur in conjunction with the widening of the Everett Turnpike, but plans fell to the wayside.
In 1997, a ballot initiative passed to continue moving forward on the parkway, despite some residents' rallying cries to "ban the bridge," says Lozeau. And, after several studies, the parkway's size was reduced to two lanes.
"The thing that occurred that made it a reality is that in 2008 the Board of Aldermen voted to bond the money, and that was the catalyst to say, 'We're moving forward with this; this is real,'" says Lozeau, who elected in 2007.
After that, the city approved a $36.7 million bond and received about $43 million in federal funds, most of which were secured under former Mayor Don Davidson, two mayors before Lozeau.
Ground broke in 2010 in four distinct phases of the $80 million project, known as the largest municipal traffic project in New Hampshire. In addition to construction of the two-lane parkway was the reconstruction of the Baldwin Street and Fairmount Street Bridge railroad bridges.
At deadline, the mayor said she would ensure no federal funds had been left on the table, after the city makes the final touches, installing and testing the traffic signals.
'Significant impact'
By alleviating traffic, the project also allows for greater accessibility to Nashua, creating an economic boon for Nashua's Millyard Technology Park and the 29-acre former Mohawk Tannery facility that have been disconnected from the city's major roadways.
"I think it's going to have very significant impact on traffic patterns throughout greater downtown Nashua," says real estate broker Brad Vear, owner of Vear Commercial Properties in Nashua. "But I haven't heard a lot of discussion surrounding that, even though people know it's coming. I think it's like any new piece of real estate, any new development – people don't pay attention to it until it's fully developed and opened."
When asked about a sensed lack of awareness, Tom Galligani, Nashua's director of economic development, pointed to the prior lack of accessibility to the Millyard.
"Can you find the Nashua Millyard? I think it would be tough for [most Nashua residents], because it's not a way you're going to go typically," says Galligani, who explains the Millyard was located at the end of a street. "But now we have a major roadway that will go right through it, and that will introduce the Millyard to a whole new generation of people."
Utilizing the mills is bridging a full circle in Nashua's high-tech history, says Galligani.
"The textile industry was the high-tech industry of the world in that day," says Galligani. "And it's great to bring back that spirit to where it started."
Nashua already has a fully grown tech scene. This summer, online job board ZipRecruiter ranked Manchester-Nashua eighth in its list of "Top 10 Up-and-Coming Cities for Tech Jobs." Galligani mentions software-turned-mobile app developer ZCO.
"You'll see these tech startups that will find opportunity in the Millyard, and the Broad Street Parkway is going to make that happen for them," he says.
Downtown 'awareness'
Galligani expects the Millyard to not only be an area of opportunity for tech startups but also housing. Living in the refurbished mills, residents will have amenities like riverfront views, recreational areas like Mine Falls Park and the 1.6-mile loop Nashua Riverwalk and nearby restaurants.
"We're already seeing that interest among the development community," says Galligani, who points to developer Brady Sullivan, which recently received approval to move forward on a project to construct about 170 loft apartments at 34 Franklin St. The firm, which has a track record of converting historic mills into housing and office space around New Hampshire and elsewhere, purchased the mill building back in August.
"They have their approach down pretty solidly in converting these textile mills to living opportunities," says Galligani.
Vear also mentions Brady Sullivan as among the developers leading "a boom of multifamily business development in Nashua," pointing as well to a large number of apartments opening up at the Cotton Mill, which was developed by The Stabile Companies.
"I think it's going to create a greater awareness of the amenities that downtown Nashua offers – the restaurants, shopping, and Nashua I think is a very pedestrian-friendly community," says Vear.
Prior inaccessibility has shown to be a negative economic factor for the Millyard. Efforts in the past to redevelop the Millyard Technology Park as a factory outlet shopping mall didn't last long, "mainly because people couldn't find it," says Galligani.
The building has since been repurposed for office, high tech and manufacturing. And opening the connection to the highway – at Exit 6 off the Everett Turnpike – will make the area "blossom" in a revitalization it has never experienced, says Galligani.
"It's going to connect some of Nashua's most promising development sites to the highway like never before," says Galligani. "So it really creates a whole new world of opportunity for the city and the business sector to create."
Galligani stresses that Nashua's Millyard has been hidden, and has never before experienced the large-scale revitalization of millyards in Manchester and Lowell, Mass.
The Broad Street Parkway, he says, "is going to create a new front door for downtown Nashua. You'll be able to get to downtown much more easily and effectively than ever before."