Nashua students win patent for app to help you find lost stuff
Their concept uses RFID tags to find misplaced household items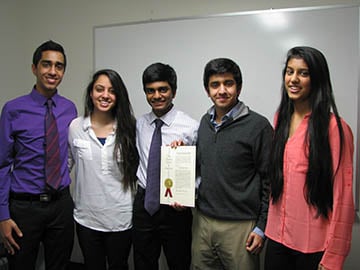 How often do you, or someone you know, misplace your car keys or eyeglasses? Enough times for a group of Nashua students to form a business concept that helps you find them.
Say hello to Reperio (Latin for "to search, discover, find"). It's not a business yet, but an idea developed by five Nashua high school students who won third place in the Boston arm of the Tie Young Entrepreneur program two years ago. The program teaches high school students how to form a business idea and pitch it to investors.
Reperio uses a mobile app and passive radio-frequency identification tags to alert users when a specific item they're looking for is within a five-foot radius.
Through the program, the group – Kunal Shah, Rishi Kachrani, Shefali Mangtani, Samarth Desai and Elisha Shah – received a thorough understanding of what it takes to become an entrepreneur. After being accepted into the program, they attended three months of essentially Entrepreneurship 101 classes, with Boston area entrepreneurs sharing their experiences and providing advice on students' ideas. Next, they had to develop a business plan and presentation to sell their idea.
And so Reperio was born.
"We kind of just thought about what were the problems in society that we're all facing everyday, and we saw that losing items is obviously a big problem," says Kachrani. "We looked at the market and saw all of the devices to search for items were all really expensive and not really practical use."
Which led them to research RFID tags, an increasingly common and cost-effective technology used in the shipping industry to track inventory.
"We looked at other options like Bluetooth and [RFIDs] are a lot more inexpensive in comparison to that," explained Mangtani.
The group wrote a 15-page business plan that explains their research, business costs, profit possibilities and other aspects of starting a business.
"We had to look at our competition to see what other products were out there and how we could improve upon those and change it so other people would want our product rather than those ones," says Elisha Shah. "We had to look at the cost it would take to make it, how much the technology would cost and how much we could sell it for."
The group aimed to make the product accessible to most people, though targeted families with annual incomes of $75,000.
At retail price, their product would cost almost $75, which would include a pack of 25 RFID tags and a USB dongle. The tags are cheap, just 10 or 15 cents, but the USB dongle (which is attached to a smartphone and receives the tag's signal) costs about $35.
"Midway, I believe, we found another competitor that was very similar to us, but I think the problem they had, they were sort of in a different market because they had very expensive tags," says Desai. "I think for a pack of two tags it was $50, whereas our tags were much more accessible for customers."
The competitor also had larger active RFID tags that are battery operated and must be replaced every six months to a year.
"And that can be a problem, because if you lose an item and the tag turns off because of the battery, you'll probably never find the tag or the item for that matter unless you're a good finder," he says.
While many people would prefer an app that specifically tells them where a misplaced item is, the cost goes up significantly, says the group.
"Five feet is a nice range. It's not large enough so that it breaks the boundaries between floors in your house, but it's enough to stay in the room, and you'll know which room," says Desai.
"We looked at the market and saw that's really the biggest problem people have … they'll be looking in their room and then they'll go to the garage or the car and they will try to look quickly and be like, 'Oh, it's not here,' when it's just under the seat," says Kachrani. "So this will allow the user to know exactly where it is – it may not pinpoint the exact position, but it will give you the general idea."
In the Tie Young Entrepreneur program, one class lecture focused on barrier to entry and how to prevent other companies from doing the same thing, so the students applied for a patent.
Future entrepreneurs interested in utilizing that concept will need to consult these students first, because, as of last month, they received the patent from the U.S. Patent and Trademark Office.
Learning experience
It took two years for the patent to be accepted, which actually is a reasonable amount of time, the students say.
"I was surprised," says Kunal Shah. "It was a lot of back and forth … because sometimes the office would come back with a problem they had with the write up and we'd have to maneuver around that. So usually it takes a very, very long time to get that and we're glad it actually worked out for us."
With their minds set on college, the group is not seeking to utilize the patent, but have learned a lot from the whole experience.
"We learned in our TYE classes to keep an idea notebook with you, whenever you think of an idea, just write it down. So I still do that, whenever I think of something good, I write it down, and so maybe in the future I might pursue a business," said Kunal Shah.
"I think it was one of the best experiences we've all had because it taught us a lot and not just the classes – because that wasn't really a tangible thing because we just learned information like going to school – but then going on and filing for the patent, it gave us a real life experience in how the business world actually works," says Elisha Shah. "I would recommend it to anybody else who would want to go into business cause I definitely learned a lot and I think we all can agree we did."
"I learned that even if you're not interested in finance per se, no matter what field you're in there's always new developments and entrepreneurship that's needed, so you can always find it useful," says Kachrani.
When asked what profession or area of study they were interested in, no one directly said business.
Kunal Shah is now a freshman at Worcester Polytechnic Institute, studying computer science and considering a minor in business. The rest are seniors in high school. Elisha Shah and Mangtani want to study medicine. Kachrani wants to study pharmacy. And Desai is interested in engineering or economics.
"I think that's why some of us aren't all going straight into business as undergraduates, because even if we focus on something else as an undergrad with our majors, a lot of that can apply later on to making your own business," says Desai. "I think it's a good thing, to have a focus that later on can form a business. Because for me, I was interested in business, but I can't do straight business, what is my specialty going to be? I need some sort of background."