Nashua school uses the outdoors to teach the basics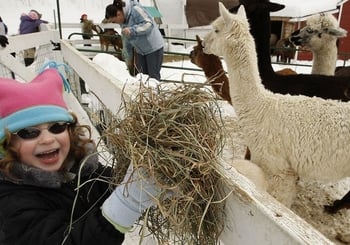 To earn a master's degree in education from Antioch University, Debbie Gleeson wrote about starting a school from scratch – from the building to the syllabus.
Years later, theory has become reality with her 2nd Nature Academy, a private school with a curriculum that immerses students in farming, biodiversity and other elements of environmentalism.
Set on a secluded spot that abuts a large expanse of conservation land, the school has students raising crops, tending to farm animals, conducting biological field experiments, and learning the ways of a green lifestyle.
"We want to promote environmental awareness but we also don't want to scare them" with doom and gloom talk about a deteriorating earth, said Gleeson, director of the school.
Instead, the interactive manner in which classes and exercises are taught will empower students to understand and care for their surroundings and, in turn, encourage their parents to follow their lead, she said.
2nd Nature Academy follows state education standards. Children still learn math and science, and they read and write.
But they do so through inquiry and not just by sitting at desks, Gleeson said.
They use many of their senses with a curriculum that finds a way to incorporate nature, she said.
For instance, in learning about western expansion, students follow Lewis and Clark's journey not just by reading about it, Gleeson said.
They also study the ecosystems of the path the explorers traveled, as well as the geography and forms of government of then and today, she said.
They also examine the Dust Bowl of the 1930s and compare the human influences of that disaster to Hurricane Katrina. In an economics exercise, students review routes for affordable trade.
For writing exercises, students go outside to observe nature and jot down their observations. They still learn punctuation and grammar, but subject material is richer as students connect with the outdoors, she said.
"There are times for rote," Gleeson said. "But they need to do inquiry, test hypothesis. Kids are natural-born scientists. They take things apart and study them, but when they get to school, they're told, 'Don't ask and don't touch.' If they ask me why the sky is blue, I can say, 'I don't know, but let's go find out.'"
The school grounds lends to studying sky color, the habitat of frogs and the melting patterns of ice.
The school sits on 22 acres of farmland off Main Dunstable Road, near the Nashua border with Dunstable, Mass.
The Gregg family sold the property; it abuts 350 acres of conservation land in Dunstable, giving students and staff plenty of room to roam and explore.
Weather permitting, students go outside twice a day. Outdoor learning not only stimulates their minds, but promotes sound fitness and allows children to escape a more sedentary, indoor routine, Gleeson said.
One of their favorite spots is a collection of pens where goats, sheep, pigs, chicken and alpacas live. The children help tend to the animals to learn the responsibilities of farming.
They watch sheep get shorn of their wool to understand the origins of clothing, and they see how goats provide milk. They also grow vegetables, plant seeds, nourish the garden, harvest their prizes and finally wash and eat them for lunch.
2nd Nature Academy just moved into a new, 4,800-square-foot, two-story building that supports its environmental mission, Gleeson and her husband, Dennis, said.
Sections of the floor are made with recycled cork, the post-and-beam structure is made of Douglas fir cut from a sustainable forest, doors and other trimmings are from wood cut locally, and walls are colored with paints with low or no VOC content, including milk paint, they said.
A geothermal system and a thermal panel roof help heat the building and save energy. And toilets have a low, double-flush capacity to conserve water.
The Gleesons hope to start construction on a similar environmentally-friendly structure that would be double in size to accommodate upperclassmen.
The school had supported grades kindergarten through six in its previous home, but there wasn't enough classroom space in the new building for the older children. So for now, the new school houses only kindergarten and first-grade classes.
Debbie Gleeson has watched her thesis come to live before her eyes. After grad school, she started a preschool, The Nature of Things in Nashua. But she still wanted to build a school on a farm, and searched for 10 years before securing the Gregg property.
Now, Gleeson said she has created a learning atmosphere that connects students to the ecosystem while exciting them.