N.H.'s Changing Workforce: Workforce Assessment Tool is 'perfect' for strategic planning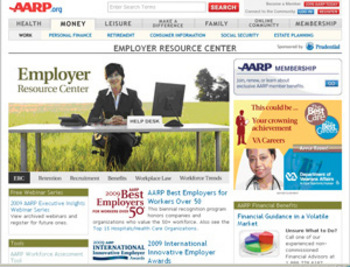 The economic downturn has brought with it an increase in layoffs and growing uncertainty among workforce managers at many Granite State businesses. Knowing what resources are available and having a strategic workforce plan in place before trouble arises can often be key factors in a successful recovery.
In an effort to aid businesses in creating a solid workforce plan and taking a proactive approach to addressing possible workforce issues, AARP introduced its AARP Workforce Assessment Tool in May 2008. The comprehensive tool was recently refined in an effort to better address the changing needs of today's businesses.
The confidential online survey takes less than an hour to complete and offers insight into workplace demographics, challenges posed by these numbers and the steps companies can take to ensure their workforce needs will continue to be met even in difficult times.
Although hundreds of companies have taken advantage of the resource since its introduction, the current economy has put workforce planning on the back burner for many businesses.
"Not a lot of people are seeing the advantage of assessing the status of their workforce with the downturn in the economy," said Jamie Bulen, associate state director for communications at AARP NH.
But, according to Kelly Clark, state director of AARP NH, removing workforce planning from the list of priorities during difficult times may prove counterproductive
"HR managers and business owners need to understand that workplace demographics continue to shift no matter what," Clark said.
For Fran Allain, the state Division of Economic Development's employee retention project manager, the AARP Workplace Assessment Tool has found a permanent place in her arsenal of resources for businesses.
"I work with companies to avoid workplace issues. I pull together resources to address issues prior to layoffs and look for resources and ways to save money, with the ultimate goal of avoiding layoffs. In the cases where layoffs can't be avoided, I work to at least ameliorate them," Allain said. "The Workforce Assessment Tool is just a fabulous, fabulous resource for companies. It enables the company to stay on top of the pulse of what their workforce looks like and breaks workforce concerns down into manageable pieces."
A concrete picture
Allain is often called into a company when financial concerns are looming and layoffs seem imminent. Having a good understanding of the company's current workforce and the needs the company will have during recovery may mean the difference between a successful recovery and one wrought with complications, she said.
"Often, the companies tend to look at saving costs where they can, and layoffs may appear to be the easiest answer, but the impact is huge," Allain said. "I encourage the company to ask themselves 'Where do you want to be in this recovery and who do you have in your workforce that will be instrumental in getting you there?' Hold on to that worker and the value they bring to the company."
Often during a financial crisis, companies depend too heavily on offering early retirement as a way of saving money. Although often a simple and quick solution, this too can have a negative impact on the company in the long run, said Allain.
"The Workforce Assessment Tool can help a company to realize maybe they don't want to depend too heavily on offering early retirement," Allain said. "Companies often find the individuals that might take advantage of early retirement are the ones that best serve as mentors, consultants and educators within the company. They are often a tremendous resource."
By painting a concrete picture of the people employed in the different areas of a company and the skills they bring, the Workforce Assessment Tool better enables business owners or workforce managers to more clearly understand the impact certain layoffs will have.
While it is easy to understand how workforce issues can be overshadowed by other challenges brought on by today's economic climate, Allain encourages business owners and workforce managers to take the time needed to put a strategic workforce plan in place.
"There is nothing like good strategic planning, and the Workforce Assessment Tool is the perfect tool for it," Allain said. "The Workforce Assessment Tool presents a whole picture allowing for the creation of a better strategic plan and a stronger company."
The AARP Workforce Assessment Tool and other workforce resources, including a list of ongoing webinars, can be accessed through AARP at www.aarp.org/employerresourcecenter.
Employers can find additional resources through the New Hampshire Business Resource Center, at www.NHeconomy.com.
<p>
N.H.'s Changing workforce series is a partnership between NHBR and AARP New Hampshire