N.H.'s Changing Workforce: Social networking – the job-seeker's best tool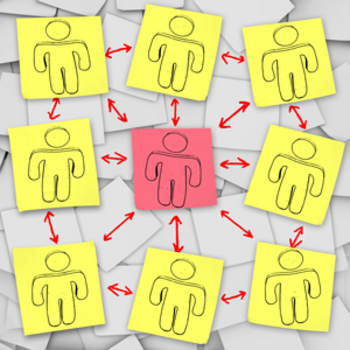 According to the AARP, nearly 7 percent of adults aged 55 and older are unemployed. And with five other people vying for each open position, it's become clear that looking for a job in today's marketplace has become very different than it was in the past. It's no longer as much about what you know as it is who you know — that means making connections through the use of social networks.
"Today, job searches are pretty much all online," said Ed Redfern, national workforce issues team member and project manager at AARP in Washington, D.C.
"Many 50+ job-seekers grow very concerned about networking for a job today," said Jamie Bulen, associate state director of communications for AARP NH. "In reality, they can network much like they've always done — only the tools have changed."
Redfern and Bulen said one of the most important tools for job-seekers aged 50 and older is using social networking Web sites. By filling out simple online forms with work history and professional goals and accomplishments on sites such as LinkedIn and Facebook, and to a lesser extent MySpace and Twitter, a static paper resume can be transformed into a dynamic personal brand, communicating the job-seeker's skills to a wider audience — and a larger group of potential employers — than ever before.
Increasingly, sites like LinkedIn and job boards like Monster, are where employers are going to look for candidates even before reviewing resumes sent in response to particular job posting.
"Many employers are inundated with resumes and are actually taking down job postings and searching directly for candidates on these sites," he said.
Targeted profile
While many of workers are well-versed in the Internet and social networking tools, many are just learning about the resources.
For some senior workers who want to — or must — go back to work and are leery about the tools, Redfern suggested looking for classes on social networking at community centers, the library or local community colleges to gain a bit of familiarity with these sites before utilizing them.
For those who already have profiles on more casual sites like Facebook, a good "house cleaning" may be in order before a serious job search has begun by deleting any negative information.
"Don't make any derogatory statements," said Redfern. "Some people will post their feelings about a particular interview, saying it was awful, how much they disliked the interviewer, or about their supposedly bad performance. Well, the interviewer might have thought the meeting went well, but now they won't be calling that person back."
He also pointed out to keep truly personal items, such as photos of grandchildren or of a recent cruise, in a separate profile, such as on Facebook or a photo-sharing site like Flickr. Professional material should be reserved for a more business-oriented site like LinkedIn.
Central to using a social networking site is crafting a targeted profile. Like a resume, a profile should contain information on current and prior work experience, education, even significant volunteer work.
"And by posting your profile on a social networking site, it proves to employers that you are keeping current with the latest technology," said Redfern.
Even more important, 50+ job-seekers should pull from their wealth of experience and list job skills — over-arching patterns of positive performance — and focus on what skills can be used to help the potential employer today.
"If you just include information about work history, your interview becomes a pattern of why you left this job and that job, not about what you can do for the company now," said Redfern.
For example, a project manager may have completed several business endeavors on time and under budget, but it was his or her laser-like attention to detail, ability to adapt to dynamic and fluid priorities and creative problem-solving that can help drive the new company's initiatives to a successful conclusion today.
Both Redfern and Bulen said that using keywords — mentions of specific skill sets or personality traits — in both the resume and profile are paramount.
"Look for the keywords used in the job posting and use those in your resume and profile," said Redfern. "Some candidate searches are based on an automated process that will search out profiles and resumes with these keywords."
Not only are social networking sites good tools for 50+ candidates to get the word out about themselves, but are also excellent for researching potential employers or contacts at companies they are interested in, according to Redfern.
"And again, doing this research shows you've taken the initiative and done your homework," stressed Redfern.
Use your networks
Social networking by its very definition is social, and there, 50+ job-seekers can have an edge over other candidates. With lengthy associations with friends, former colleagues, companies, and colleges and universities, senior job candidates have an enormous pool of resources to draw from.
"That's a perfect reason to be on LinkedIn or Facebook," said Redfern. "Touch all your networks that you've ever had."
He said that includes other organizations such as houses of worship, clubs, volunteer organizations and even contacts met on the golf course.
"Many larger companies also have alumni associations, such as IBM," he added.
Also important is overcoming a bit of culture shock that some senior job-seekers may face.
"Boomers and those older aren't used to saying they're looking for a job," said Redfern. "There used to be a social stigma associated with being out of a job. Today, that's not the case."
Another important tool in social networking is the "elevator pitch" – who you are, what you want, and what you can do for the new company better than anyone else.
This elevator pitch might be the most difficult part of searching for a job today, said Bulen, because it requires a great deal of "soul-searching to figure out what you want."
"The elevator pitch also tells a little about yourself, too," added Bulen.
Redfern said it's also important to practice an elevator pitch with a friend or family member, and "ask what they took away from it."
Bulen said that AARP has a wealth of information for the 50+ job-seeker on its Web site at aarp.org/money/work. There is also a resource section on this page that has links to specific job tips for workers who are over 50.
"We are also planning a Webinar for the first quarter of 2010 on using social and professional networks as part of an overall job search campaign," she added.
To check for dates and times, visit www.aarp.org.
N.H.'s Changing workforce series is a partnership between NHBR and AARP New Hampshire.