N.H.'s Changing Workforce: It's a brand new world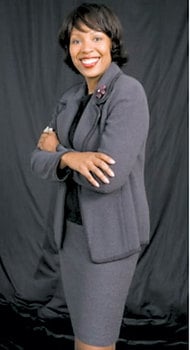 Building a personal brand after 50 is something Marva Goldsmith knows well. The 51-year-old, who spent 20 years in the utility industry as an electrical engineer and lobbyist in Washington D.C., reappraised her future after taking a mid-career program and consulting with a job coach who "taught me to think with my heart and not my head," she says.
This prompted her to move back to Washington and become an image consultant — a job that has led her to work with corporate CEOs, incarcerated youth, AARP, women participating in welfare-to-work programs and others.
Her own personal brand recently extended to include author of "Branding Yourself After Age 50," which she wrote in anticipation of her 50th birthday.
Having lived most of her life in Detroit – one of the recession's hardest-hit cities – Goldsmith witnessed many friends her age losing jobs.
"A lot of them had not been at the job search for years, decades," she says. Thrust back into search mode, Goldsmith says, many had an outdated approach.
"People in my age group were not consciously branding themselves," she says. "If you are not thinking of yourself as a brand, then your job search is going to be very difficult."
To explain branding, Goldsmith uses the example of Heinz, which has cornered the ketchup market by successfully branding itself as the ultimate slow, rich ketchup. "A brand separates itself from everybody else," she says.
For people to build a brand that sets them apart, this means determining which of their skills distinguishes them from competitors, and then marketing those attributes. For 50+ job-seekers, their experience can be a big part of their brand.
One of the biggest chasms between older and younger job-seekers can be in computer proficiency, which is why Goldsmith says it's important for 50+ workers to establish an Internet presence. If an employer Googles a candidate and nothing comes up, this may suggest the person is not Internet-savvy or the expert he or she claims to be, says Goldsmith.
To build a brand online, Goldsmith suggests writing blogs and articles on subjects about which the seeker is knowledgeable. This also includes commenting and engaging in pre-existing discussions – becoming "part of the conversation," says Goldsmith, who has written articles about job-seeking for more.com.
"You don't want to be just a resume," she says.
Another way to expand expertise is to teach classes at a community college.
She also suggests joining social media sites like Facebook, Twitter and LinkedIn. While some older people dismiss these sites as something their kids use, Goldsmith says they are essential to establishing a Web presence.
For the skeptical, she suggests starting on LinkedIn, a site devoted more to business connections than social.
Appearance and attitude
It takes laid-off older workers 34 weeks on average to find a job — more than double some younger workers, according to AARP. This down time between jobs should be used to fill any resume gaps.
For instance, if a laid-off older workers lacks computer skills, he or she should take a course (many of which are free online) or volunteer in a field of interest, which can round out skills and lead to introductions to the right people.
"Go to conferences that are filled with employed people in the field that you're looking to get a job in," says Goldsmith, who suggests avoiding job fairs. "The last place you want to look for a job is a place where everybody's looking for a job."
Appearance is also crucial to the interview, which means casting a critical eye on outdated clothing and glasses.
Among Goldsmith's tips:
• If your teeth are yellowed with age, don't wear white because it makes them appear yellower
• Drop Visine in your eyes to add sparkle and subtract redness
• Moisturize hands and around the lips
• For men, shave silver beards.
• For women, avoid bright red lipstick (which can show cracks in lips) and wear shapewear for improved posture.
Just as important as appearance is attitude, says Goldsmith. It's essential that older job-seekers see their years of experience as beneficial to their brand, not as a hindrance.
If they go into an interview assuming they're too old, this can show in their attitude and may manifest in a look of defeat or worry – and their fears may become a self-fulfilling prophecy, says Goldsmith.
She also suggests finding a job search buddy, preferably someone the seeker doesn't know well who may bring a necessary and new perspective to the search.
"Other people can recognize your skill set, talents and other ideas you never even thought about," she says.
In addition to Goldsmith's book, the AARP Web site also offers tips for 50+ job-seekers, on topics ranging from writing a great resume to creating a personal brand to tips for those considering opening a small business.
For more information about branding after 50, including webinars, visit branding50.com.
N.H.'s Changing Workforce series is a collaboration between NHBR and AARP New Hampshire.