N.H. ranks 16th in clean technology index
The Granite State has room to grow, but the foundation for clean technology is there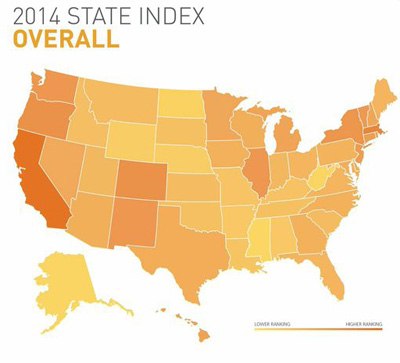 Considering New Hampshire dropped two slots in the 2014 Clean Tech Leadership Index report, to number 16 from 14 a year ago, the state seems to have been given an opportunity to challenge itself and utilize its untapped potential in ways it hasn't before.
Released each year by Clean Edge Inc., a research and advisory firm focused solely on clean technology with locations in the San Francisco Bay Area and Portland, Ore., the report tracks the use of clean technology at the state level and in the top 50 metro regions. The report uses 70 different indicators from three main categories (technology, policy and capital) to decide its rankings.
"This is a three-legged stool and you really need to have all three to have a clean and robust industry," said Ron Pernick, managing editor at Clean Edge.
In each of the categories, New Hampshire remained relatively near the middle of the pack. Scoring 23rd in technology, 14th in policy and 18th in capital, the state did experience some fluctuation, both good and bad, in many of the indicators. For example, Pernick pointed out in the technology category that New Hampshire scored low for the green buildings indicator, but higher on the electric vehicle indicator.
Maine fared similar to New Hampshire, dropping three slots to the 29th overall ranking. The rest of the New England, on the other hand, saw their overall ranking either rise or remain the same, often in spots much higher than the Granite State. Massachusetts was able to hold on to their number two slot while Connecticut and Rhode Island came in at 10 and 13 respectively. Vermont had an impressive six spot jump to number nine.
"Vermont, which is now in the top ten, aggressively pursued green energy and technology," Pernick explained as the reasoning behind the increase.
But even with the successes of our neighbors, Pernick does not believe that these results for New Hampshire are discouraging.
"Once you get below the top 10 or 12, movement is going to happen every year. It's not surprising to see a lot of movement," said Pernick. "I wouldn't read too much into it. The bigger question for the state would be, 'What could the state do to improve its activity?' "
He suggests more work in technological areas such as solar energy, saying that this renewable resource would be the best fit for many states on the East Coast since the region "historically has been at a disadvantage" when it comes to using wind technology, a power source that has allowed Western and Great Plain states to push ahead in the rankings.
But Pernick does suggest that one category helps to provide a strong foundation for the rest to grow.
"Some of these are policy driven," he said "We've seen a high correlation between the top ten policy states and the top ten ranking states."
However, a more concentrated look would be needed in order to figure out where improvement could be found in each of the categories or what techniques could be utilized.
"Obviously there's a lot of low-hanging fruit," Pernick said, citing green buildings and clean energy deployment as areas in need of improvement. "But it's not like we could look at this [data] and have all the answers. Those are the types of things we would have to get into the nitty gritty and look below the surface."