N.H. PUC's Ruderman to join renewable energy firm
Sustainable energy director to head up ReVision's Granite State office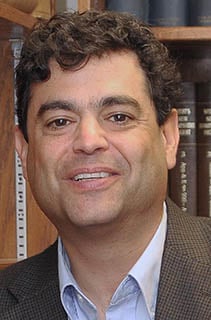 Jack Ruderman, the New Hampshire Public Utilities Commission's sustainable energy director for the last 17 years, is stepping down from the job to join ReVision Energy, a renewable energy contracting firm.
Ruderman, hired by ReVision to work at its New Hampshire office to help nonprofit institutions set up solar energy systems in the Granite State, Maine and Massachusetts, has overseen the state's energy programs since 1997, first as deputy director of the Office of Energy and Planning and after 2008 at the PUC.
In that time, he has administered the state's Renewable Portfolio Standard law and has overseen a fund that distributes energy rebates and grants to individuals and businesses.
Ruderman was also the local face of the Regional Greenhouse Gas Initiative, a program that provided funds for energy-efficiency programs before that program was transferred to the utilities' oversight.
Ruderman told NHBR that leaving state government was a difficult decision, but "I just couldn't resist a great opportunity to work in the private sector to set up large-scale solar systems for nonprofits." Although ReVision is a commercial enterprise, he said, the company "is not just profit-driven, but mission-driven."
Based in Portland, Maine, ReVision has set up some 4,000 renewable energy systems in the last decade in Maine, New Hampshire and northeastern Massachusetts, and it expects to set up another 400 to 500 this year alone – more than half of them in the Granite State, said co-founder Phil Coupe.
Ruderman said the ReVision opened an office in Exeter about three years ago, and in that time the number of employees there has grown from two 2 to 20. The company employs a total of 70 people, said Coupe.
About two-thirds of the systems it has set up are residential, and on average supply 85 percent of a home's energy, Coupe said. The rest belong to businesses.
Both residents and business that own the systems receive a 35 percent tax credit.
But nonprofits aren't taxed, so four years ago ReVision set up a program for them. It involves a for-profit LLC established by ReVision that owns the solar system and it takes advantage of the tax credit so it can sell the nonprofit entity the electricity at a lower rate.
There are about a dozen such systems in New Hampshire, among them one at Colby-Sawyer College in New London and another belonging to the town of Durham, and quite a few are in the works, said Coupe.
It will be Ruderman's job to oversee that program. He also will take over the company's government affairs role in New Hampshire, though state ethics rules prevent him from appearing before the Public Utilities Committee or the Legislature for six months after he leaves his position, which will be Friday.