N.H. Paycheck Fairness Act gets warm welcome in House
But tweaks are sought to Senate-passed bill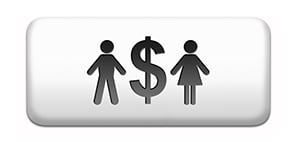 The question doesn't seem whether the Legislature will pass the New Hampshire Paycheck Fairness Act, only whether it will tweak it.
After a unanimous vote in state Senate, no one seemed inclined to outright oppose Senate Bill 207 at a public hearing of the House Labor Committee on Tuesday.
Gov. Maggie Hassan even announced her support at a pre-hearing press conference put together by a coalition of labor and women's groups for recognizing April 8 as Equal Pay Day.
Supporters said that the SB 207 closes many loopholes in existing law, especially emphasizing a provision that prevents employers from forbidding workers to share each other's salary, the main way for them to find out that discrimination exists.
They contended that the provisions are necessary because the gap – after closing in the 1970s – stubbornly still exists.
Supporters of the measure point to U.S. Census statistics that show a woman earns 77 cents for every dollar earned by a man — about $11,000 less a year — and such gaps exists in just about every profession and in every state. (New Hampshire actually ranks slightly below the median in pay equity, they say.)
Indeed, women college graduates earn 82 percent less than men in the first year after getting their diploma, according to another study by the American Association of University Women.
There as many anecdotes as statistics.
Rep Lorrie J. Carey, D-Boscawen, said she remembers the answer she got when she – a top college graduate from the University of North Carolina – asked why she was making $3.78 an hour while a male high school student was making $5. It was the same answer given more recently to her college student daughter, making less than the high school boy she was training: "He is a boy. He is growing up to head a household and you are not."
Over at the Senate, even conservatives like state Commerce Committee Chair Rep. Andy Sanborn voted for the bill, though protesting that the wage gap doesn't really exist: It's a matter of more qualified individuals getting better pay, he said. However, after the Senate worked on it, the bill only clarifies existing law, and therefore does no harm, according to Sanborn.
Lobbyist David Juvet of the Business and Industry Association of New Hampshire praised the Senate's work, testifying that the bill was now in "good shape" except for one provision. He didn't like giving a worker three years to make a complaint after discovering pay discrimination.
That's twice the amount of time federal law provides, echoed Tom Fahey, a lobbyist from the New Hampshire Bankers Association. Fahey said that longer time frame not only makes it tougher for businesses to defend against, but allows discrimination to continue longer against other workers.
However, Judy Stadtman, a community organizer with the state chapter of the AFL-CIO, said she didn't like two Senate changes, and wanted to tweak it in another direction.
The bill allows employees to pay more for a shift differential. That should be only allowed if that shift was tougher or required more work or was more dangerous, she said – and if so, such higher-paying shifts should be open to all workers, regardless of gender.
The second would allow a company to take expertise into account when deciding on pay. That should be clarified to work-related expertise, she said, not – for instance – the ability to come up with the most obscure baseball statistics.
When asked whether any employer would actually define expertise that way, she said, "It feels like loophole language. It's just too murky for me."