N.H. joins Vt., Maine in traffic management effort
Real-time traveler information is a goal of program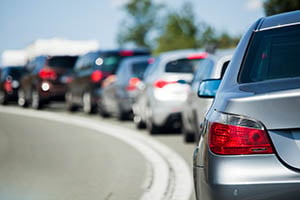 New Hampshire, Vermont and Maine have signed a $4.1 million, five-year contract with Texas-based Southwest Research Institute to develop an Advanced Transportation Management System.
The new system would be an update to the states' old software systems that internally notify police and emergency responders of accidents as well as alert the public of road conditions. It would deliver information in real-time, across state lines, with data placed into a shared warehouse.
Southwest Research Institute previously worked with Texas and Florida and will use the basic foundation of those management systems to develop one for the northern New England states.
The goal is for all six New England states to participate in the system, after the initial operating system is in place, said Denise Markow, spokeswoman for the New Hampshire Department of Transportation.
"For Maine, New Hampshire and Vermont, we're building a traveler information webpage. New England is so small, people should be able to see road incidents, travel delays and see it on our webpage, (in) one location," Markow said.
The project will be completed by the end of 2015 or early 2016, at the latest.
New Hampshire spent $1.6 million of its federal funds, slightly more than Maine and Vermont, to include added functionality like state police computer-aided dispatch integration that notifies police at the same time.
As for a possible mobile app for motorists, Markow said the states may create one down the road, but for now they'll leave that to private companies, like Google.
"State governments are strapped for the money," she said. "Why not let the private sector do it better?"