N.H. House panel drinks in labeling debate
Bill would loosen rules on what can be shown on bottles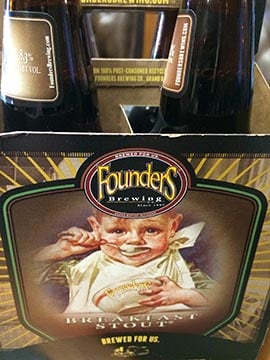 Should a store be able to sell a bottle of beer with a label showing a child eating a bowl of cereal?
Currently it can't. New Hampshire law requires that the State Liquor Commission ban "any reference to minors, pictorial or otherwise" from beer labels sold in the state.
But, in a bill he introduced Thursday to the House Commerce Committee, Rep. Keith Murphy, R-Bedford, would like to add a caveat: "unless the commission determines that such reference is not intended to appeal to minors."
That language, said Murphy, should satisfy opponents of the last attempt to remove the current restriction, which, he argued, infringes on commercial free speech and doesn't get at what the commission is trying to discourage – underage drinking.
But the commission likes the clarity of the law current law and is opposed to the bill.
"This puts the onus on the commission and creates a target every time someone has a different opinion on a particular label," said Craig Bulkley, the commission's chief operating officer.
The commission has to rule on thousands of labels, so leaving another thing open to interpretation "is just adding another step to bog down the process," added James M. Wilson, director of enforcement and licensing.
A six-pack of Founders Breakfast Stout, a specialty beer that includes, among other ingredients, oats and chocolate, was in front of the committee's chair, Rep. John Hunt, R-Rindge, at Thursday's hearing.
On the label, a child, looking vaguely like the Quaker Oats mascot, holds a big spoon placed where a mustache might be in a few decades and a bowl nearly as big as his head.
It appeared to be marketing to those who like wholesome food, not some teenager looking to get drunk, said Hunt.
"We all eat oatmeal," he said. "Might as well put a health heart on it."
Wilson agreed that it was not intended to "induce underage people to drink. It is clearly a child eating a bowl of something."
But that isn't entirely the point, said Jim Monahan, a lobbyist for New Futures, a nonprofit group that focuses on alcohol and drug abuse. The concern, he said, is that it might "confuse a minor to consume the product."
If that is the commission's concern, said Andy Day, co-owner of The Drinkery beer stores in Derry and Londonderry and the Cask and Vine bar in Derry, then how do you explain even more confusing labels found on the shelves at the state's liquor stores?
He pulled out a machine gun-shaped bottle of vodka that was more intriguing to his young son than the child on the beer bottle. Then he produced a liquor bottle that looked like an old-fashioned milk bottle. The product is called "Chocolate Milk," which he said certainly might be confused for a dairy product.
The breakfast stout on the other hand clearly looks like a bottle of beer, Day said. And there is quite a demand for it. Indeed, said Day, people buy the beer in nearby states, but he is not allowed to carry it.
"It's like dollar signs falling out the window that I can't pick up," he said.