N.H. House OKs indexed minimum wage hike
Would rise to $9 an hour after two years and be pegged to the inflation rate after that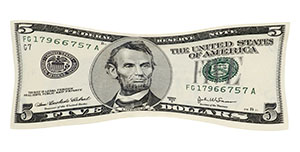 The New Hampshire House on Wednesday approved a measure that would increase the state's minimum wage and index it to inflation.
House Bill 1403 would re-establish a state minimum wage – which was repealed last legislative session – and immediately set it at $8.25 an hour, a dollar above the federal minimum, at the end of the year. It would go up to $9 an hour in 2016 and be indexed to inflation after that.
Rep. Dan McGuire, R-Epsom, called the bill a "war on youth" that would "increase teenage unemployment."
But Rep. Chuck Weed, D-Keene, cited studies that show that 88 percent of those who earn the minimum wage are older than 20, and 36 percent are older than 40.
"I hope that we will take care of the marginal working poor people in this country," he said.
Republicans disputed those figures and noted that an array of business groups have opposed the increase, arguing that they would have to lay off the very workers the bill was designed to help.
By a 199-95 vote, supporters beat back an amendment by Rep. William Infantine, R-Manchester, which would have stripped the bill of indexing and lowered the increase to 25 cents.
"We don't place bills into law that do things year after year. We don't do that here," said Infantine.
Infantine also countered arguments that the increase would put millions in the hands of the workers.
"Where is that going to come from? It's coming from the employer. Where are employers going to get it? From the consumer. We are just pushing money around."
Rep. Sally Kelly, D-Chichester, said she was glad that Infantine saw the need for some increase, but noted that a 25-cent hike would only tie New Hampshire with Maine as having the lowest minimum in New England, and workers would continue to earn less than $15,000 a year.
"Is it right that people in our state work full time for so little? Wouldn't it be nice if our workers had a little bit more money to spend in a local business?" she said.
She said that small businesses mostly pay above the minimum wage. It is mainly large out-of-state employers, like Walmart, that pay the minimum.
Rep. Andrew White, D-Lebanon, added that most people support a minimum wage increase. He called the bill a "moderate, gradual and sustainable investment in the New Hampshire workforce with a direct impact on 76,000 New Hampshire citizens."
The House passed the wage hike, 173-118. It now goes to the Republican-controlled Senate, where it faces a tougher fight.