N.H. firm may have solution for roof snow loads
SnowSentry device could give building owners an early warning when heavy snow is making roofs unstable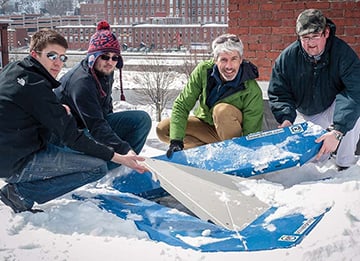 The epic snow this season has led to hundreds of people in New Hampshire being displaced by roof collapses and kept structural engineers and fire departments busy.
But a new product from a Barrington design and manufacturing company could give building owners and municipalities an early warning when heavy snow loads are making roofs dangerously unstable.
The SnowSentry, an environmental sensor and monitoring station, was developed by Christopher Dundorf, founder and president of 2KR Systems LLC, a design, manufacturing and consulting company.
It has been adapted, with the help of UNH Manchester faculty and students, to allow building managers and public works departments to determine when the snow on the roofs of large buildings is becoming dangerously heavy.
Dundorf's product includes a sensor installed on a rooftop that can measure the weight of the snow load. Because snow can vary in weight depending on how much water it holds, this device can help guide decisions about whether the expense and risk of shoveling the roof of a large high school or a business is required. If the snow load is within a safe level, building managers can breathe easier – at least until the next storm.
Dundorf's first client was New York City, which depends on snow melt from the Catskill Mountains for its water supply. Designed to measure the water content of the snow pack, a network of the original devices are being used by researchers in upstate New York to monitor snow melt and potential flooding from spring runoff.
The newly designed SnowSentry, now modified for rooftops, acts as a snow sentry alerting managers and other designated contacts when dangerous levels of snowpack are weighing down on buildings. Several SnowSentry stations are currently deployed at UNH Manchester and on campus in Durham where real-time snow load data is being monitored online by faculty and students.
"You can't use snow depth to tell you how much water is in the snowpack," said Dundorf.
Moreover, the process of removing snow can be hazardous to the roof itself. Dundorf said officials at one retailer told him they spend $10 million to $15 million a year just making repairs to roofs that were cleared of snow by workers.
"Deploying a network of sensors to measure the water content of the snow on roofs could give building managers the data they need to make smart decisions," he said. Software can analyze data almost constantly; once a critical weight is detected, alerts are sent to building managers.
2KR Systems, which designs and assembles electromechanical commercial products, received a grant from the New Hampshire Innovation Research Center, administered by UNH on behalf of the state, which funds projects that lead to job and business growth.
The NHIRC put him in touch with Christopher LeBlanc, assistant professor of engineering technology at UNH Manchester, and Mihaela Sabin, associate professor of computing science at the college. Each put together teams of three students, who began working on adapting the SnowSentry for rooftop use. Additional funding to continue the project was provided by NH EPSCoR, a state program supported by the National Science Foundation.