N.H. farmer has high hopes for hops project
Indiegogo campaign seeks to raise funds for local processing effort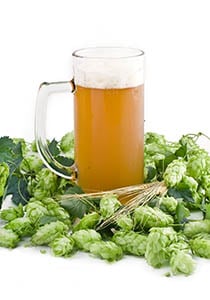 A Strafford farmer has a business plan that New England farmers, brewers and beer drinkers can all raise a glass to.
Jameson Small has launched the Isinglass River Hops Exchange, a New England program that could have a profitable impact on local brewers and farmers.
Hops, the ingredient that gives beer its tangy, bitter flavor, primarily come from producers in the Northwest, although there are a small number of producers in the East.
But as Small found when looking at a 2010 market feasibility study, the demand and potential are both there in this part of the country.
"In the beginning stages, I wanted to make sure the market was stable for it. Throwback Brewery (in North Hampton) is using about 40 percent local hops and really wants to go all the way," said Small. "I have yet to find a brewery that is not interested."
According to Small, the study concluded that the demand for hops could support up to 120 acres of production. And with an average farmer being able to produce about 1,500 pounds of hops per acre, which can then be sold at as much as $20 a pound, it's an idea that sounds as good as it tastes.
Small plans on purchasing the equipment needed to pelletize and process the hops himself, allowing farmers to focus on growing a quality product. Hops themselves are perennials, making them a sustainable crop for farmers.
"If we can store these (hops) correctly, we can allow brewers to use these products year-round," said Small.
Another advantage, he said, that the hops grown in New England "will taste different from those grown in places like Oregon. It will showcase a New England flavor."
And when it comes to getting farmers involved, Small, who planted his own acre of hops for the first time this year, said, "the more, the merrier."
"I'm already working with a handful of existing hop farms," he said. "My next big push will be getting existing farms to expand into these crops."
With a little under $2,000 already raised and his Indiegogo campaign set to finish on July 11, Small says he plans to hold promotional events throughout the month in order to raise more money.
Even with the large amount of local support, Small hopes it expands to other areas in the state, and these events will spread the word about the project.
"We're working on getting (the campaign) to leave the Seacoast," Small said. "You've got you're close network, but once you use that up, how do you move to the next network?"
Anyone interested in donating to the Hop Exchange project can do so at indiegogo.com.