N.H. companies make connections at Paris Air Show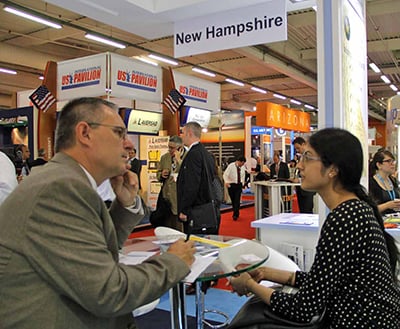 Known as a site for billions of dollars in sales by major aircraft manufacturers, the Paris Air Show is where the aerospace industry converges every two years to showcase aircraft and innovation from around the world.
This year, the show was held June 17-23, and representatives of five New Hampshire companies were there, giving them a chance to talk to potential customers from around the world. As a result, they said, they are confident their participation in the aerospace trade show will lead to increased production and even the need to hire new workers.
By the second day of the show, more than $25 billion in aircraft orders for The Boeing Company and Airbus were reported, and by the time the show wrapped up, well over $100 billion in orders for new aircraft and engines were tallied, according to Aviation International News.
Boeing supports about 7,000 direct and indirect jobs in New Hampshire.
"In order for our companies to become more competitive globally, they have to build their brands and they build their brands at shows like this," said Tina Kasim, program manager for the New Hampshire International Trade Resource Center. "Our companies, and our aerospace industry, are very competitive, and they offer unique solutions for the 21st century."
The five participating companies from the Granite State – Corfin Industries of Salem, New England Wire of Lisbon, RdF Corp. of Hudson, Tech Resources of Milford and Transupport of Merrimack – were part of the Best of New England booth at the U.S. pavilion, joining six companies from Vermont and one from Maine.
The booth was made possible through the State Trade Export Promotion program, funded in part through a cooperative agreement with the U.S. Small Business Administration.
"Our objective for the show was not to make a sale this week, as we have a unique product application," said Gary Andrews, director of plans and programs at Tech Resources Inc., "but to get our name out there in the foreign marketplace, establish some key contacts and provide visibility to our company, experience, test products and solutions for aircraft avionics maintenance. The sales will come if we can accomplish this objective, and I feel we did."
James Christian of New England Wire Technologies said one of the most valuable aspects of taking part in the show was contact with specialists from the U.S. Department of Commerce. With their assistance, the company was introduced to industries in Japan, Norway, Sweden and Germany.
Christian said that during the show, the company — which designs and manufactures custom wire, cable and Litz wire — received two requests for quotes for its products.
"It's unusual that happens at a show," he said.
The work continues long after the show ends, said Justin Oslowski, director of the Commerce Department's U.S. Commercial Service in Durham.
"Because of business cycles, it may take two years or more to see an order," he said. "For now, it's about building personal relationships and making a commitment to the market — those will be the cornerstones to success in their international endeavors."