N.H. circuit court sets up new trust docket
In response to growing need to handle complex litigation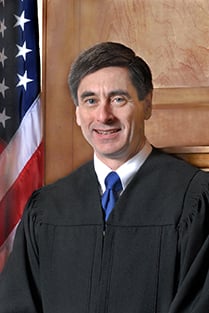 New Hampshire's trust law reforms are attracting the establishment of so many large trusts that the state court system has now set up a special docket to handle increasingly complex trust litigation, the state's circuit court announced Tuesday.
"When money comes, litigation follows," summed up Judge David King, deputy administrative judge of the court, who previously served as administrative judge of the probate division. "The bigger the trusts, the more numerous and sophisticated the lawyers."
Probate Judge Gary Cassavechia, who currently handles cases in Strafford County and often Hillsborough County, will manage the new docket starting in January. The cases will primarily be heard in Dover, since its probate courtroom is larger than most, though Cassavechia will occasionally travel to locations convenient to the parties if appropriate space is available.
Cassavechia presided over the complicated Tamposi trust litigation, a legal family feud over the estate of the late Nashua developer Sam Tamposi that has gone on for several years and resulted in a 27-day trial. It is now in its post-appeal phase.
Cases like Tamposi are what's stacking up in the probate court system — which was consolidated two years ago into the circuit court — because it is difficult to block out a period of time to hear a large case without backing up the more numerous routine cases involving wills and estates. Many major trust cases have been heard on a piecemeal basis, with different judges handling different aspects of a case.
In addition, not all judges have the experience or grounding in trust law for cases that involve large assets and days of discovery.
There are about a dozen or so large cases languishing in the system now, estimated King, though it is unclear how many will make it to the new docket. King will initially screen them and then try to determine the new docket's maximum capacity. Parties or judges can request other cases go before the court, but King and Cassavechia will have to determine whether they are complex enough to be moved.
The docket will be reserved for cases "where significant assets are at stake and that are most likely to result in prolonged litigation, with extensive discovery and a lengthy trial," King said. Once selected, Cassavechia will manage the case from start to finish, and any trial will be held on consecutive days without interruption.
While other states' courts might have similar divisions, King said he doesn't know of any and did not model this docket on that of any other state.
The trust docket is a response to the number of trusts flocking to the state in the wake of a series of reforms starting in 2006 and capped by the Trust Modernization Act in 2011. The aim is to turn the Granite State into a trust haven, similar to the way Delaware has become the place for large companies to incorporate.
Because of the reforms, trusts can last longer, pay less taxes, can settle matters out of court and can more easily transfer assets to other trusts. All this has lured trust managers and companies to the state, or encouraged them to expand. The number of trust companies in New Hampshire has nearly doubled in the past decade, and they manage more than $300 billion in assets — 20 times more than all of the deposits held in traditional banks in the state.
This will be the second docket that the court system has set up to handle complex litigation. A business court opened up at the end of 2009, but court, created by the Legislature gave either party a chance to opt out of the special docket. This trust docket was created administratively, and parties cannot opt out if the case is moved there, King said.